We are currently down in Florida at our condo. We will be here for a few months, doing renovations, buying furniture, and generally setting the place up so that, beginning in 2015, we can just sit back and relax while laying on the beach.
This place is about a third of the size of our house in New York State, and that means we have to make quite a few compromises on things we "need". One thing we can't do without though, is our excellent coffee maker. Well, I can't be without it. Hubby likes to use our coffee maker in the morning, but he was on a K-cup kick in the evening before we came down south, and he continued with an evening K-cup once we arrived down south. The main problem with having two coffee makers is we have very little counter space in this condo kitchen. It is set up in two layers – one to work on, one to eat at if you so choose. Well, hubby doesn't choose. He's decided to line up the coffee pots there instead. To say it was a bit disorganized this past week is an understatement.
The other day Hubby was in Big Lots and bought this coffee caddy for $15: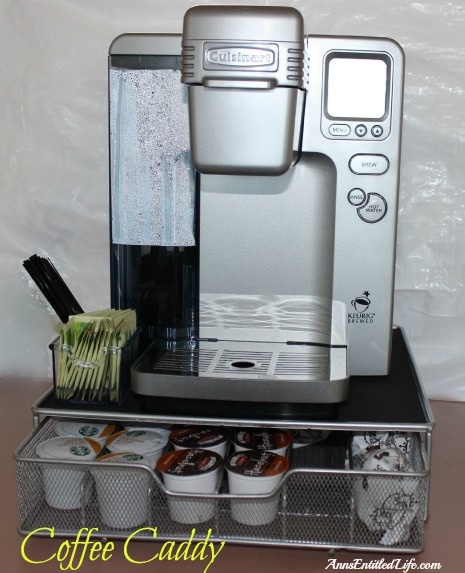 I can't find the coffee caddy he purchased online, but this one at Amazon
for $20 is pretty close.
The pods are underneath in a pull out drawer, I bought a sugar holder and Hubby put his Splenda and some coffee stirrers in it and that, and the K-Cup machine, now sits on top of the coffee caddy. I have to say, I really like this set-up. I think I'll buy a tray for the grinder and the other coffee maker, and to put a few mugs there too and then everything will be very organized, less spread out, and it will make better use of our very limited counter room.
Do you have a coffee station in your home? What makes it up? (If you want to upload a pic to your comment, let me know and I can make it happen!)
---