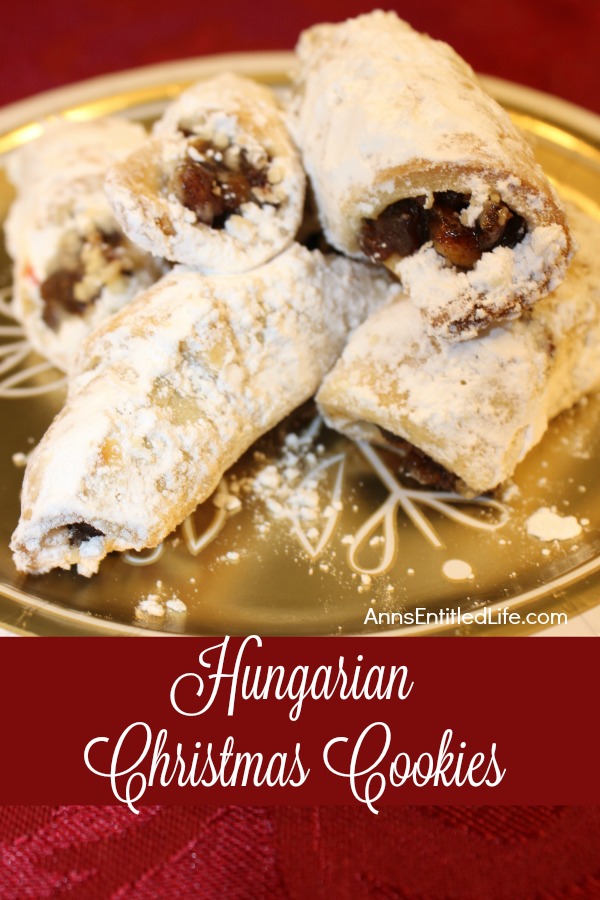 Hungarian Christmas Cookies Recipe
By Ann
These traditional Hungarian Christmas Cookies from nagyanya (grandma) are simply delicious. Each bite reminds you of the old country; a time of good food and fond memories. If you are looking for old-fashioned Christmas cookies, try this Hungarian Christmas Cookies Recipe!
Prep Time: 30 minutes
Cook Time: 30 Minutes
Total Time: 1 Hour
Ingredients:
• 3 cups All-purpose Flour
• 16 TBSP Butter (½ pound or 2 sticks)
• 1 packet Rapid Rise Yeast (¼ oz envelope)
• 2 TBSP Sugar
• 1 tsp Vanilla Extract
• ½ cup Light Cream
• 3 Egg Yolks
• 1 cup Powdered Sugar
Date Filling Ingredients:
• 2 cups Dates, stoned and cut
• ½ cup Sugar
• ¾ cup Water
• ¼ tsp Salt
• 1 tsp Vanilla
• ¼ cup Ground Walnuts
Nut Filling Ingredients:
• 1lb Ground Walnuts
• ¼ cup Sugar
• 2 TBSP Milk (plus more as needed)
Directions:

• Preheat oven to 325°.
• For dough:
• Using a stand mixer, mix together all-purpose flour and butter; cream together.
• In a medium bowl, add 1 packet of rapid rise yeast and 2 tablespoons of sugar; allow to soften.
• Add 1 teaspoon vanilla, ½ cup light cream and 3 egg yolks to the yeast mixture; mix together well.
• Add the yeast mixture to the flour mixture; mix well until a dough is formed.
• Place dough on a board, cut in half.
• Cut each half of the dough into 3 pieces.
• Roll each piece into a small ball.
• Place a small amount of powdered sugar on the board, and roll out a small ball into a thin, round shape.
• Cut pieces like you were cutting a pie, 8 pieces from each ball.
• Place 1 teaspoon of filling on the dough spread out.
• Bake in preheated 325° oven for 20 minutes or until slightly brown at the edges.
• Roll in powdered sugar.
• Allow to cool.
• Store in a container lined with waxed paper.
• Date Filling directions:
• In a pot on the stove, combine stoned and cut dates, ½ cup sugar, and ¾ cup water. Cook for 10 minutes.
• Cool mixture and then add ¼ tsp and 1 teaspoon of vanilla; mix well.
• Add ¼ cup ground walnuts; mix well.
• Nut Filling directions:
• Combine 1 pound of shelled and ground walnuts with ¼ cup sugar; mix well.
• Add 1 tablespoon of milk, mix, add a second tablespoon of milk, mix. You want this moist, not wet. You may need more or less milk than what is listed.
• Makes 48 Hungarian Christmas Cookies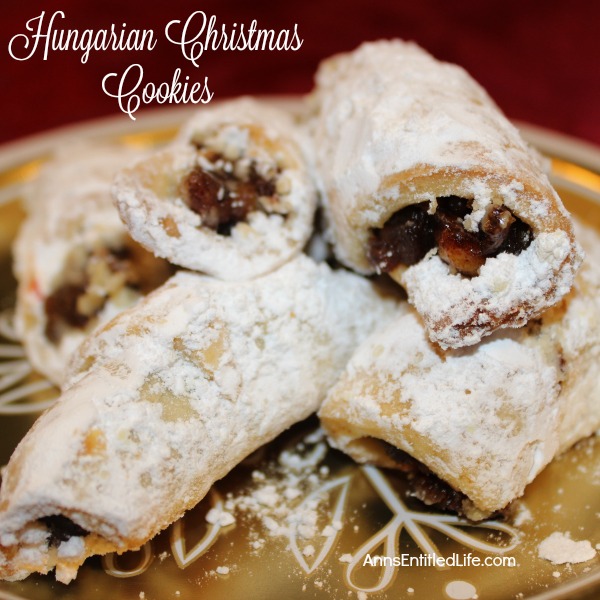 My soon-to-be sister-in-law, Shelly, is an excellent baker and cook. I have shared a number of her recipes here in the past, including: Cranberry Noels Cookie Recipe and Rum Logs Recipe holiday cookies (Christmas cookies). When she brought these over for Christmas Eve, I knew I simply had to have the recipe to share! And since Shelly is such a good sport, she gave it to me and allowed me to share with all of you.
These Hungarian Christmas Cookies are simply delicious. Shelly said they are quick to make too, the prep time being only 30 minutes (for Christmas cookies, that is fast!). If you like traditional Christmas cookies, give these a go!
Hungarian Christmas Cookies Mise en Place:
• Measuring Cup

• Measuring Spoons
• Spatula
• Stand Mixer

• Rolling Pin

• Baking Sheets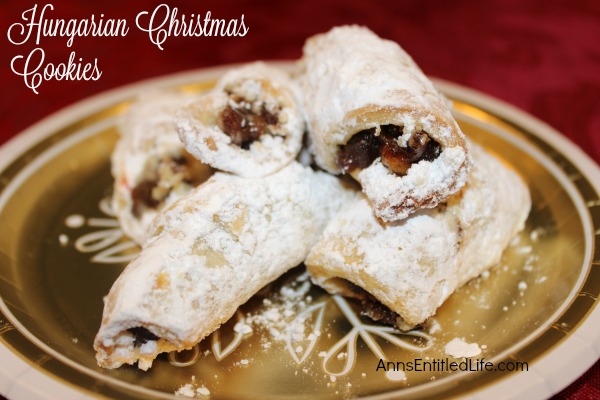 • To print the Hungarian Christmas Cookies recipe, click here.
---
• Disclosure the links in this post may be affiliate links.
• For more Recipes on Ann's Entitled Life, click here.
• If you enjoyed this post, be sure to sign up for the Ann's Entitled Life weekly newsletter, and never miss another article!
---