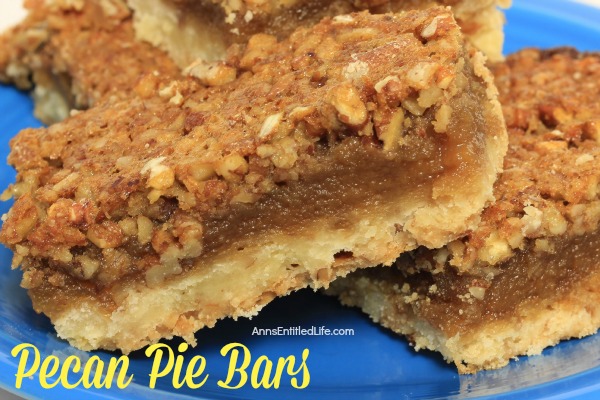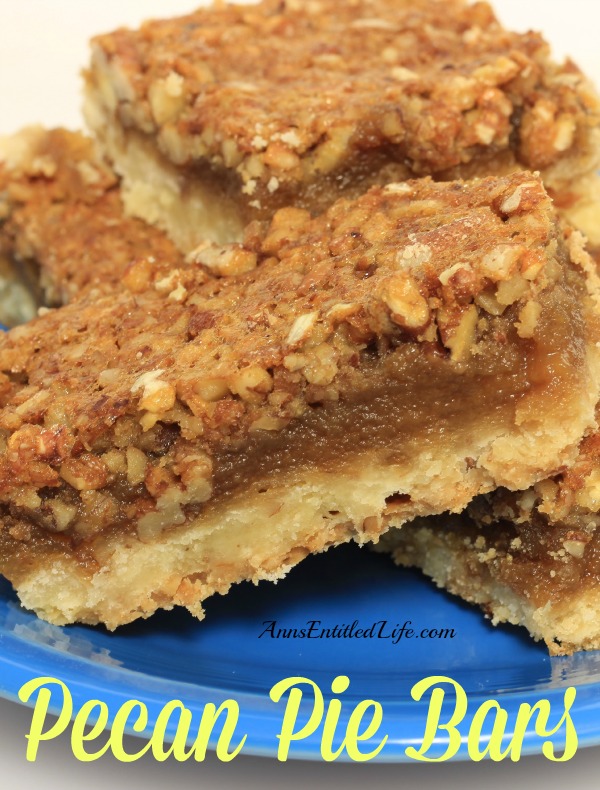 Pecan Pie Bars Recipe
By Ann
These Pecan Pie Bars are rich and delicious old fashioned pecan pie in an convenient hand-friendly, bar shape. Great for lunches, snacks and portion control, these Pecan Pie Bars are sure to delight friends and family alike.
Prep Time: 20 minutes
Cook time: 45 minutes
Ingredients:
Crust:
● 1 3/4 cups Flour
● 3/4 cup Butter, softened
● 1/3 cup Sugar
● 1/3 cup Pecans, chopped fine
Filling:
● 1 1/2 cups Dark Corn Syrup
● 2/3 cup Brown Sugar, firmly packed
● 4 Eggs
● 3/8 cup Flour
● 2 tsp Vanilla
● 1/2 tsp Salt
● 1 1/2 cups Pecans, coarsely chopped
Directions:

● Heat oven to 350°.
● To make the crust, combine flour, butter and sugar in bowl.
● By hand, cut in the butter into the dry ingredients until the mixture resembles a coarse meal.
● Fold in pecans.
● Press crust mixture evenly onto bottom of ungreased 13″x9″ baking pan.
● Bake 15-18 minutes at 350°or until edges are a light golden brown (partially baked).
● To make the filling, in a mixing bowl, combine brown sugar, eggs, flour, vanilla and salt. Mix well with a mixer.
● Add corn syrup, mixing until well blended.
● Stir in pecans by hand.
● Spread evenly over the hot, partially baked crust.
● Return filled baking dish to the oven, and continue baking for 30-35 minutes at 350° or until filling is set and knife inserted 1″ from edge comes out clean.
● Cool completely before cutting into bars.
Makes 24 Pecan Pie Bars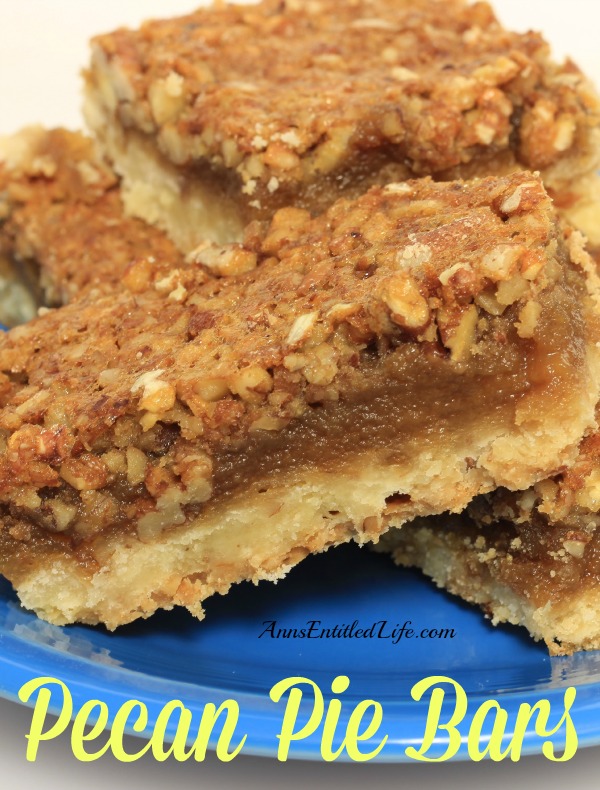 Note: these are better the second day, so if you don't have to cut them the first day to serve, hold back.
● To print the Pecan Pie Bars recipe click here.
---
● For more Recipes on Ann's Entitled Life, click here.
● If you enjoyed this post, be sure to sign up for the Ann's Entitled Life weekly newsletter, and never miss another article!
---