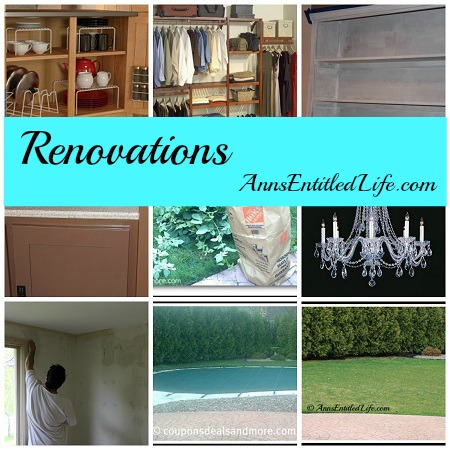 Over the course of the next few weeks, I will share some of our Florida Condo renovations and furniture finds/projects in pictures. Unfortunately, we didn't get anywhere near as much done as we would have liked. Our original list was as follows:
2014 Florida Condo Renovation List
● New sink and counter
● New bathroom vanities, counter tops and faucets
● New bathroom medicine chests
● New windows
● Backsplash
● Refinish kitchen cabinets
● Clean air vents
● Replace interior doors
● Replace closet shelving systems
● Finish painting
What we completed was this:
2014 Florida Condo Renovations Completed
● Replaced the kitchen faucet
● New windows
● Cleaned air vents
● Replaced interior doors (some were replaced, some painted)
● Replace closet shelving systems
● Finished painting
● Cleaned up old hardware
Hubby and I have decided we will invite his mom down in November for a week (she strongly hinted she would like to see the place), so Hubby ordered doors for the closets that he is going to turn into bypass door systems, which are now stacked in the spare room. Those will be installed before she arrives, and if what Hubby plans to do works, should be a fun post!
The kitchen counter may not be the project we expected. While we replaced the faucet, Hubby may decide to laminate the kitchen counter top. I wasn't convinced until I saw the work they had done next door to us (they are selling that condo and the counter top work is NICE), and since I really don't want to deal with granite, I can be persuaded. We need a deeper sink, so next spring this is project #1. The way the counter top is set up now, if we just laminate, we won't have to replace the back-splash.
The bathroom cabinets are about 29″ high, and standard minimum height is 32″ high. I really like the height we have at home, so want to measure that up before we move forward on the replacement down here next spring. Should be interesting to see what we can find bathroom-cabinetry-wise, or if Hubby will have to build two cabinet bottoms, or hire someone to build them. We may be able to keep the huge mirrors and Hollywood-lights (don't care that they aren't "in style", they are practical), and we'll just have to figure out something for the little medicine chest.
In some ways I don't mind that we still have projects left for next year. It will give us some time to figure out exactly what would be best for the bathroom cabinetry, medicine chest, mirror and lights.
Are you don't any renovation projects this year? Have you started? How is it coming along?
---
For more Renovation posts from Ann's Entitled Life, click here.
---