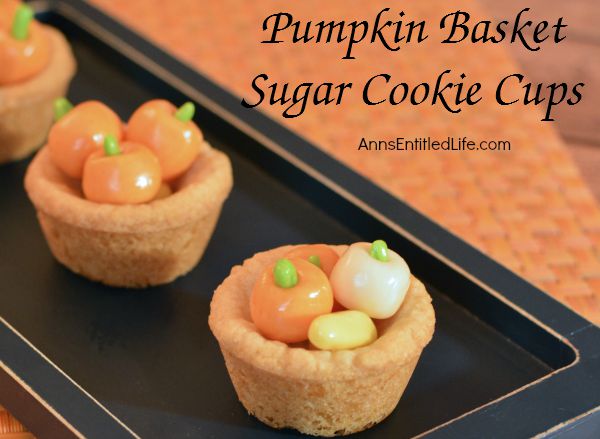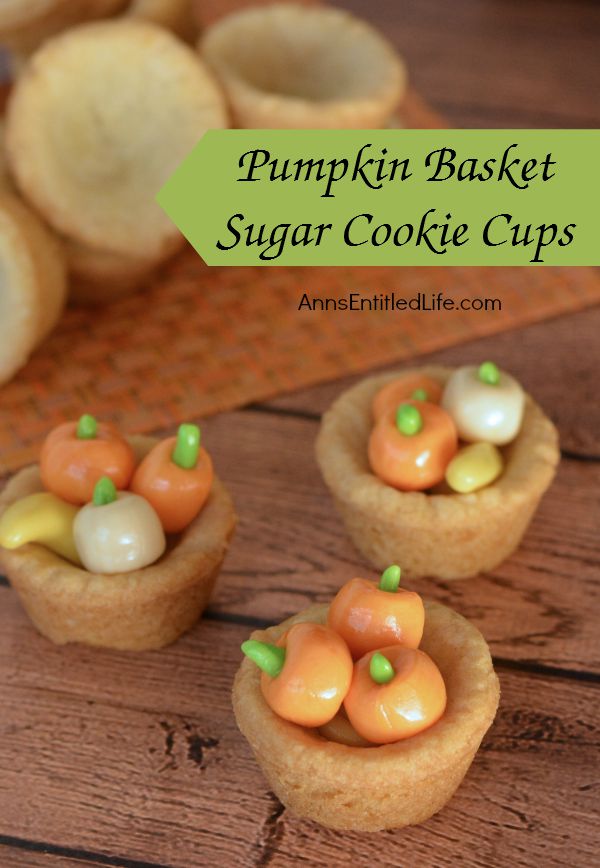 Pumpkin Basket Sugar Cookie Cups Recipe
By Ann
These delightful Pumpkin Basket Sugar Cookie Cups are a sweet, unique, festive fall cookie recipe. Very easy to make, these Pumpkin Basket Sugar Cookie Cups are sure to be a favorite of friends and family this fall!
Prep Time: 15 minutes
Cook time: 10 minutes
Sugar Cookie Cup Ingredients:
● 2 ¾ cups Flour
● 1 tsp Baking Soda
● ½ tsp Baking Powder
● 1 cup Butter, softened
● 1 ¼ cup Sugar
● 1 Egg
● 1 tsp Vanilla Extract
Sugar Cookie Cup Directions:

● Preheat oven to 350˚.
● Grease mini muffin pans (for 48 cups).
● In a small bowl combine flour, baking soda and baking powder; set aside.
● Beat sugar and butter with a mixer until light and fluffy, about 3 minutes. Scrape the bowl sides at least once during mixing.
● Beat in egg and vanilla.
● Slowly add flour mixture to the sugar mixture until well blended.
● Roll into 1″ balls, place in muffin tin and using a pastry tart shaper, push into tins. If you don't have a tart shaper, you can use the back of a "half circle" tablespoon.
● Bake 8-10 minutes at 350˚, until cookies are golden brown.
Makes 48 Sugar Cookie Cups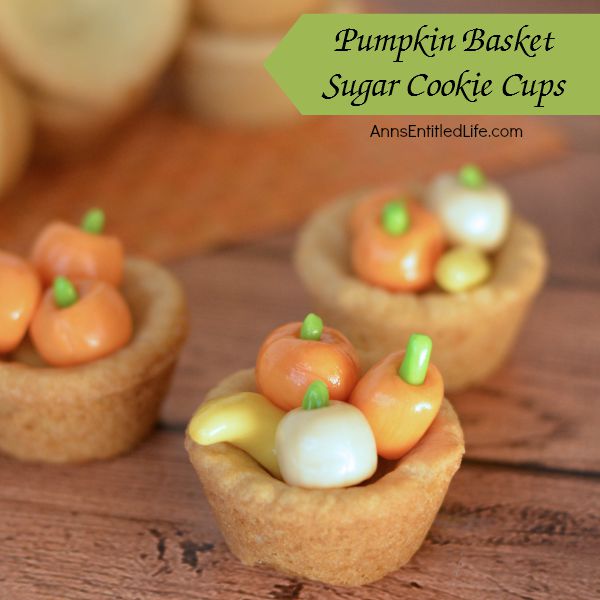 ● To print the Pumpkin Basket Sugar Cookie Cups Recipe, click here.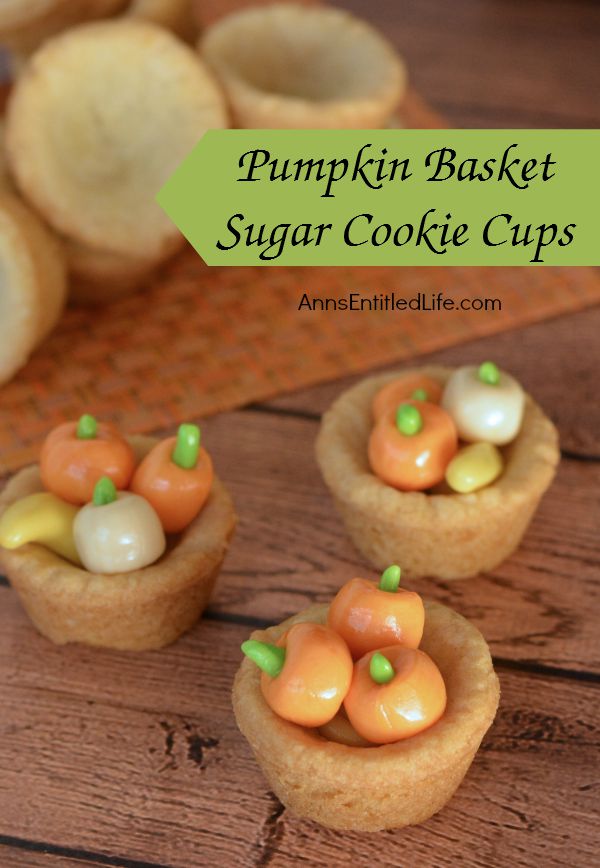 How to make the Pumpkins and Gourds:
Pumpkin and Gourd Ingredients and Tools:
● Tootsie Fruit Rolls
Green = stem
Orange = Pumpkin
Vanilla/White = White Pumpkin
Yellow = Gourd
● Cutting Board
● Sharp Knife
● Toothpick
Pumpkin and Gourd Instructions:
● Unwrap the ends of 2-3 tootsie rolls, but leave the wrapper on, and microwave for 5-10 seconds to soften. Once soft, unwrap completely.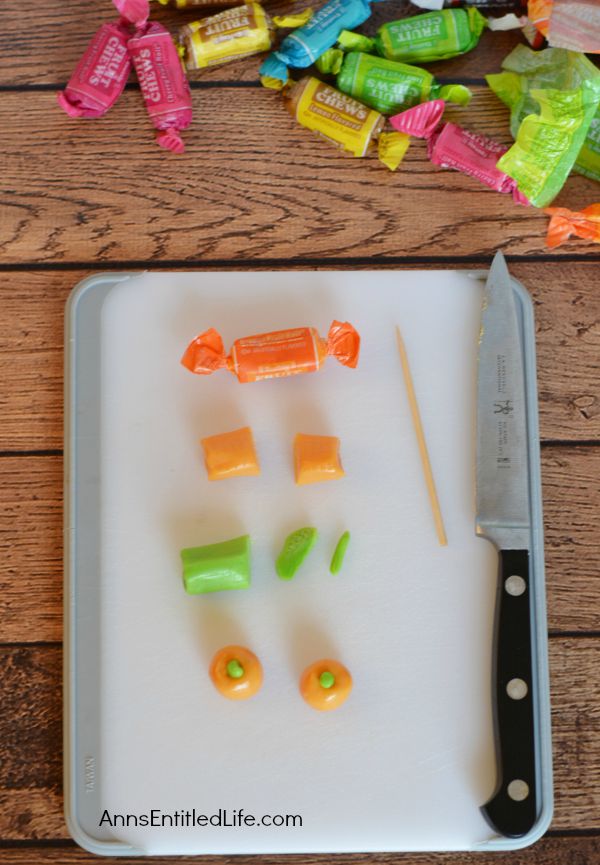 ● Cut an orange tootsie roll in half and shape into a round pumpkin. Insert a hole in the top with a toothpick and set aside.
● Cut a sliver off of a green tootsie roll and roll into a length like a snake. Trim and place in the orange pumpkin to create a stem; set aside.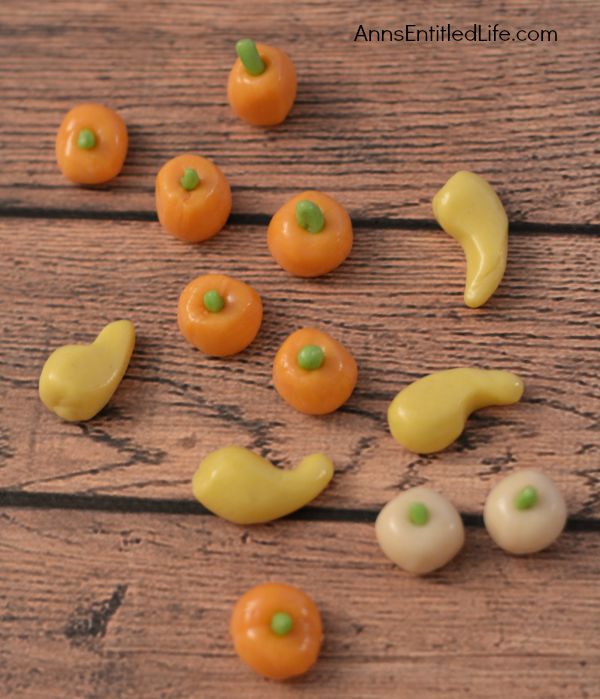 ● Repeat this process with the white pumpkin using the vanilla tootsie roll.
● To make a gourd, shape half of a yellow tootsie roll into a "comma" shape.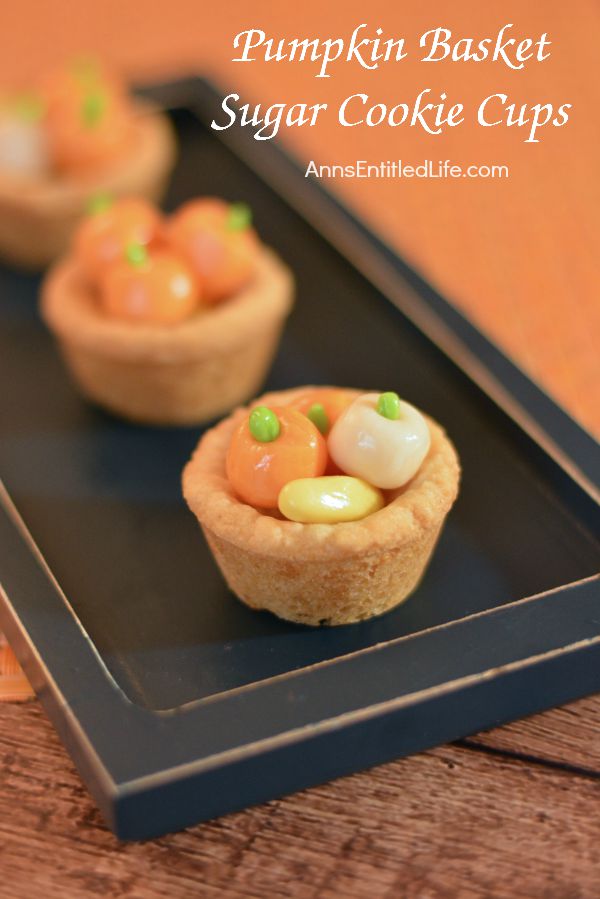 ● Place finished pumpkins and gourds in prepared, completely cooled sugar cookie cups. Make certain the cookie cups are completely cooled before you add the tootsie roll pumpkin and gourds.
These are so easy to make because every pumpkin and gourd in nature is unique and different and in creating these, you have the same freedom!
Note: here is a link to an inexpensive pastry tart shaper
You may also enjoy these other fabulous pumpkin desserts:
● Pumpkin Nut Roll Recipe – Bake a pumpkin nut roll for the holidays, special occasion or anytime. Your friends and family will love this beautiful and delicious pumpkin dessert – a fantastic alternative to pumpkin pie.
● Pumpkin Icebox Cake Recipe – This Pumpkin Icebox Cake recipe tastes like pumpkin pie. The Pumpkin Icebox Cake gets better the longer it sets in your refrigerator, so it is a great recipe to make a day or two in advance of a big function.
● Pumpkin Cheesecake Thumbprint Cookies Recipe – If you like thumbprint cookies, you will love this delicious update to that old classic recipe. These Pumpkin Cheesecake Thumbprint Cookies combine the spicy taste of pumpkin with the smooth taste of cream cheese for a truly decadent cookie!
---
● Disclosure: the links in this post may be affiliate links.
● For more Recipes on Ann's Entitled Life, click here.
● If you enjoyed this post, be sure to sign up for the Ann's Entitled Life weekly newsletter, and never miss another article!
---