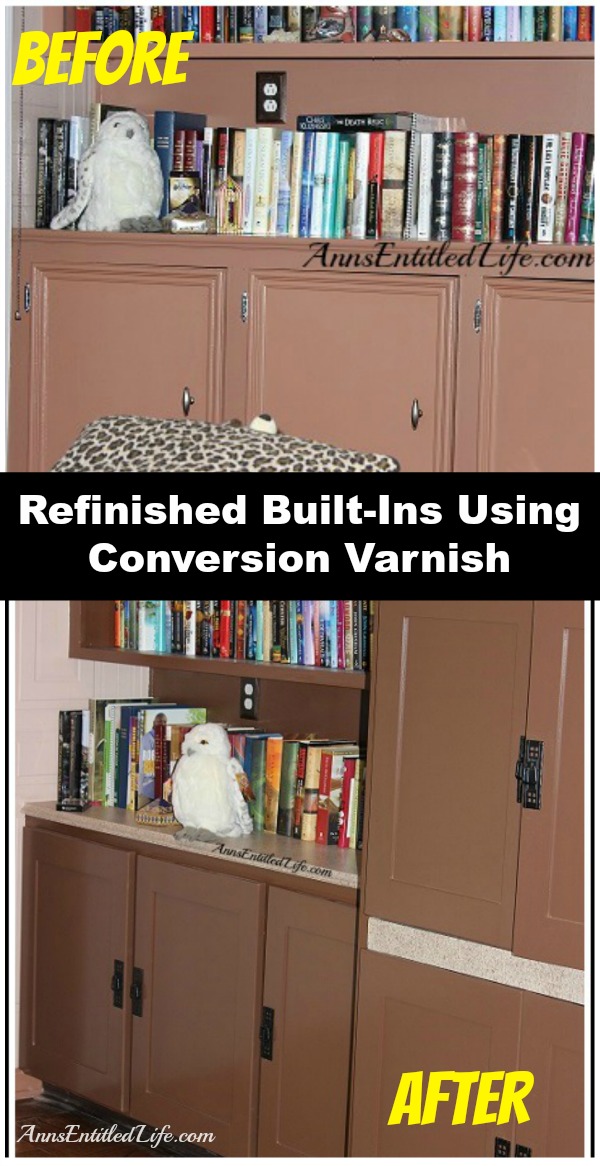 As I wrote yesterday, we have a long list of renovations we are doing to our home this year, and I plan to chronicle the changes on Ann's Entitled Life.
Our family room built-ins didn't close well, and some did not close at all. I had long wanted to do something about them, but since I tried stripping the doors before they were painted 7-8 years ago and that didn't turn out well, I was at a loss as to what I would do. The doors seemed to be a bit warped, but planing them wasn't really going to work if they were out of square. Unfortunately, they were inset doors which meant they had to be perfect to close.
When we were at the Buffalo Garden Show in March, we ran across a contractor that used a pigmented conversion varnish on cabinet doors (any doors really), and could resurface our built-in allowing them to stay, and not be torn out. I decided to also have the counter-top sprayed so we would get any more dings in the paint, and did the same to the roll out tray where the TV sits.
Since our doors were warped, he just made us new ones. Those were fabricated and finished in his shop. The counter-top and tray was spayed here. The rest of the cabinetry was sanded, primed and painted. He then installed the new doors fitting them so they would look plum to the naked eye – these built-ins aren't 100% square after 40 years. Since we did overlay doors this time, it was doable.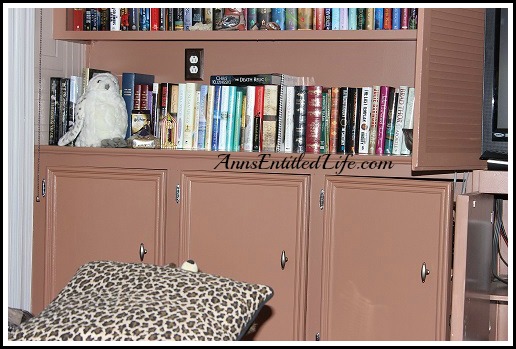 Unfortunately, this is the only "before" picture I have! I "know" I took more, but cannot find them in my files.
It is difficult to see from this picture, but those doors did not close flush. The ones on the tall section were even worse.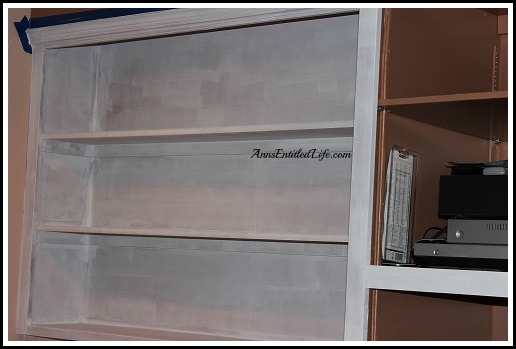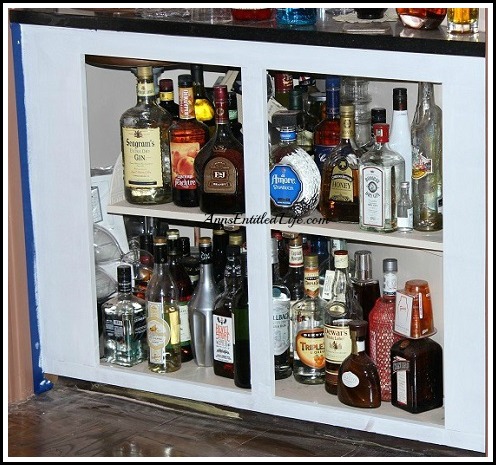 The in-house work was minimal. The woodwork was primed… the bookcase was completely painted inside and out. The tall cases and the liquor storage area was not.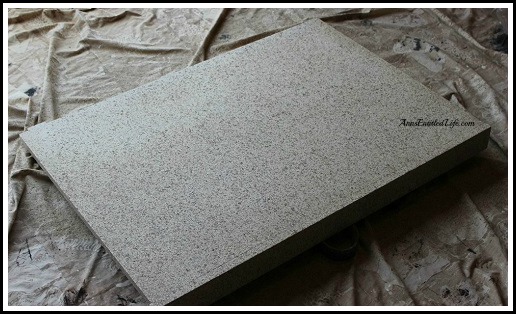 This is the roll-out TV tray that he expected to spray in his shop, but he ended up bringing it back and doing it here.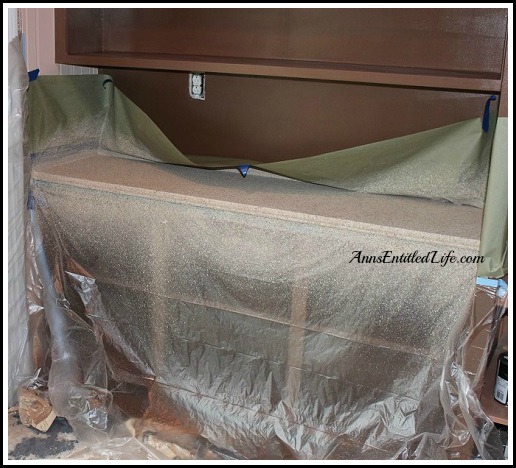 The bookshelf counter-top was sprayed in place.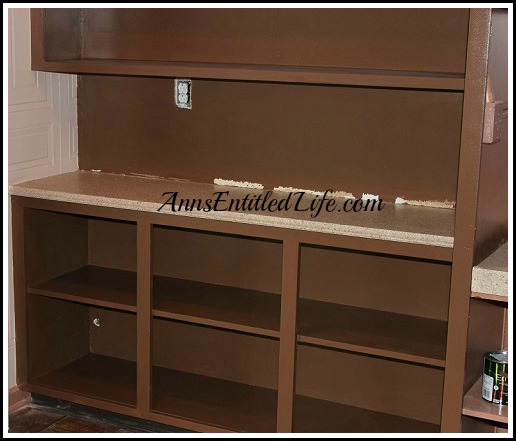 Ooops! When he pulled off the plastic, the painter's tape actually took the paint off the bookcase. No worries, he fixed it.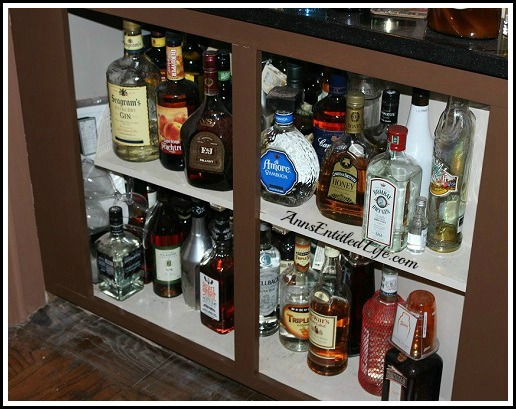 The liquor storage area under the wetbar was "very easy".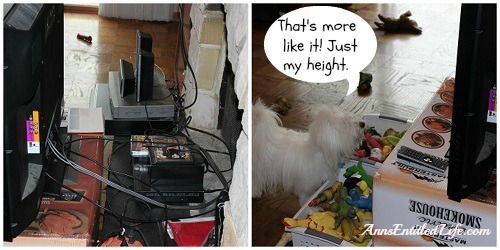 I bagged all the books and nicknacks while they worked. The TV was another story. Since Hubby never put away the smoker I bought him for Christmas, I decided to make use of it as a TV stand!
Max was pleased.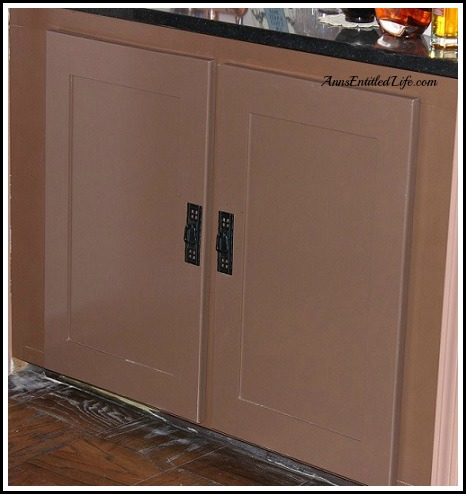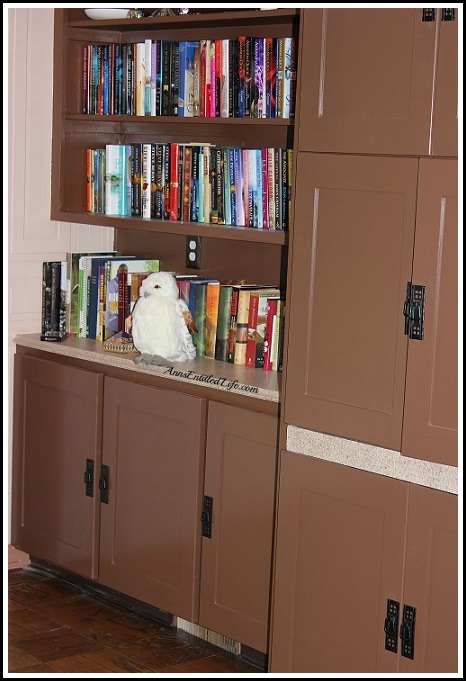 The finished product is fantastic! I chose shaker doors since they go with anything, and the furniture in the family room is Mission style. I found cheap Mission hardware online. The conversion varnish was sprayed on in layers in his shop. Unfortunately, he isn't allowed to spray in home any longer or I'd have had the entire case sprayed! You should feel how smooth these are!
This took 2 weeks from beginning (first measure) to end (doors hung and hardware attached). All I know, is I wish I had done this years ago!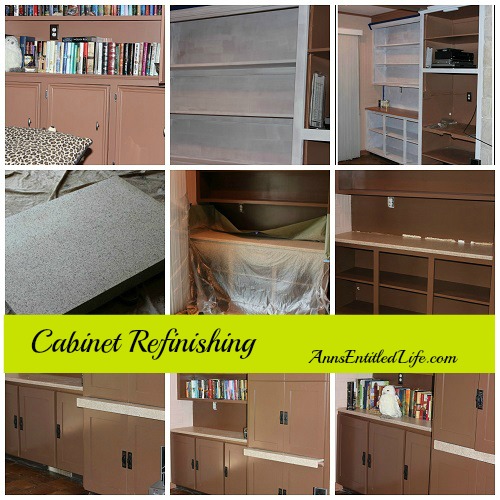 Next project for this room? Hardwood floors (I will truly miss the parquet), and finished trim underneath the built-in and liquor storage area.
---
● If you enjoyed this post, be sure to sign up for the Ann's Entitled Life weekly newsletter, and never miss another article!
● For more Renovation projects on Ann's Entitled Life, click here.
---