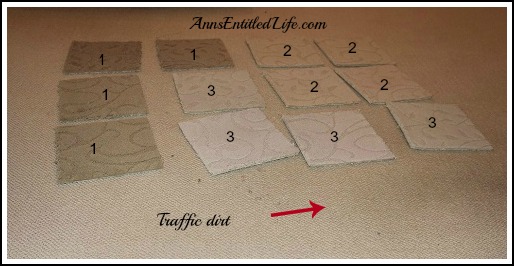 As you all know, Hubby and I are in the midst of renovations at our house. We have a long list, and we are slowly chipping away at it. Things are taking a turn this month: Hubby finished one of his rentals last week, and it is now occupied. He has a deadline on another double, but that isn't until October, so he is being er, compelled to finish some projects around the house this month.
This includes painting Sonny-boy's old room and getting new carpet down in there and in the upstairs hallway. The painting "we" (yes, that is the royal "we") are doing, the carpeting we are buying at a dealer and having professionally installed.
You see that picture at the top of this blog post? That is what I have been looking at the last two weeks as I come up the stairs. There are two different patterns, each pattern is in three different colors (the same colors in each pattern). We put it at the top of the stairs hoping one of them would grow on us.
They haven't.
We went over to our local dealer that is a Stainmaster Flooring Center. That means they can offer a lifetime warranty as opposed to a limited warranty. Those were the patterns and colors that we zoned in on. You see we like light colored floors. Only problem is we are very definitely a "shoes on" household. White, or very light, carpeting and shoes do not mix well. You get definite traffic patterns and see every single last spec of dirt! This isn't like a white car that looks cleaner when dirty than a dark car does, this is white that shows the dirt! So we also picked out the the darker brown… and I don't like it at all. Hubby is convinced that if we install it, we will like it over a large area. Who knows, maybe. I have a feeling I am going to see how that plays out though.
Are you a shoes on or shoes off in the house, household?