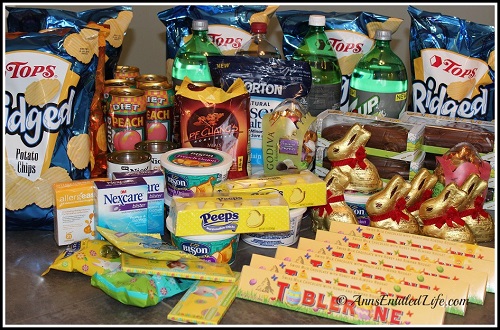 A few weeks ago I posted Sunday Morning Shopping making it very clear that I may not be out shopping on Sunday ever again (or at least not every week). This is a reader driven post having little to do with me – except I may run out to get whatever good deals you all post in comments. 😛
I also added an email notification for additional comments. Definitely read this post so you know how to opt in or out.
Ann's Sunday Morning Shopping
My plans this morning entailed a quick trip to CVS (then I looked at the ad, yikes!), Walgreens (only after I looked at the ad), and Tops.
Our first stop was Walgreens where we did quite a few orders:
Walgreens Order #1
(1) Nexcare $3.50
(1) 7up Ten $1
= $4.50 and received (1) $3.50 RR and one (1) $1 RR
Our area received a $1/2 coupon, not the 50¢ coupon, so no coupon use.
Walgreens Order #2
(1) Lozengers $4
(1) Dr Pepper Ten $1
= $5
– $3.50 RR from order #1
= $1.50 and received (1) $4 RR and one (1) $1 RR
Walgreens Order #3
(1) epson salt $4
(1) 7up Ten $1
= $5
– $4 RR from order #2
= $1 and received (1) $4 RR and one (1) $1 RR
Walgreens Order #4
(1) Nexcare $3.50
(1) Canada Dry Ten $1
= $4.50
– $4 RR from order #3
= 50¢ and received (1) $3.50 RR and one (1) $1 RR
Walgreens Order #5
(2) Peeps 18¢
(1) PF Chang Sweet & Sour Chicken $2.24
(6) Arizona Tea 2/$1
(2) Easter Bunny Money Bar Candy 24¢
(2) Nice Canned Seet Potatoes 32¢
(1) Peppy Rice Bunny 32¢
= $7.28
– $6.50 in RR (from prior orders)
= 78¢
Yeah, Hubby was with me. All of order #5 was his finds, but I knew he was going to do that and I planned accordingly. All together at Walgreens:
$26.80 in merchandise
$8.28 OOP
and I have $1 in RR leftover
Then we went to Tops:
I did a targeted strike and gathered for two bonus point gas card deals. Hubby looked at the Bison Chip dip, and the expiration date was 5/11/13. Since he is good for 1.5 – 2 per week, I only bought 6 for one deal. I may check again later in the week to see if I can get any late May dates and use the later date chip dip for both him and Memorial Day.
We are now up to $1.40 off a gallon, and Hubby's truck needs gas, so I will be redeeming this week.
I checked-out, and was looking for Hubby. He has this incredible ability to get lost in a two aisle store, never mind a 20 aisle Tops, and I was dreading the hunt. This particular Tops has a metal roof and cell phone reception is spotty at best so calling him wasn't an option.
I shouldn't have worried – there he was bobbing and weaving at the candy display near the floral department.
I called out to him, Hubby looks over to me and said, "You really blew it!"
Apparently, Tops has 90% off Easter Candy!
I hand Hubby my bonus card, and go over to the register to see what deals he found. He was so excited, he was like a little kid! (in a candy store 😉 )
Hubby's Tops Order
(6) Niagara Chocolate Cards 70¢ (these weigh 7oz, so 10¢ per ounce)
(2) Godiva Truffle Eggs 90¢
(6) Lindt Bunnies 50¢ (these were 3.5oz, so 14¢ per ounce)
(6) Toblerone (7.05oz) 60¢
(2) Ghirardelli Chocolates 50¢ (these were 3.5oz, so 14¢ per ounce)
The price for all this before bonus card was $135.78
After bonus card $13.60
Needless to say that not only are Hubby and my grandfather very well stocked for chocolate, but Hubby got a fantastic deal on Easter chocolate!
How was your shopping this week? Did you go Sunday Morning Shopping? Did you find any great deals? Anything we should all run out for? Detail folks, details!