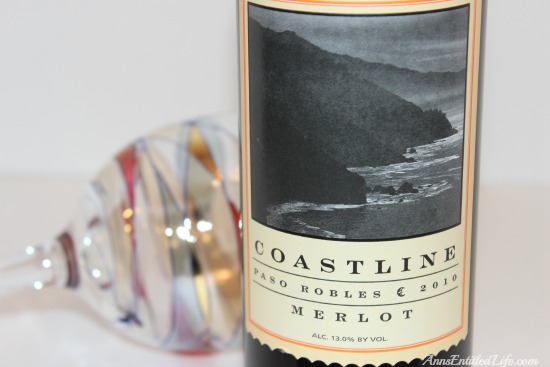 Today's wine review is for the Coastline Merlot Paso Robles 2010.
The Coastline Merlot Paso Robles 2010 is made up of 90% Merlot, 7% Cabernet Sauvignon, 3% mixed red varietals, 13% Alcohol.
Vintner's Notes:
This is a fruit-driven wine with a lush, round mouthfeel. Earthy aromas of sandalwood and black olives are well integrated with bright plum and ripe berry fruit aromas, along with a slight bacon note. Lush flavors of plum and red berries lead to a slight oak note in the mid-palate, followed by softened tannins on the finish.
My Notes
A deep purple color when poured, the Coastline Merlot benefited greatly from being allowed to breathe. Total Wine has an excellent definition of what allowing a wine to breathe means:
Allowing a wine to "breathe" is simply a process of exposing it to air for a period of time before serving. Exposing wine to air for a short time, or allowing it to oxidize, can help soften flavors and release aromas in a way similar to swirling the wine in your glass. Young red wines, especially those that are high in tannin, such as Cabernet Sauvignon, most Red Zinfandel, Bordeaux and many wines from the Rhône Valley, actually taste better with aeration because their tannins soften and the wine becomes less harsh.
Decanting a wine is a fabulous way to to allow wines to be exposed to air.
Once I allowed the wine to breath for an hour, the Coastline Merlot became down right tasty! Berries and plum was in evidence. The Coastline Merlot is medium bodied, and wonderful when paired with cheese.
Selling for under $10 a bottle, I would definitely purchase the Coastline Merlot again.
---
As always, drink responsibly and please don't drink and drive.
• For more liquor and wine tips and reviews, click here.
• If you would like to know where you can purchase the beautiful crystal glass I used in this picture, click here.
---