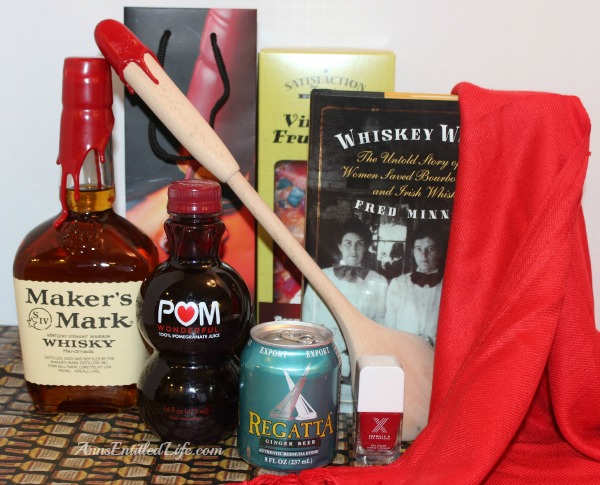 A few weeks ago Maker's Mark asked if I would like to take part in an online virtual tasting. The emphasis was on #RedFriday – which is today! Instead of Black Friday, why not stay home for Red Friday with Maker's Mark!? LOL Cute. The above packet was sent to me by Maker's Mark with no expectations except to attend the virtual tasting. I decided to write about Maker's Mark because I love to share my opinions about wine and liquor!
I actually learned a lot during this virtual tasting. There are many interesting Bourbon facts on the Maker's Mark site including:
● Must be made in America
● The grain must be at least 51% mash bill corn
● Must be stored in new, charred oak containers
● Must be distilled to no more than 160 proof
● Barrel entry proof no more then 125
The original Maker's Mark recipe came from making lots and lots of loaves of bread looking for a bread-like quality in the bourbon. The decision was that Maker's Mark should be different, unique and approachable. The goal was for Maker's Mark to be easy on the pallet with no shock value.
Women have more/better taste buds than men. This virtual tasting was all about women-bloggers tasting Maker's Mark. Pour a bit in a wine glass, give it a swirl, a taste and spit. This will acclimate your mouth for the next taste. Take a sip, and allow the taste of the bourbon to linger and fade slowly to catch the different tones.
During this tasting, there were a lot of different flavors described by the women: vanilla, apple, spices – including cloves, caramel and honey were just some of the noted descriptions.
For myself, I tasted: vanilla and caramel… probably why this makes a delicious high ball or buck (a buck is a ginger ale and spirit drink).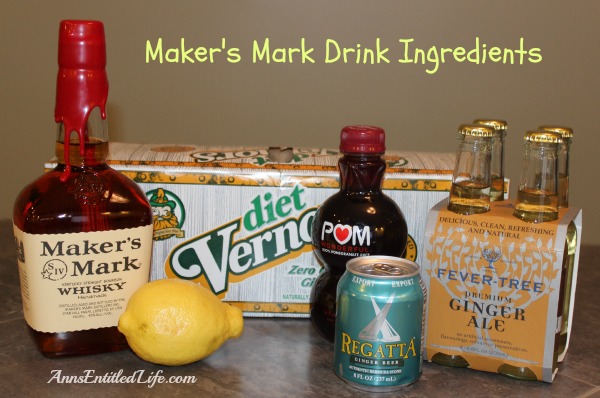 A new drink, later named "Wrapper's Delight" was introduced during the virtual tasting. Most of the ingredients were sent along in that box, but we needed to add a lemon. It was also suggested that ginger ale could be substituted for the ginger beer. Verner's (which I love!), Fever Tree and Reed's were all suggested.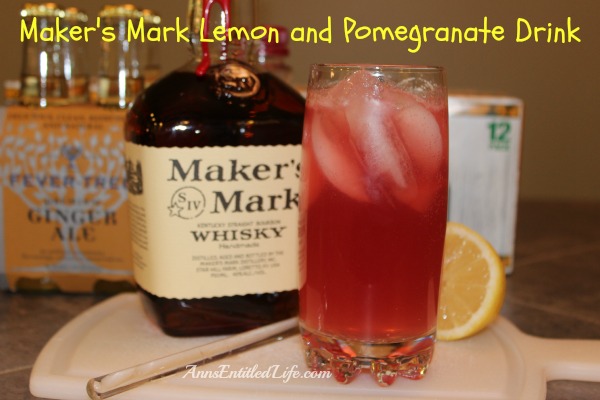 To make this new Marker's Mark drink:
● Start with a tall glass
● Squeeze your fresh lemon and add .5 oz to the glass (1 TBSP)
● Add 1oz Pomegranate Juice (or pomegranate liquor)
● Add 2oz Maker's Mark
● Add Ice
● Stir
● Fill to the top with Ginger Beer or Ginger Ale
For myself I thought this would make an excellent summer drink. Yes, there is pomegranate juice which is traditionally a holiday beverage, but the lemon was so predominant, I found this to be a summer-y beverage.
Hubby, however, loved this drink! He found it both refreshing and seasonal, and felt it is appropriate for any season.
I must say I thoroughly enjoyed the Maker's Mark. From the top of its hand-dipped neck and cap to the flavorful bourbon inside, Maker's Mark is definitely worth a try for those interested in Kentucky bourbon.
Disclosure: Maker's Mark sent me the pictured materials at the top of this post, no further compensation was supplied. All opinions are mine and in no way influenced by Maker's Mark.
---
As always, drink responsibly and please don't drink and drive.
For more liquor and wine tips and reviews, click here.
---