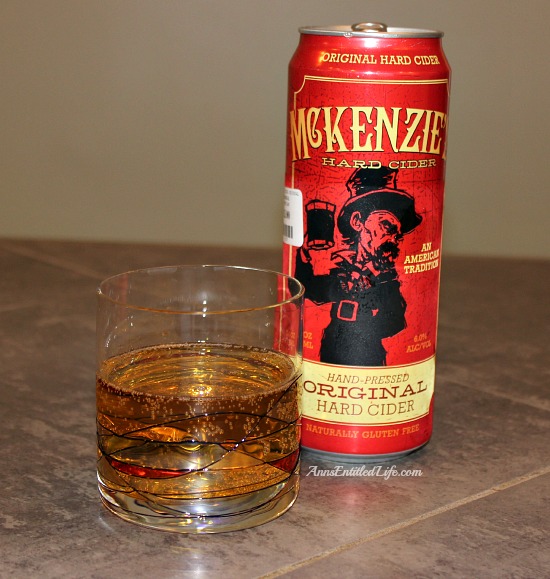 'Tis the season! Hard ciders are abundant as they make a comeback to the US mainstream the last few years. Today I would like to present my McKenzie's Hard Cider Review. Well, it is actually a collaborative review – Hubby and I both had the McKenzie's Hard Cider.
McKenzie's Hard Cider is made in New York state, bottled in North Carolina. The apple product source is Mayer Brothers in West Seneca, NY. Mayer Brothers presses over 350,000 tons of apples every year (they are in every store in the area with their non-hard-cider).
Our Original Hand-Pressed Hard Cider is reminiscent of its UK predecessors – refreshing, medium body and not too dry with a crisp apple finish, is what McKenzie's Hard Cider's advertises.
McKenzie's Hard Cider is 6% alcohol/volume, sells for $3 for a 24oz can, hand pressed and gluten free.
Hubby purchased the McKenzie's Hard Cider because it looked interesting to him. And it was. We split the can last Sunday, and this was our impressions:
The McKenzie's Hard Cider pours clear, with a pale amber hue, highly carbonated, no head. It smells faintly yeasty. The McKenzie's Hard Cider goes down smooth, light and is refreshing with just a hint of apple. Hubby said if it were packaged in a wine bottle, they'd double their sales.
The biggest problem with the McKenzie's Hard Cider is it very, very drinkable. It is sweet and reminds me of pop more than cider.
If you can find a can of McKenzie's Hard Cider, I recommend giving it a try. You will be glad you did
Have you ever tried McKenzie's Hard Cider? Did you enjoy it?
---
As always, drink responsibly and please don't drink and drive.
For more liquor and wine tips and reviews, click here.
If you would like to know where you can purchase the beautiful crystal glass I used in this picture, click here.
---