Day 6 of 15 Days of Holiday Cookies on Ann's Entitled Life the brings us a simple sweet treat: Cherry Meringue Cookie Recipe!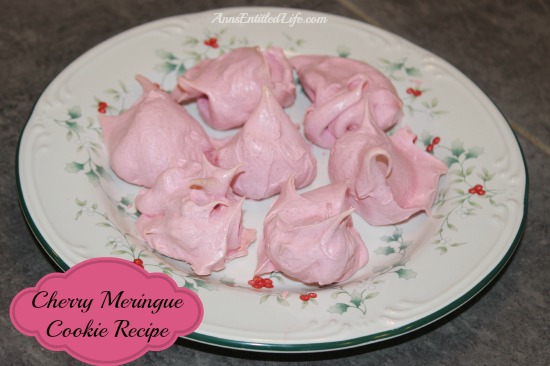 Cherry Meringue Cookie Recipe
By Ann
Cherry Meringue Cookies look and smell great! They are simple to make, sweet and light, a real favorite for those with a sweet tooth.
Prep Time:15 minutes
Cook time:45 minutes
Ingredients:
• 3 Egg Whites (from large eggs)
• 1/8 tsp Salt
• 1 large box Sugar Free Cherry Jell-o Powder (don't make the mix)
• 3/4 cup Sugar
• 1 tsp White Vinegar
Directions:

• Preheat oven to 250°.
• Line two baking sheets with parchment paper, set aside.
• Using a mixer, beat together egg whites and salt until foamy.
• Add cherry Jell-o powder and sugar, beat until stiff peaks form.
• Mix in vinegar.
• Drop cherry meringue mixture by teaspoonfuls onto parchment lined cookie sheet, 1″ apart.
• Bake in 250° oven for 25 minutes.
• When 25 end, turn off oven and leave the cookies in the oven for another 20 minutes.
• Allow to cool on top of stove on parchment paper sheets.
• Cookies will peel off!

Makes 3 dozen Cherry Meringue Cookies
Note: these cookies are delicate and do not store well. They are best eaten on day 1, day 2 at the latest.
• For a list of all recipes available on Ann's Entitled Life, click here.
---

---
FOLLOW US ON: