Day 9 of 15 Days of Holiday Cookies on Ann's Entitled Life the brings us: Jam Filled Cream Cheese Cutout Cookie Recipe. I want to caution you though: jams and jellies, when hot, can cause burns at the slightest touch. Be very careful when you remove a cookie that was baked with a jam or jelly.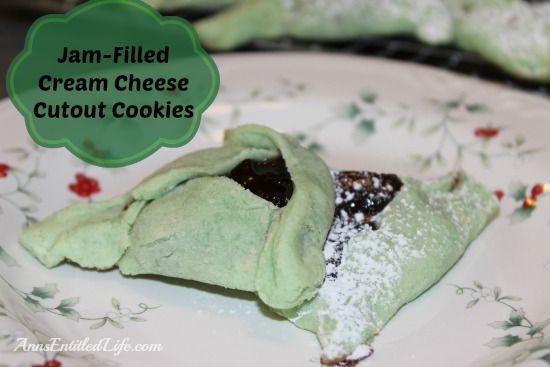 Jam Filled Cream Cheese Cutout Cookie Recipe
By Ann
These delicious Jam Filled Cream Cheese Cutout Cookies smell divine and taste like grandma's cookies. The dough can be left uncolored, or add a few drops of food dye for a festive alternative.
Prep Time:45 minutes
Cook time:8 minutes
Ingredients:
• 1 stick Butter, softened
• 1 cup Sugar
• 4 oz Cream Cheese, softened
• 1 tsp Vanilla extract
• 1 Egg
• 2 1/2 cups All-purpose White Flour
• 1/8 tsp Salt
• 12oz jar of Jam
• 8 drops Food Coloring, if desired
• Confectionery Sugar, if desired
Directions:

• In a mixing bowl combine butter, sugar and cream cheese, beat until smooth.
• Add vanilla and egg, beat until well blended.
• Add food coloring if desired.
• Transfer dough to another bowl, cover and refrigerate for 2 hours for easier handling.
• After the 2 hour refrigeration, Preheat oven to 375°.
• Lightly flour your work surface, roll out 1/3 of dough to 1/8″, keep remaining dough in refrigerator.
• With a 2 1/2 round cookie cutter (or end of a glass), cut dough.
• Place circles on ungreased cookie sheet.
• Fill with 1/2 tsp jam.
• Fold up three sides without covering the jam, pinch the corners to seal.
• Bake in preheated 375° oven for 8 minutes or until edges of the cookie are slightly brown. (DO NOT OVER BAKE!)
• Cool for 2-3 minutes on cookie rack (until jam stops bubbling).
• Transfer onto wire racks to finish cooling.
• Sprinkle with confectionery sugar if desired.
• Repeat process with remaining dough in the refrigerator.
Makes 4 dozen Jam Filled Cream Cheese Cutout Cookies
• For a list of all recipes available on Ann's Entitled Life, click here.
---

---
FOLLOW US ON: