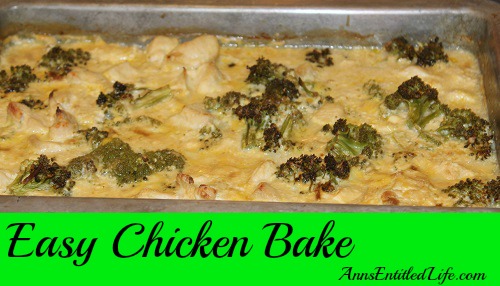 Easy Chicken Bake
Preheat oven to 350º
Ingredients
1 packet Lipton Onion Soup Mix
1 Can Campbell's Condensed Cream of Chicken Soup
Milk – fill the empty soup can
8 oz Sour Cream
1 – 1.5# trimmed and cubed Chicken Breast
1 package frozen Broccoli (or peas, or fresh mushroom, or all three! You can also use fresh if in-season!)
Preparation Instructions
• Trim off fat from fresh chicken breast (or defrosted frozen breast)
• Cube
• Combine cream of chicken soup, onion soup mix, milk (fill the empty soup container with milk and pour into bowl) and sour cream
• Mix well
• Pour soup mixture into lightly sprayed 13?x9? pan
• Add chicken (make sure you cover the chicken with the liquid mixture)
• Add broccoli
• Bake for 1 hour
• Serve over white rice
Of all my recipes, this is a top 5 favorite simply because it is so easy and delicious. Leftovers hold up, and this Easy Chicken Bake goes a long way when served with white rice. Easy, economical and tasty comfort food.
---
This recipe originally appeared on Coupons, Deals and More. I have recovered a great many of the best loved recipes, and will be posting them on Ann's Entitled Life twice a week until the are all up! If you had a favorite recipe you would like to see posted sooner rather than later, please email me your request, and if I have it, I will post it!
And as always, your recipe help is appreciated. If you have a great, easy recipe made with many ingredients commonly found in the pantry, please email me the recipe and a photo via this email address. Thank you!
• For a list of all recipes available on Ann's Entitled Life, click here.
---
---
FOLLOW US ON: