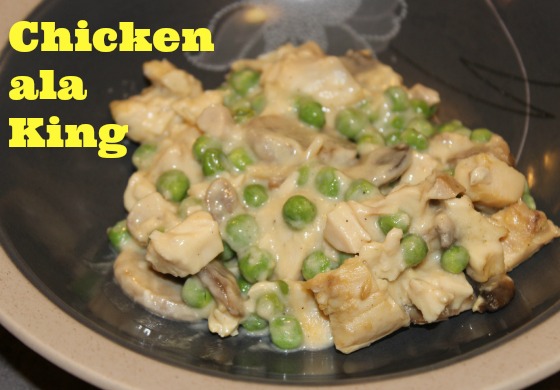 Chicken ala King Recipe
By Ann
This is one delicious, creamy and smooth Chicken ala King recipe. Serve over biscuits, rice, or eat without a starch – it's all good!
Prep Time:15 minutes
Cook time:25 minutes
Ingredients:
• 3 TBSP Butter
• 8 oz Fresh Mushrooms, sliced
• 2 TBSP Fresh Garlic, minced
• 3 TBSP Wondra
• Pinch of Cayenne Powder
• 1 cup Water
• 3 tsp No Sodium Chicken Bouillon
• 1/2 cup Heavy Whipping cream (do not whip)
• 2 cups Cooked, Chopped Chicken
• 1 bag Frozen Peas, microwaved 3 minutes
• 1/2 cup Parmesan Cheese
• 1 tsp Black Pepper
Directions:

• Melt butter in large skillet.
• Add mushrooms to melted butter, cook until mushrooms are tender (5-7 minutes).
• Add garlic to mushrooms, cook 3 more minutes.
• Add Wondra and cayenne powder to mushrooms and garlic, stir for 1-2 minutes.
• Slowly add water and bouillon powder to mixture, cook until thickened stirring constantly.
• Add whipping cream, chicken and microwaved peas, simmer 5-6 minutes stirring occasionally.
• Mix in Parmesan cheese, add black pepper and stir.
• Serve hot over biscuits, rice or just the chicken ala king!
Makes 4 sevings of Chicken ala King
---
• Disclosure the links in this post may be affiliate links.
• For more Recipes on Ann's Entitled Life, click here.
• If you enjoyed this post, be sure to sign up for the Ann's Entitled Life weekly newsletter, and never miss another article!
---
---
FOLLOW US ON: