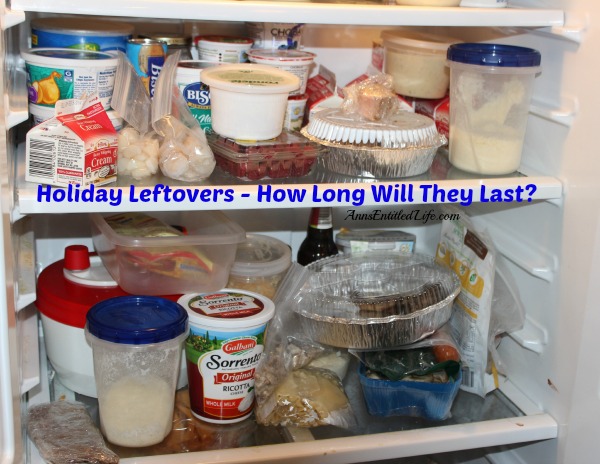 Holiday Leftovers – How Long Will They Last? For us, I would say the Christmas Eve leftovers will last at least 5-6 days – and that is just from what I know we didn't freeze!
That is two shelves of our kitchen refrigerator. I have no idea what Hubby has stuffed in the garage refrigerator-freezer, and frankly I am afraid to look. We tend to use the top of the large garage chest freezer as a cold holding shelf when we have a winter get together (assuming the garage is around 40° or less), and I noticed packages of soup sitting on top of it this morning. This totally frightens me as my assumption is the garage fridge is full. I am also scared to ask why those soups haven't made it into one of our four freezers.
This year for Christmas Eve dinner we had:
● Panera's Cream Cheese Potato Soup (updated picture coming soon!)
● Baked Haddock with Horseradish Topping
● Pierogi (flat, sauerkraut, cheese and potato)
● Corn
● Pea Casserole
● Seafood Lasagna – we got this recipe off the internet, and the ingredient scale was so messed up, Hubby had to rework the recipe completely. It was delicious though, so I may post!
● lots and lots of cookies
● And English Trifle – recipe coming Monday.
We ended up with only 12 of the 19 people originally scheduled to come to dinner (so many problems right now with people's health!), so we have a ton of leftovers! Hubby set out containers after dinner so everyone could take as much leftover food home as they wanted, we brought some to my grandfather (he is not doing well), and then Hubby froze a whole pan of the seafood lasagna for us to enjoy sometime this summer! And clearly there will be more food making it to the freezer over the next day or two.
We still have enough food in the fridge to last use until at least Monday! I am not kidding when I tell you we will be well fed this weekend.
So, Holiday Leftovers – How Long Will They Last in your house?
---