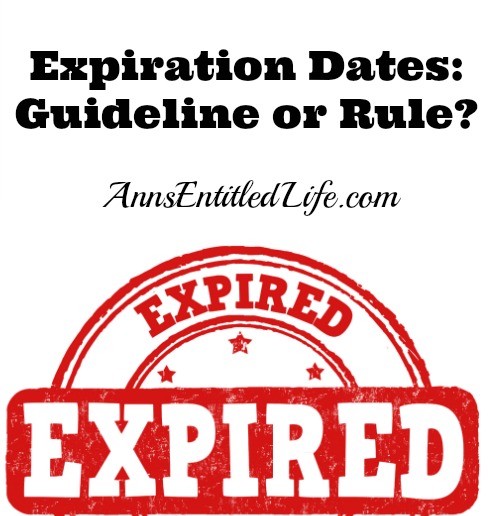 I am squishy about expiration dates. If something is a few days past due, I don't get crazy about it. If it smell/looks funky, or is a bulging can, then regardless of in-date or out-of-date, we do not eat it.
As many of you know, I used to be a couponer (wow! never though I'd say "used to be" with "couponer"!). I started couponing 30+ years ago because back then, if I didn't coupon, we didn't eat. I kept on couponing even after it was no longer a financial necessity for many reasons (see below). However, when my blog died, I decided to take a couponing break. For trademark-purposes I brought back Coupons, Deals and More, but I no longer hard-core coupon myself.
As those of you with teenagers know, they eat a lot. Specifically teenage boys. When a pack of teenage boys descend upon a kitchen, it reminds you of the ravaging that locust can do: nothing edible is left when they are finished. This was a major reason I continued couponing for years and years: Sonny-boy and his buddies! They could eat us out of house and home in a few days. The cost of feeding a group of teenage boys is considerable, so, to get the "good food" (ie, junk) they liked, I continued to coupon.
I kept on couponing even after Sonny-boy went off to college. He'd frequently come home with a few frat-buddies, and they would "shop" in my basement stockpile for the frat house. It was fun to have a reason to continue "the game" even though a mob of teenagers no longer invaded the house. Another perk was that I could help some poor college kids defray their food budget by providing them free food.
Once Sonny-boy graduated from college, I should have quit couponing immediately. Actually, I should have quit the second he started his senior year. They only "shopped" in in my basement a few times that year. Which meant I accumulated a lot of groceries Hubby and I were never going to eat.
I meant to do a donation run, but never quite got there. When the basement got water this past spring, things were destroyed, but my grocery stockpile was fine. It was all off the ground safe and dry. However, when I went down to look at what was lost downstairs, I noticed that a lot of groceries had been down the basement a loooooooonnnng time. While Hubby was shoveling out his basement mess, I mentally noted I would have to go through the old stockpile and see what I should toss.
This past week, I did: THE GREAT PURGE. (Yeah, this deserved capital letters.)
You know how people always say things last "forever" in bottles? Ummm not really. Some of that salad dressings lurking on our basement shelves has a date of 2009 stamped on them.
Actually, a bottle of salad dressing was what prompted me to finally go through the stockpile.
We have received a decent share of romaine lately from the CSA, and I wanted to make an easy Caesar salad. The bottle of Caesar dressing we had down the basement was a pretty funky shade of brown. I looked at the date, and it was old. Heading to the store for a replacement bottle, I discovered Caesar dressing was actually a much lighter, creamy whitish color.
Ummmm… time to purge.
I tossed the separated bottles of hot sauce, the outdated BBQ sauces, mayo from 2010, and much, much more. In all, I took out two garbage bags of various foods, mostly condiments.
I figured since I was checking dates and tossing food, why not go through the pantry upstairs? We clean out the pantry twice a year, so how come 2011 was still well represented? I smelled Hubby's packrat tendencies, but decided to just let it go and toss things myself without trusting him to do the tossing, or telling him I was tossing until after the fact.
And finally, I went to the upstairs linen closet where I tossed outdated OTCs.
In all this, I only found one bulging can, so that wasn't bad. I also learned that I was correct to stop couponing. Hubby and I get plenty of food from the CSA, ordering a pig and half a cow, and going to the store every other week for dairy. Since it is now just the two of us, I no longer need 50 salad dressings (and apparently never did), enough OTC medicine to stop the sniffles of all of Sonny-boys frat-buds, or "healthy" snacks and crackers that taste like cardboard. Apparently we like stuff that tastes like fat and sugar because I didn't find a single bag of expired potato chips, Popcorn Indiana or chocolate.
So in conclusion, while I am willing to play fast and loose with expiration dates, something 4-5 years past prime is a little too expired, even for me!
Do you rotate your cupboards? Check expiration dates when you do? How expired is "too expired" for you?
---
For more Library Reading on Ann's Entitled Life, click here.
---