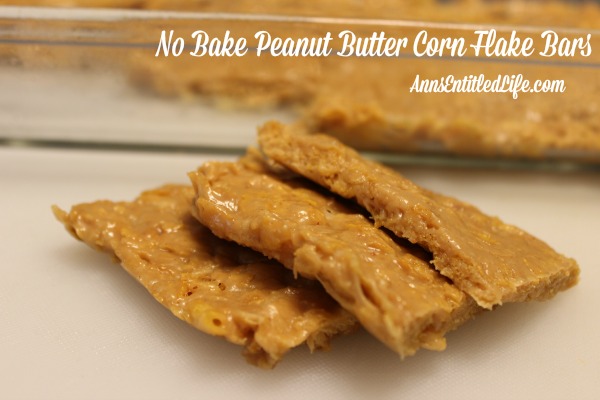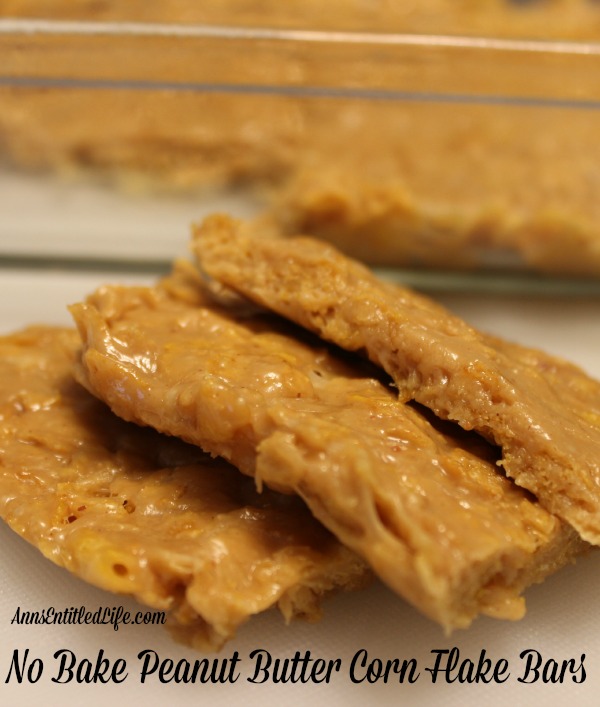 No Bake Peanut Butter Corn Flake Bars
By Ann
Mix up a batch of these old-fashioned No Bake Peanut Butter Corn Flake Bars on a hot summer day. Fast and simple to make, your family will love every delicious bite!
Prep Time:10 minutes
Ingredients:
• 1 cup Corn Syrup
• 1 cup Sugar
• 1 cup Peanut Butter
• 5 cups Corn Flakes
• Optional: Semi-sweet chocolate chips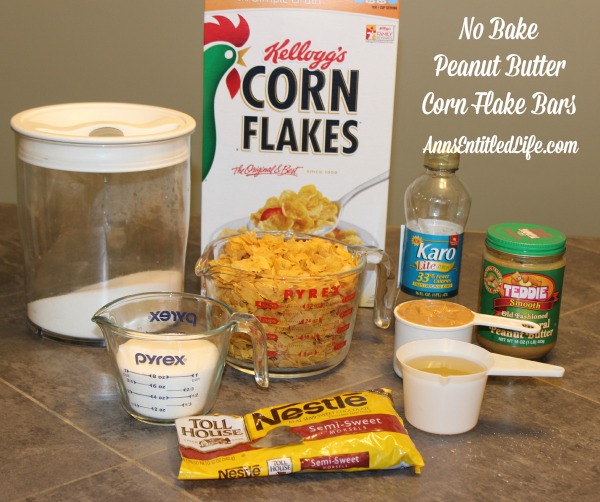 Directions:

• Set up all your ingredients first.
• Spray or lightly butter a 13″x9″ pan.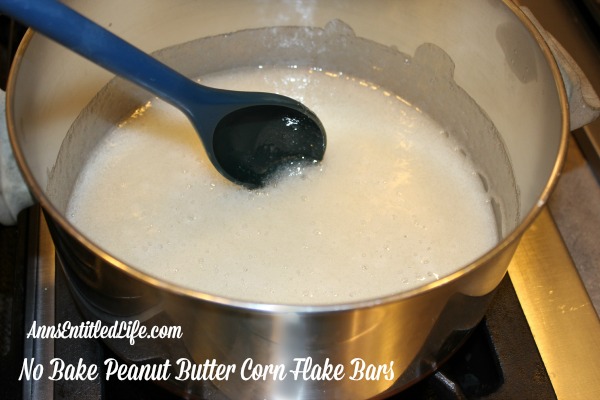 • In a large pot on the stove (large enough to hold all ingredients you are using), combine the corn syrup and sugar. Bring to a low boil stirring constantly. Boil 1 minute.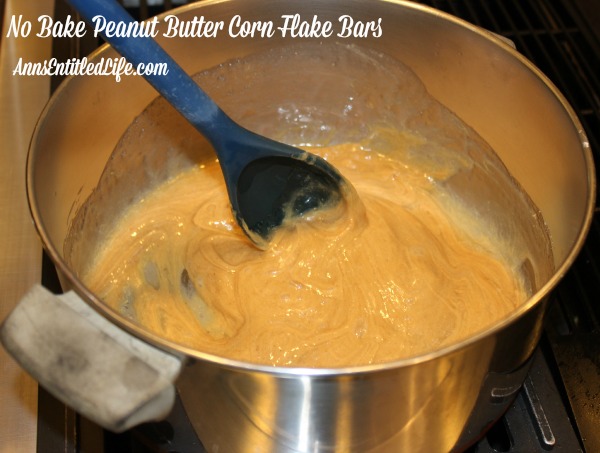 • Remove from heat; stir in peanut butter until smooth.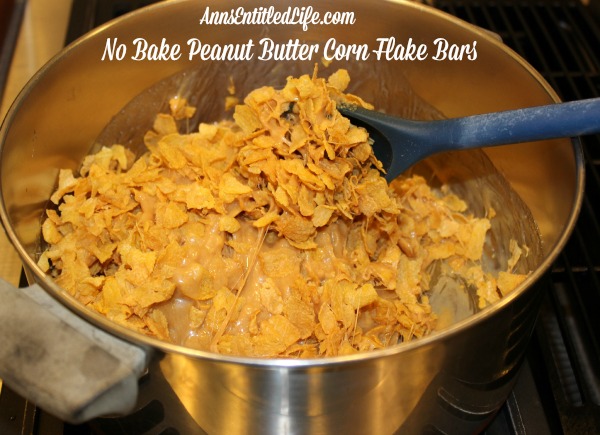 • Add corn flakes; mix well making certain all the corn flakes are well coated.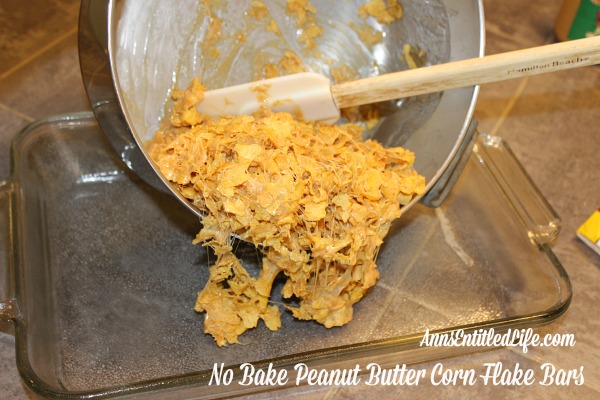 • Press corn flake mixture into your 13″x9″ pan. Tip: lightly butter your fingers or spatula (whatever you are using to press) before pressing the mixture into the pan.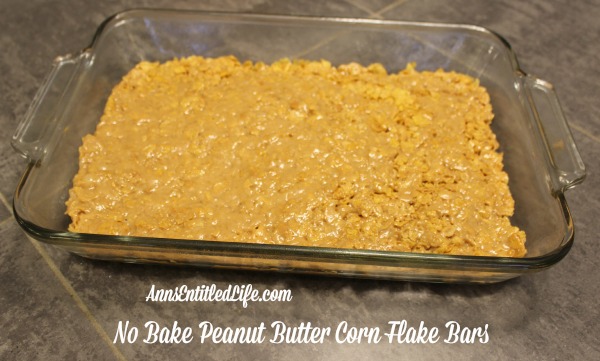 • Cool completely before cutting.
• Optional: drizzle semi-sweet chips over the top.
• Note: if making these as cookies or balls, drop onto parchment paper.
Makes 12 -24 No Bake Peanut Butter Corn Flake Cookies
---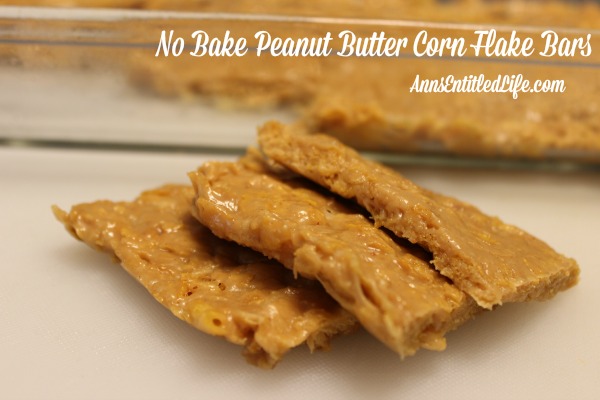 It has been very warm here for the past week or so. Over 90° for an extended period of time has me whining. Western New York weather doesn't "do" 90s, and that is one of our best kept weather secrets! Needless to say, I haven't felt like turning on the oven to bake.
So, I dove deep into my recipe file for this old, old No Bake Peanut Butter Corn Flake Bars recipe. This one is probably older than I am!
Variations for the corn flakes include using:
• Bugles
• Chex Mix
• Cocoa Puffs
• Life Cereal
• Popcorn
• Fritos
• Special K
Added toppings (or mixing into the mixture) include:
• Butterscotch Morsels (either as a drizzle or added whole)
• Candy Corn
• Peanuts
• M&Ms
• Marshmallows
• Semi-Sweet Chips (either as a drizzle or added whole)
Pretty much all the moose-mixes, chunky-bars and sweet n' salty bar recipes you see these days started with this base recipe 50+ years ago! Just remember when you are adding your ingredients to work quickly as the sugar and corn syrup gets sticky and starts to set once you turn off that burner.
---
• For more Recipes on Ann's Entitled Life, click here.
---
---
FOLLOW US ON: