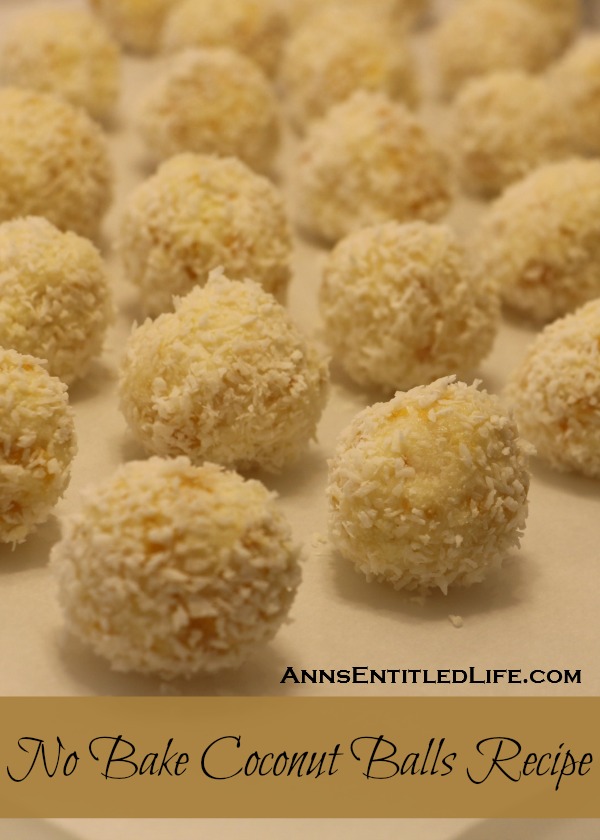 No Bake Coconut Balls Recipe

By Ann
It is a cookie! It is a candy! Two treats in one. This is an easy to make, creamy and delicious no bake coconut ball with a nutty surprise in the middle. A delightful sweet treat.
Prep Time:30 minutes
Ingredients:
• 1 cup Sugar
• 1 1/2 cups Unsalted Butter; room temperature
• 2 cups Powdered Milk
• 2 1/2 cups Unsweetened, Shredded Coconut Flakes, divided
• 1 cup Corn Flakes, crushed
• 1 tsp Almond Extract
• 1/4 cup Roasted Almonds, halved (at least 18 nuts)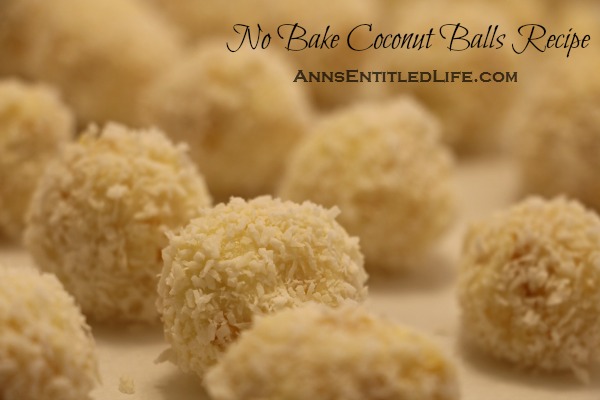 Directions:

• Crush your corn flakes (give them a 10 second pulse in your mini food processor), set aside.
• Cut your almonds in half width-wise (not lengthwise), set aside.
• Beat together sugar and butter, until the texture is fluffy.
• Mix dry powdered milk into the butter.
• Add crushed corn flakes, almond extract and 1 1/2 cups of shredded coconut flakes to the butter mixture, mixing until you form a ball.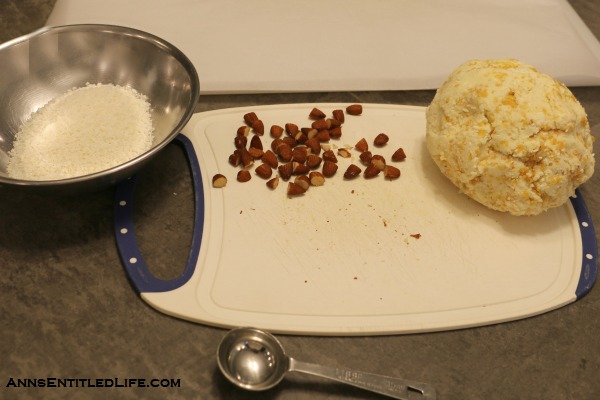 • Place your remaining shredded coconut into a small bowl.
• Scoop out a tablespoon of dough mixture, and place it in your hand.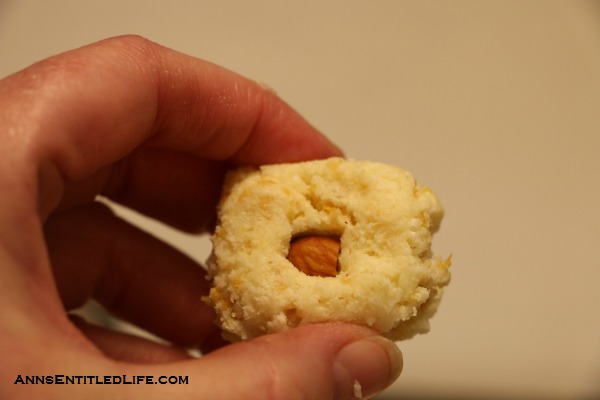 • Insert one of your half-nuts into the middle of the dough ball in your hand.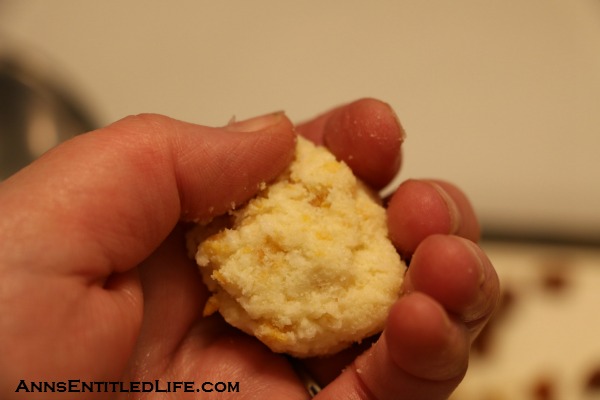 • Close the dough around the nut until it is completely covered.
• Now roll that dough mixture between your palms until it forms a round ball.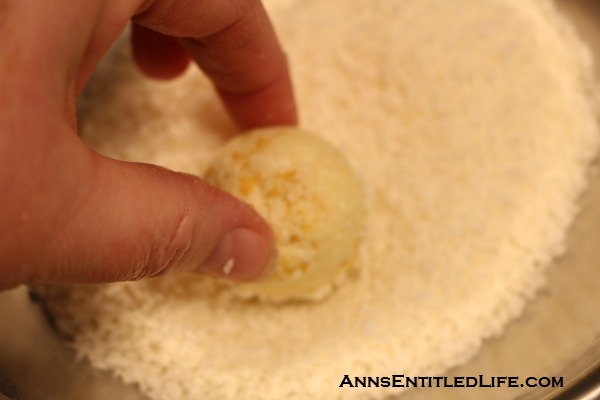 • Roll your coconut ball in the small bowl of shredded coconut, covering completely.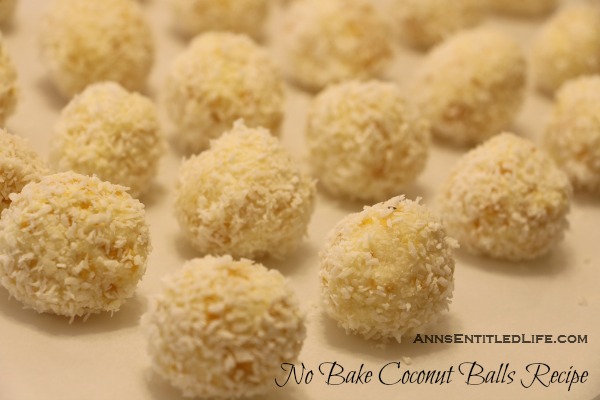 • Place cookie balls on a parchment covered plate/counter, and allow to set up for a few minutes.
• By the time you are done rolling the last coconut ball, the first one should be firm enough to move and store without getting squished.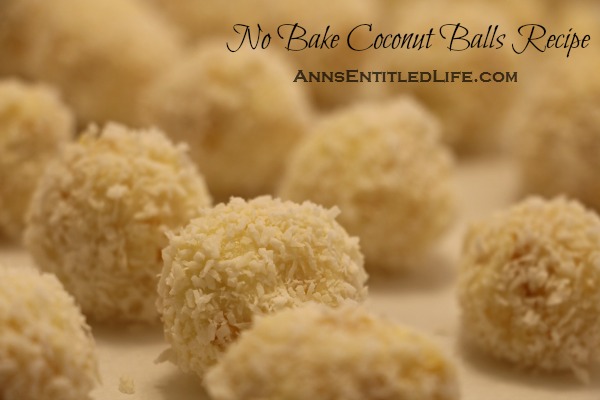 • Store in the refrigerator in an air tight container for up to one week.
Makes 36 No Bake Coconut Balls
• To print the No Bake Coconut Balls Recipe , click here
Today is Day 6 of 15 Days of Holiday Sweets! And what a treat this one is. If you make nothing else from the 15 Days of Holiday Sweets make these.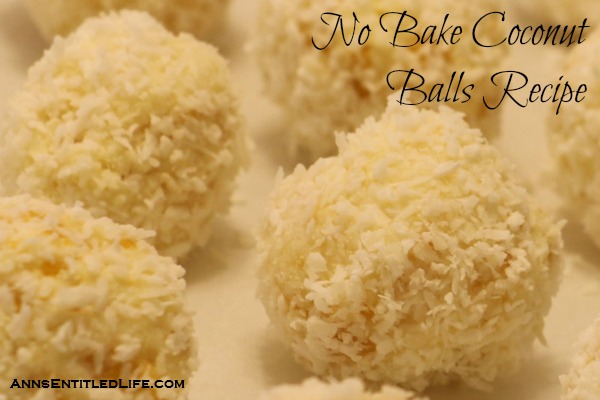 These No Bake Coconut Balls are unique. And simple to make. The only thing you want to be sure of is that your unsweetened coconut flakes are fairly small. The Bob's Red Mill shredded, unsweetened coconut is tiny enough to use without having to run your unsweetened shredded coconut through the mini processor.
Hubby says these remind him of the Toasted Coconut Good Humor Bars that were sold off the Good Humor truck when he was a kid. Hubby adores these No Bake Coconut Balls. I have given them away to people who do not like sweets, who do like sweets, and people who fall in between. These have been universally loved by all!
Give 'em a try. They are truly easy to make, and will last in the fridge for up to a week so you can make them ahead of time for a party pr work function.
---
• If you enjoyed this post, be sure to sign up for the Ann's Entitled Life weekly newsletter, and never miss another article! On confirmation, you will receive a link to the free eBook: A Baker's Dozen of Holiday Sweets! Offer available through New Year's Day 2015 (1/1/15).
• For more Recipes on Ann's Entitled Life, click here.
---
---
FOLLOW US ON: