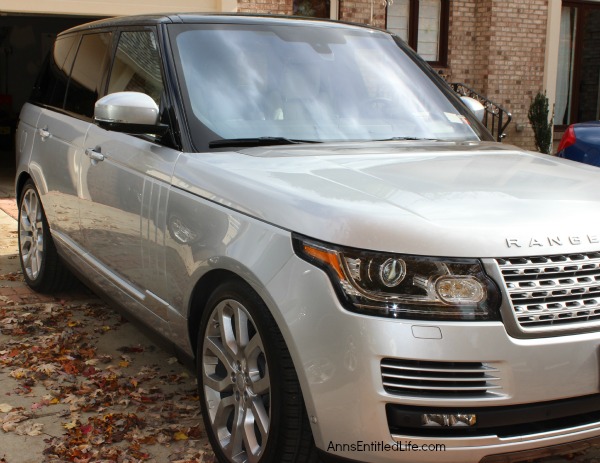 Last week I wrote about our adventures of looking for a new vehicle. When I left off in that post, our new vehicle was due in at the end of the week and we would pick-up after prep (the timing was kinda squishy as they were not sure if the vehicle-mover would be late, if there would be damage that needed to be repaired, etc).
Hubby and I drove to the next-city-over with Max on Friday to pick up the new vehicle exactly as we had hoped the schedule would play out (no delays). The vehicle did arrive on Thursday, and was prepped in time for us to pick-up Friday . When we got to the dealership the vehicle was ready, all the paperwork had been signed and the wire transfer had been made to pay for the vehicle. The guy who sold it to us spent several hours explaining the dodads and features of the Range Rover.
And there are some really cool features. The Range Rover Supercharged is a 5.0L V8, 510 HP vehicle that goes vrooom vrooom. It is a quiet and comfortable ride, however. It is smaller than our last vehicle, and for that I am grateful. I wanted to scale down a bit. While it has the all-important-cooler, it is significantly smaller than the cooler in our old Lexus LX 570.
There is a head-up display in the windshield (super cool!). The back-up, forward and bird's eye camera are all as good as we expected. The front has dual climate control (expected) and so does the back seat! Max will never be uncomfortable again!
The rear tailgate opens with a wave of the foot. I tried three times and was successful once. That was a first for the salesman, and he got it both times he tried. Hubby was one for two. Apparently, I will need some practice!
In the Land Rover parking lot, we were introduced to the park assist feature.
You engage park assist and then the vehicle finds a space the vehicle can fit in to either pull in vertically, or parallel park. It is a +5 feet on the parallel park, and most people need 18 inches to 2 feet (unless you are in Manhattan, then it is bumper cars).
So we rounded the parking lot "looking" for a parking spot, and when one was located, the vehicle told us to go past the parking spot within our vehicle would fit. Hubby did, and then was instructed to put the car in reverse… and that Range Rover ZOOMED in reverse into that spot.
Hubby and I were a bit unnerved by this, and the salesman laughed. Apparently our reaction is typical for first-timers to park assist.
There are a lot less hiding-holes in this vehicle than the 570 too. That is good and bad. Good in that it doesn't allow us to hide a lot of completely unnecessary crap. Bad in that we do have some necessary crap to store (Max's leash, bowl and water at minimum), and we will have to figure that out.
There is a double glove compartment which is very nice. And there is a "valet" option which will lock some key features (including the glove compartments) when you valet park.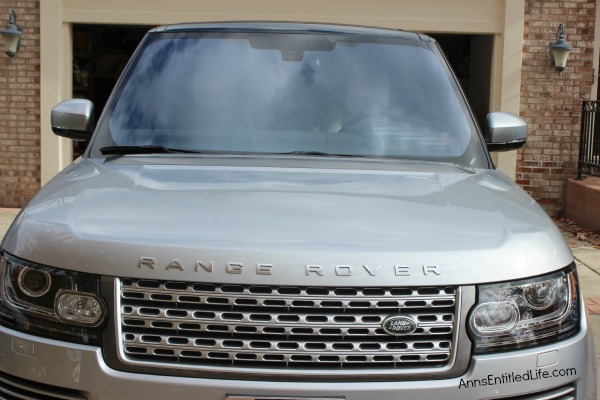 Hubby drove the whole way home (boys and their toys …) and we got to see the safety features in action. The one we really paid up for was adaptive cruise control, and wow is it ever awesome. Basically, if you have the cruise control on and the people ahead of you slow down, the cruise control automatically slows down to match the distance between the two vehicles before the vehicle ahead of you slowed down. This includes a full stop. When the area clears enough to open up, the cruise resumes.
The negative to this happened at a stop sign… it automatically slowed and stopped to match the distance of the car ahead of us prior to the car slowing down, and wanted to engage again as soon as that car left the stop sign. However, we still had to stop! Hubby quickly put his foot on the break, and I am pretty sure we are done "testing" that feature.
The other negative is just because we adjust doesn't mean the people behind us do. (And yeah, that can be scary.)
The dealer told us they would drive in to get our town to pick up our car for maintenance if we liked! I thought that was awesome.
Our salesman also told us that approximately 50,000 Range Rovers are sold in the US each year keeping the market fairly small, and the resale fairly high. By comparison, Lexus sells approximately 300,000 vehicles in the United States every year. I thought that was quite interesting. There is a whole story about Land Rover and the Ford experiment and the sale to Tata Motors. You can read the wiki for more information (if you are interested).
There are a ton of features and gizmos on this vehicle, and it will take some time to get comfortable with them all. I do look forward to learning the other features of this new vehicle. My last two vehicles were never really "mine" in the sense that I wanted to name the vehicle or anything, and I have high hopes that will change with this smaller vehicle.
This makes two vehicles in a row we have purchased online, sight unseen! If someone had told me three years ago that this would happen, I'd have told them they had a nail in their head!
Right now our whole garage smells like new-car! Mmmm new-car-smell!
I do hope this is it for new car shopping for a while. Hubby has his truck and his Honda Element (which he loves and has put through a LOT of interior abuse), and I have the Range Rover. Unless Hubby is willing to part with that Element (unlikely) or we buy a house with a four car garage, this should be it for 3-4 years.
---
● To sign up for the Ann's Entitled Life weekly newsletter, and never miss another article, click here!
---