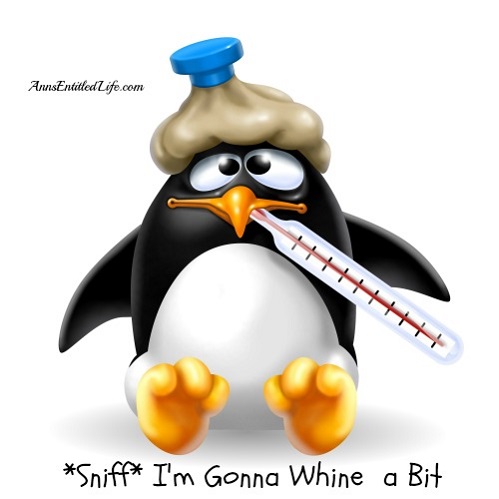 For the first time in I can't remember how long, I caught a cold!! And, while I don't have a Y chromosome, whatever little bit of testosterone is swimming around in my female bloodstream staged a coup this past weekend, and it came out sounding like a whiny-sick-man who has never had the common cold before! You should have seen me – I divided my time between sniveling on the sofa and sniveling in bed. I did, however, manage to get my hair done Friday before allowing those pesky germs to completely take over my nasal and throat passages.
Once Friday night rolled around, I was downing Alka Seltzer Plus like I owned stock in Bayer, and I was most grateful Hubby had stocked up on Kleenex while at Publix the other day. And did I mention the tea!? Let's just say there was a point this weekend when I thought I was going to float away.
If Hubby loved me, he'd have made me some chicken soup, was one of my whines (paraphrased). So Hubby pulled out some chicken soup he had made weeks ago from the freezer. Then I whined it was frozen, so he defrosted it for me in the microwave. When that was done, I put the (mostly) defrosted soup into a pot on the stove to heat up.
Hubby: "Don't you want to microwave your soup? It will be done faster."
Me: "I like it better heated on the stove"
Hubby: "Sometimes I think you are a lot older than your birth certificate says" and goes on to tell me about these "newfangled" inventions that heat food faster.
I "faithfully" take a vitamin cocktail that has kept me pretty healthy the last 7-8 years. I think this may be my second or third, full-blown cold since I started that cocktail, aaaaannnnnd I am guessing my resistance was lowered because I had not taken one vitamin since I entered our condo – that is until I caught the that darned cold. Needless to say I began my vitamin regiment again the second my throat got scratchy Friday morning.
I have an autoimmune disease (Graves) which leads to a higher risk of catching an illness. Before I got on my vitamin program, I would be sick 2-3 weeks many a month! That was nuts. So, to figure out what I could do to help myself, I had my doctor do a full blood panel, I read the results along with my doc, and then we figured out where I was deficient, and what I vitamins I needed to take to get healthy. And after all that, I still have to get the mega dose of Vitamin D yearly. *grumble*grumble*
I hope you and yours are well, and you don't catch whatever it was that laid me low this weekend.
---