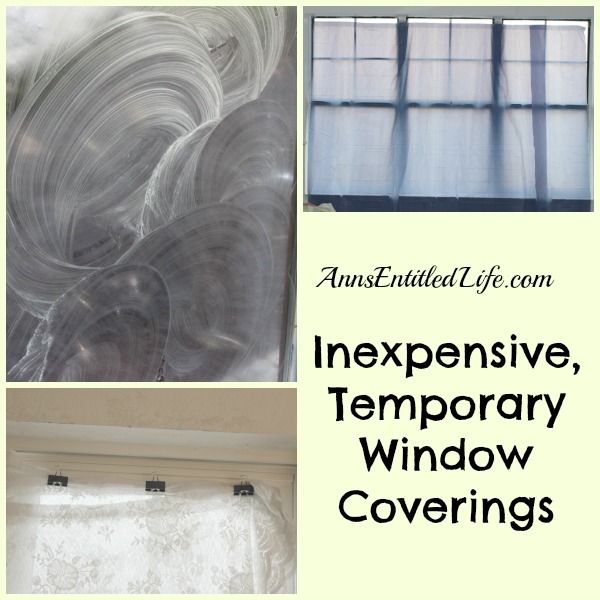 The last few months, Hubby and I have spent time down in Florida setting up our new condo. Not only were we painting and buying furnishings, but we had to replace all the windows as well as the sliding door in the unit. That meant we had to wait on installing window coverings. There was no sense installing window coverings only to have to take it down for the window installers, and then have whatever it was we purchased get dirty or dusty during the window install process.
Still, we needed something for the windows unless we wanted to give the neighbors an excuse for therapy. Then too, the sun rising over the ocean makes for a very bright morning in our bedroom, and I can't say I relish getting up before 7am every day. Some sort of covering was necessary.
In our room coverings were easy. The people we bought the place from left some ugly, privacy blinds on the front window. That didn't interfere with the window installation, and we honestly didn't care if they got dirty or ruined. The side window (that neighbors could see through) had sheers left behind. We left them up until the new windows were installed, at which time Hubby took down the rod and patched the rod-holes, did dry wall repair around the window casing, primed and pained. The new blinds were not going to need that hardware, so all old holes could be patched. That meant the sheers weren't going to be hung again, yet we still needed something for privacy.
So, what to do? Hubby came up with this ingenious idea: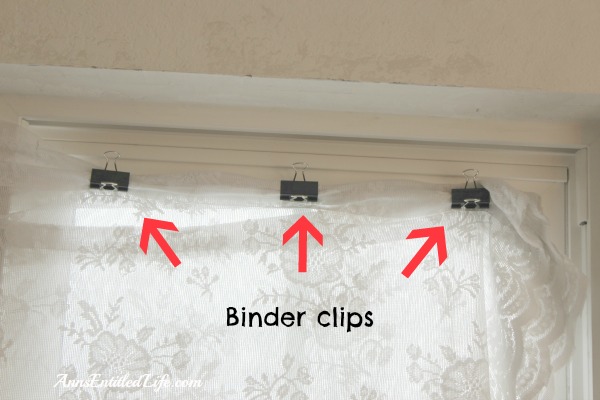 Those are big binder clips he bought at a dollar store. We used three per side, lined up the three sheers one on top of the other, and clipped them to the top of the window! These are double-hung casings, so they have a lip at the top. We honestly only needed one binder clip at each end, but Hubby insisted I clip the other two clips, so I did. No one said I had to catch the sheers in those other clips. 😉
My brother came to visit us a few weeks ago, prior to the new windows being installed, and there was nothing left behind for window coverings in the guest room.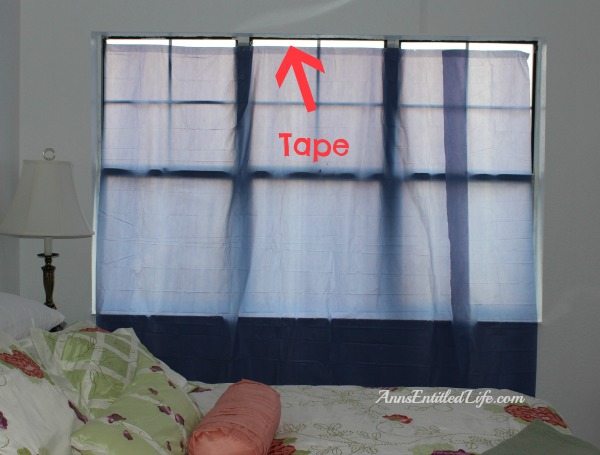 Again it was a dollar store to the rescue! Hubby went and purchased two colored plastic shower curtains, and we taped them to the window with clear packing tape. The dollar store plastic shower curtains are extremely thin, so light-weight and tape held them in place. A plastic picnic table cover would also work, just make certain it is light-weight.
And of course, the old stand by that Hubby uses at his rentals: glass wax or window snow (like the kids spray the windows with at Christmas time).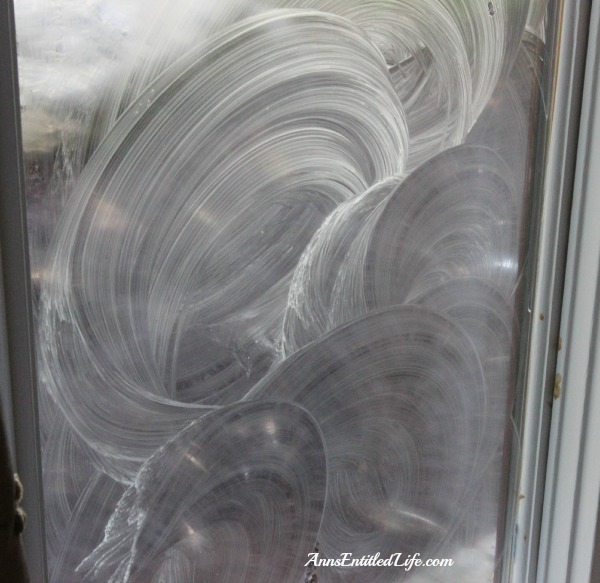 While we didn't use any at this place, Hubby has used them in lieu of window coverings when he is working on rehabbing a house. Basically anything to give privacy, and discourage a walk-by opportunity theft. The bonus to using glass wax is your windows are clean when you wipe it off!
Clearly none of these are for long-term use. These are just temporary solutions when having windows installed, between new drapery installation, during a move, or while installing new windows.
What inexpensive, temporary window coverings have you used?
---
● If you enjoyed this post, be sure to sign up for the Ann's Entitled Life weekly newsletter, and never miss another article!
● For more Ann's Entitled Life Renovations, click here.
● For more Library Reading, click here. Library reading is Ann's Entitled Life's most important, timeless topics for your reading pleasure, and education.
---