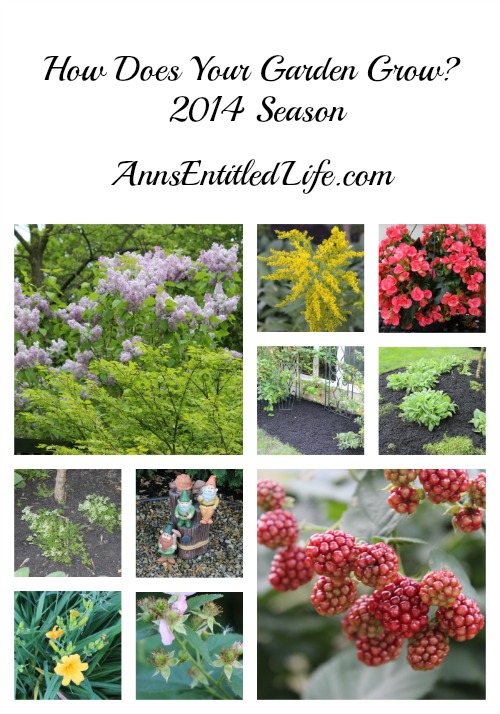 Once again this year I plan on chronicling the highs and lows on my "garden" with How Does Your Garden Grow? posts! (This is the pinterest board if you'd like to follow that.)
I haven't done much planning for the 2014 gardening season other than where I left off last year – I do, however, expect to plant an herb garden this year as well as a second thornless blackberry bush. I want a thornless raspberry bush too. We saw them on a country drive last year, so I know they exist, and they do grow up here. Now to locate one, and plant it at the right time. Last year we checked the local nursery for a second thornless blackberry bush a few weeks too early, and never went back to pick one up at the correct time. I wasn't too sad in the end only because we had removed one bush the year before that had thorns, and since I didn't replant in that same spot, I was able to take care of any residual thorned-black-berry-bush roots that popped up. And a lot did.
As far as herbs, we are hardiness zone 6a. The Old Farmer's Almanac suggests rosemary, sage, thyme, and I know that our CSA had those in the u-pick portion last year. But, Hubby wants parsley and cilantro. Supposedly I can grow cilantro in western New York, but everything I have read suggests clumps of growth as it will bolt otherwise. In gardening jargon, to bolt means it will abandon leaf growth and seed very quickly once hot weather arrives. The plant is inedible after fully bolting as any new leaves will be bitter. Apparently planting in cilantro clumps will lessen the possibility of this happening. We shall see.
Parsley seems like a "can't miss". Sounds like I'd have to dump bleach on it to get it to stop growing! Anyone have any familiarity with growing parsley? Is it invasive? Should I pot it? Or will it be ok in the ground?
Looks like I'll be digging up the dirt island (or more likely Hubby or Sonny-boy will be) sometimes in April or May and planting Mother's Day weekend.
Are you planning on planting a garden this year? Have you started seedlings indoors yet? Or will you buy from a nursery? Flowers or fruits and vegetables?
---
Interested in more How Does Your Garden Grow posts from Ann's Entitled Life? click here
---