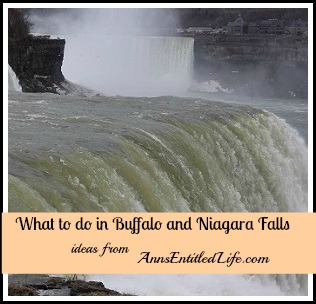 Here is the link to the 2018 list: 300 Things To Do In Niagara Falls and Buffalo, NY
When people say "Buffalo", they are usually referring to the eight counties of Western New York (Erie, Niagara, Genesee, Wyoming, Orleans, Chautauqua, Cattaraugus and Allegany). There are so many things to do in Western New York that I cannot possibly list them all. I am once again concentrating on Erie and Niagara County, New York. At the end of this post I do list some popular area attractions outside these two counties under "other". If you have anything you would like to see added to this list for Western NY, please leave a comment and I will update the list!
click here for the newest list of things to do in Buffalo and Niaraga Falls: 250 Things to Do In Niagara Falls and Buffalo, NY
Buffalo
● Buffalo Architecture – known worldwide for its world class architecture, Buffalo is an architectophile's dream from Frank Lloyd Wright's Fontana Boathouse to his Darwin Martin House along with the Richardson-Olmsted Complex (the old psych center) to Millionaire Row on Delaware Ave, there are hundreds of turn of the 20th century buildings to be viewed in Buffalo in the surrounding areas. If you are interested, the Hotel at the Lafayette has been recently restored at a cost of over 40 million dollars. Buffalo Architecture is so outstanding, the National Preservation Conference was held in the city in October 2011 to rave reviews! This is an excellent list of architecturally significant buildings in Buffalo and those that give indoor tours.
● The Buffalo and Erie County Historical Society – This is the only non government entity owning a presidential assassin weapon. While it is on permanent display, it is viewed by request only. And to go along with that, there is the Theodore Roosevelt Inaugural National Historic Site aka the Wilcox Mansion. This is where Teddy Roosevelt was inaugurated after William McKinley was assassinated during the Pan American Exposition in 1901.
● Albright Knox Art Gallery – This is a world class modern art museum. On the first Friday of the month, from 10-10, courtesy of M&T Bank, there will be free admission
● Black Rock and Riverside Tour of Gardens August 3rd, 2013
● Buffalo Garden Walk – July 27th and 28th, 10am-4pm
● Buffalo Museum of Science – a year round pass is the most economical way to see the Science Museum. Twice and it is paid for!
● Burchfield Penny Art Center – Across the street from the Albright Knox, it has really come into its own in recent years.
● Buffalo Religious Arts Center
● Buffalo Zoo – This is the third oldest zoo in the country.
● Central Terminal Tours – This is the old train station on the East Side. If you have never seen it, I urge you to take the opportunity and see what this Art Deco train station built just before the Depression began, looks like.
● The Colored Musicians Club – According to my uncle (who frequents the club), your best night to go is Sunday at 8PM. The other bands listed are practice sessions. You go in the door on the far left. Ring the "door bell" buzzer and wait for the "click" then pull. Plenty of parking in the area.
● Erie Basin Marina and Erie Basin Marina Gardens
● Forest Lawn Cemetery Tours – Notable graves include US President Millard Fillmore, Seneca Indian Chief Red Jacket, as well as Song Writer Rick James. Fascinating and beautiful.
● Olmsted Park System Golf courses, running tracks, tennis courts, Japanese gardens, swing sets and more. You name it and the Olmsted Park system has it, including free Shakespeare in the Park performances beginning June 20th in Delaware Park (near the Marcy Casino).
● Pierce Arrow Museum My father and grandfather both raved about this place! Apparently it is a showcase for old Pierce Arrows (duh) as well as early automotive inventions.
● Preservation Buffalo Niagara Tours
● Pumping Station Pump House Tour – People come from all over the world for this one!
● Thursday in the Square – Free downtown concerts This also lists the schedule for Buffalo Place Rocks on Fridays (those are not free)
● Ulrich's Tavern – Open over 50,000 straight days (that is over 140 years folks), it is the oldest continuously open tavern in Buffalo
● Underground Railroad Tours – Trace the route black slaves used to make their way to freedom in Canada (remember if you plan on going into Canada you need a passport or enhanced driver's license)
Festivals
While there is a festival (or three) every weekend in the city of Buffalo, these three of note are:
● Allentown Art Festival – June 8th and 9th
● Taste of Buffalo – July 13th and 14th
● National Chicken Wing Festival – August 31st and September 1st
Water Activities
● Buffalo Water Taxis are being operated by Buffalo Sailing Adventures 
● Historic Buffalo River Tours
● Kayaking
● Queen City Ferry Company – Narrated Buffalo River History Tours are available daily from 10:30am-12pm for $14 adults and $10 for children.
Erie County
● Eden Corn Festival – August 1st – 4th
● Erie County Fair – August 7th – 18th, this is the third largest county fair in the US
● Explore & More Children's Museum – East Aurora
● Kazoo Factory – I think this is something to encourage your school to plan a field trip rather than you taking a day with the kids. However, if you are passing by Eden, it is interesting.
● The Lackawanna Steel Plant Museum
● Made in the America Store – This is the only brick and mortar general merchandise store in the U.S. that sells exclusively 100% American made products. The story is interesting – the manufacturers need to send along certificates that all ingredients, components, the packaging, the glue for the boxes – everything to do with the product needs to be made in the USA.
● Martin's Fantasy Island – Amusement Park
● Vidler's 5 and 10 – yeah I know it is a store but it is super cool… and besides East Aurora works really hard at quaint, and succeeds!
Beaches
Niagara Falls
● The Falls – Ok raise your hand if the only time you go is when out of town company arrives! Take a day trip and see how truly majestic The Falls are, and stay for the night-time lighting.
● If you have a passport or enhanced driver's license something fun to do is walk across the Rainbow Bridge to Canada. I believe the cost is still $2. When you do, the flags denotes the border. Take your picture with one foot in the US, and the other foot in Canada. Sure it is touristy, but it is also kinda neat!
● Cave of Winds – Prepare to be soaked!
● Goat Island – Take the walk to see the Bridal Veil up close, as well as the American and Canadian Falls. Goat Island is the oldest state park in the US.
● Maid of the Mist – You must go at least once in your life!
● Click here for more Niagara Falls attractions.
Niagara County
● Art Park note that this is the Tuesday $5 concerts
● Basilica of the National Shrine of our Lady of Fatima – My grandparents would go monthly. They thought the Basilica was beautiful.
● Bedford Beach, Somerset, New York
● Devil's Hole – a NYS Park pretty much next door to the Falls. Great for an easy hike and to see the whirlpools that result downstream of the Falls.
● Lewiston Art Festival – August 10th and 11th
● Lockport & Erie Canal Tours -Warning, this really is a slow boat!
● Niagara Country Fair – July 31st – August 4th
● Olcott Beach – Cute shops, a beach and an adjacent park to picnic. I honestly can't imagine swimming there as Lake Ontario is never warm! Krull Park
● Olcott Beach Carousel Park – 25¢ rides Thanks Rebecca
● Old Fort Niagara – I've gone during the spring, summer and for the haunting in late October.
Other
● Allegany County Fair – July 15th – 20th
● Amish Trail – mainly located in Cattaraugus county
● Arcade & Attica Railroad – We went yearly when Sonny-boy was young – he absolutely loved it!
● Brown's Berry Patch – Ice cream, U-pick, food, this place is a mob scene on the weekends.
● Busti Apple Festival – September 29th
● Cattaraugus County Enchanted Mountains
● Cattaraugus County Fair – July 29th – August 4th
● Chautauqua County Fair July 22nd – 28th
● Chautauqua Institute Thanks Marissa!
● Here is a link to the Chautauqua Wine trail Thanks Kim!
● Darien Lake – There is an amusement park, concerts and camping.
●  Genesee County Village and Museum
● Iroquois National Wildlife Refuge (Alabama Swamps)
● Letchworth State Park – Absolutely beautiful.
● Orleans County Fair – July 22nd – 27th
● Rock City Park – Olean Thanks Stephanie!
● Seaway Trail – Here's a map of how little or how much you can travel it.
● Wyoming County Fair August 11th – 18th
● Zoar Valley – If you are into hiking, this is a great place.
---