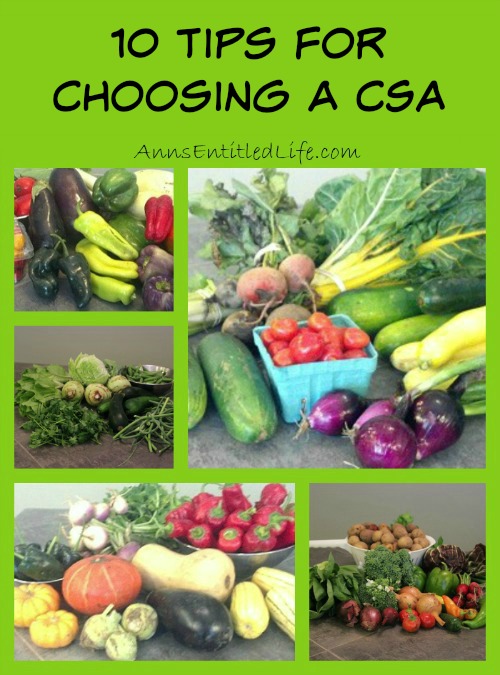 I am a strong proponent of a CSA; community supported agriculture. Hubby and I have belong to a CSA for many years now, first with Porter Farms, and the last few years with Root Down Farms in New York State.
We do not belong to a CSA in Florida… the timing, expense and choices do not make it feasible for us. Every year prior to arriving in Florida for our snowbird season, Hubby does spend some time researching local Florida CSAs just in case a new one has cropped up that is reasonably close, and fits our time-frame down here. So far, no luck, but we keep hoping.
Over the last seven years of belonging to a CSA, I've learned a few things along the way that I would like to share with you all:
10 Tips For Choosing a CSA
● Find a Local CSA – So how do we research local CSAs? Well the best place to begin is localharvest.org. You can choose the type of CSA you are looking for – everything from produce to eggs to beef to honey … heck in my area there is one for alpacas!

● Cost – balance the cost of the CSA against what you would pay for organic produce in your local grocery store.
● Pick-up Time and Day Of The Week – We actually chose our current CSA based on the pick-up time and day. Hubby cooks on the weekend, and knowing what vegetables he will have on hand as of Thursday is a tremendous perk to us. Some CSA run bi-weekly, some monthly. Make certain you understand how often there is a distribution before you sign up.
● How Long Is The Season? – This matters when weighing the cost and your availability to pick-up. If you are out of town for 4 weeks during a pick-up, you need to factor that in. We snowbird in the winter, so can't participate in our CSA's local winter share; we'd miss half the pick-ups!
● What If You Can't Pick-up That Week? – If you miss a week due to a conflict, find out what happens to your share. Diferent CSAs handle this in various manners: distribution to the local foodbank, allowing a friend/family member to pick-up for you, etc. Ask before you sign up!
● Location, Location, Location – Distribution can be handled either via delivery (with an upcharge) or on-site pick-up, depending on the CSA. Our current CSA is a pick-up at the farm. Our old CSA was pick-up at various small distribution sites. We would have to drive to the farm once a season, and bring back the produce for everyone else's share that week. And, other CSAs have house-drop-off where they deliver right to your door! Make sure you know the details of delivery, including time and day constraints, before you sign up for a CSA.
● What's In The Bag? – Find out from your CSA what types of vegetables they grow, are they organic, all natural, or use pesticides? Is there an average amount of produce expected in your weekly CSA Box or Bag? Does it vary as the season progresses (our June bags are light, our October bags are so heavy, I need help carrying it!) Is all the produce from that farm? If not, what other farms are contributing to the CSA share (for instance our fruit share is from a variety of farmers, nothing is grown my the CSA farm we contract with). While all CSAs are weather dependent, none will survive if they don't plan for crop failures and bag substitutions.
● Is There A U-pick Option – some CSAs have a u-pick option if you pick up at the farm location. Ask if the u-pick is included in the season's price.
● Do They Have A Method Of Communication? – A website, blog, facebook page or heck even a phone chain- something is necessary for up to date information including possible distribution cancellations, "what's available this week" information, possible recipes for unusual vegetables included in the weekly CSA, etc. There needs to be a method where you can get updates easily "just in case".
● Just Go With It! – Joining a CSA is more than just buying in-season local crops; it is meeting new people, trying new foods (you should see some of the non-mainstream vegetables and fruits we have tried over the years… and learned to like!), AND supporting the local economy, all while enjoying delicious, fresh food.
If you aren't sure if a CSA is for you, check out this post: The Dirty Dozen – What Organic Fruits & Vegetables You Should & Shouldn't Buy and then locate your local CSA for options. A CSA may be just the ticket for your family!
For 2015, our CSA price is as follows for Root Down Farms:
● Fruit Share costs $180, 18 weeks:
The local fruit included in the fruit share starts with cherries, apricots, plums, peaches, nectarines, blueberries, and moves into pears, raspberries and of course apples! This begins in July.
● Farm Shares costs $545, 22 weeks:
The share will provide enough fresh produce to feed a family of four. It also includes the Upick section.
Our CSA shares cost a bit less because we renewed early, and paid in full. To see our past CSA Farm shares, click here.
Do you belong to a CSA? If so, what tips do you have for choosing a CSA?
---
● Find a CSA
● Porter Farms CSA (we belonged for years)
● Rootdown Farm CSA (our 2015 CSA)
● NYS Fruit and Vegetable Harvest Calendar
● US Agricultural Data
---
● Follow my Mind Your Peas and Cukes pinterest board for farm-stand and CSA information, as well as fruit and vegetable recipes.
---