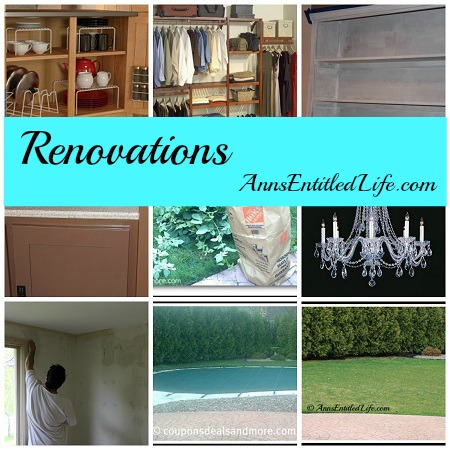 Ah, the old yearly renovations list. What joy. I feel like all we've done the last two years is home renovations! In 2014 we finished the renovations on our New York State home, which was great!
Since the day the last nail went in to the renos, Hubby has been reading the local MLS religiously looking for a house on Lake Ontario for us to move to. And I have since then become very wishy-washy about moving onto the Lake Ontario shoreline. Oh sure a view of the Toronto skyline would be awesome, and a sunset over the lake would be stunning, but we are not boaters or fishermen, and I am not certain that a house on the lake is worth the premium we'd have to pay.
I've begun to think a water view might be doable, and Hubby has begun to think 50 acres near a gun range and his hunting land is even more doable (I do not agree with that – at all!) I also love this little town called Lewiston, and would be thrilled if we could find something there with a vista-view or on the Niagara River.
In Florida, we have already begun looking for a bigger place. The floor plan makes the 1300+ sq ft here (plus balcony overlooking the ocean) seem tight. Hubby says he feels claustrophobic (this is a man who had a Manhattan apartment for 10 years!). I lived in a 1500 sq ft house for 10 years, and I have to say that the layout here is what is is enclosing, not the square footage itself. In any event, I am happy to look for another spot. I doubt we will buy on the ocean again (the deal here was tremendous, and it just isn't to be had currently at this end of the St Augustine area), but possibly on the intracoastal or overlooking a preserve for a future condo, townhouse or second home.
Even with our intentions of possibly moving from two places, we still have a renovation list. When we walked into the Florida condo a few weeks, I was pleasantly surprised at how good it looked. To be honest, I had forgotten how much work we had done last year, even with a completion list! More like I had forgotten how well everything turned out! So much worked – from the paint color (white) to the blinds to the furnishings. It just worked. We still have things that must be done regardless of if we sell, actually, because we might sell!
2015 Florida Condo Renovation List
● New sink and counter
● Paint vanities, frame mirrors (previously: new bathroom vanities, counter tops and faucets, we decided against it)
● Paint kitchen cabinets
● Hang new by-pass closet doors
● New air conditioning unit (the one we have is 8 years old, ans supposedly past expiration date – we shall see)
If we stay, we can live with what it will look like when finished with these last renovations, and if we move, the few things remaining are the next owners to deal with.
If I can talk Hubby into it, I still have a few things on my New York State house list:
2015 New York State House Renovation List
● Hubby's office cabinets need to be redone (I doubt this ever gets done by us)
● Replace foyer chandelier
I will share posts on how all this goes down as each project is completed. Ann's Entitled Life is first and foremost a diary for me (in my old age I'd forget my head if it wasn't attached, these posts really help jog the old memory-banks), so I do want to keep track of what improvements we make to what residence.
Are you don't any renovation projects this year? Have you started? How is it coming along?
---
For more Renovations posts on Ann's Entitled Life, click here.
---