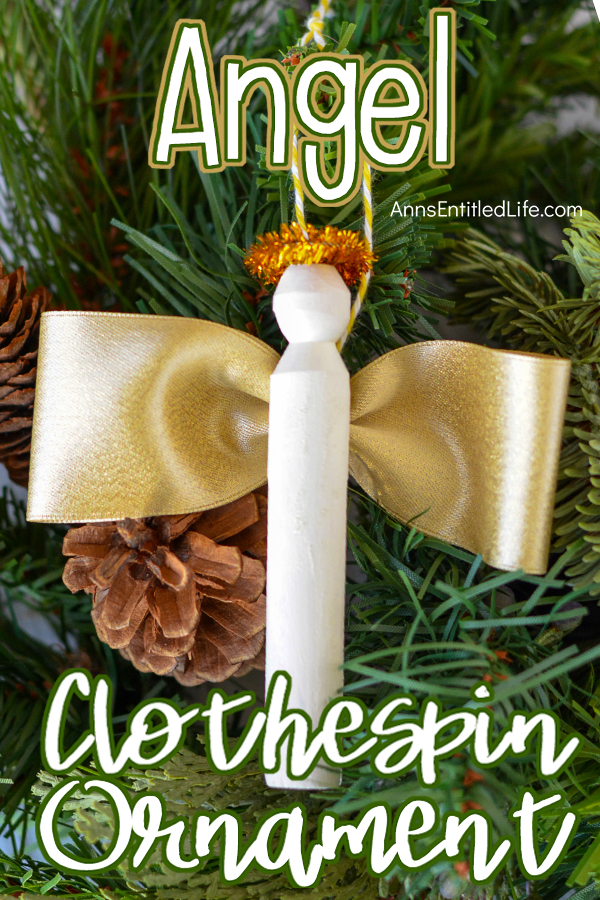 These simple to make angel ornaments are a whimsical, rustic craft nearly anyone can make. This fast craft can be customized to match your holiday decor. If you are looking for an easy to make ornament craft, this Angel Clothespin Ornament DIY is it!
Angel Clothespin Ornament DIY
If you are into making your own Christmas tree ornaments, you may want to consider these:
• Elf Mason Jar Lid Ornament DIY – so darned cute!
• How to Make Your Own Rudolph Ornament – more kid-centric, and super cute.
• Felt Wreath Ornament Craft – extremely easy to make! Older children can do this one (under adult supervision)
• Joy Decoupage Christmas Ornament – upcycle ann old ornament, or use a new plastic one! Older children can do this one (under adult supervision)
• DIY Cork Snowflake Ornament
If you have furry "family memebers" you may want to make these Paw Print Ornaments.
Note:
• You can use either a clothespin or a doll pin on this craft. Doll Pins are different than clothespins in that they have a flat bottom. It should not matter for this project if you plan to hang your angels, but if you want them to stand up, you will need to use doll pins.
• Ivory was used to paint the body of this pin. You could use white, silver, gold, yellow, blue, etc.
• The halo is gold, but you could use silver instead.
• The ribbon is gold, but again to match your holiday decor you could use silver, blue, pink, etc.
• Very few crafts need to be made matching the exact steps listed in a tutorial. You can always change colors (at the very least!) to match your home decor.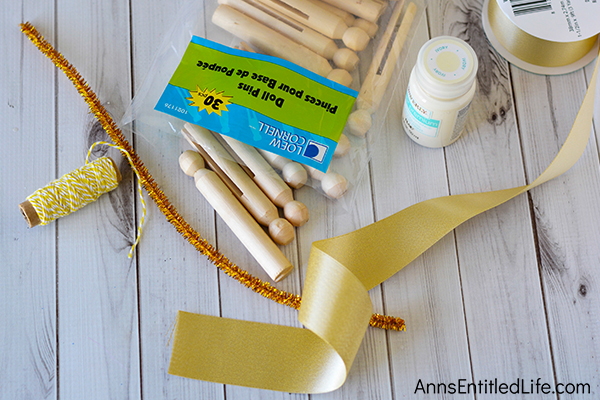 Angel Clothespin Ornament Materials:
• Clothespins or Doll Pins (see note for which choice to make)
• Ivory Acrylic Paint (Waverly semi-gloss acrylic in ivory was used in this craft)
• Gold Ribbon 10″ x 1.5″ wide
• Gold Chenille Stem (Pipe Cleaner)
• Baker's Twine in Yellow
• Paint Brush
• Hot Glue
• Glue Gun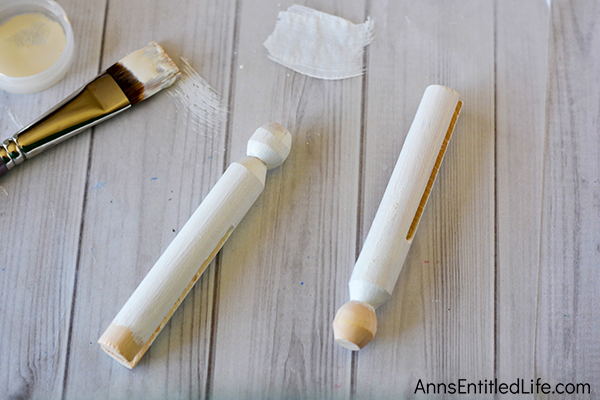 Angel Clothespin Ornament Directions:
• Lay down a covering to protect your work surface.
• Using a paint brush, paint pins with ivory acrylic paint. Make sure you get in between the slot.
• Allow pins to dry completely.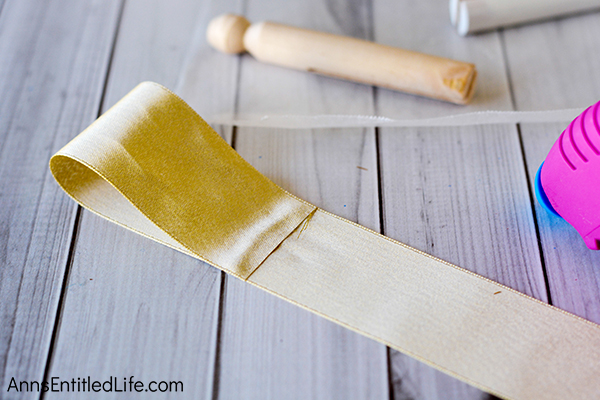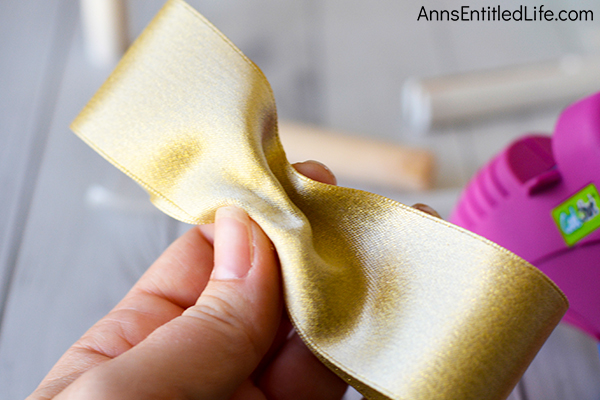 • Cut 10″ of gold ribbon (1 1/2 inches wide ribbon works nicely).
• Fold the gold ribbon from each end to the center. Hold.
• Squeeze the center together and secure with hot glue in between the folds on each side.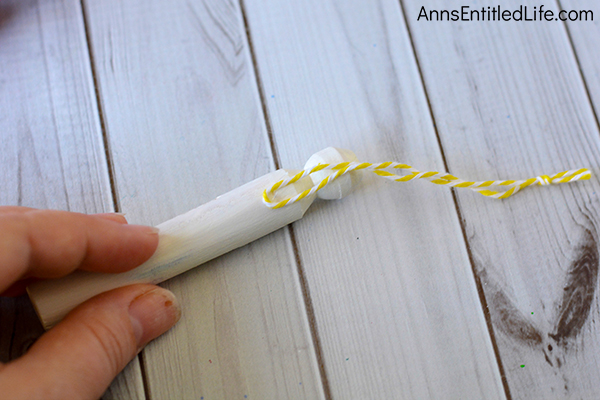 • Cut about a 6″ piece of yellow twine and knot it with a slip knot.
• Attach the twine on the back of the ornament with hot glue.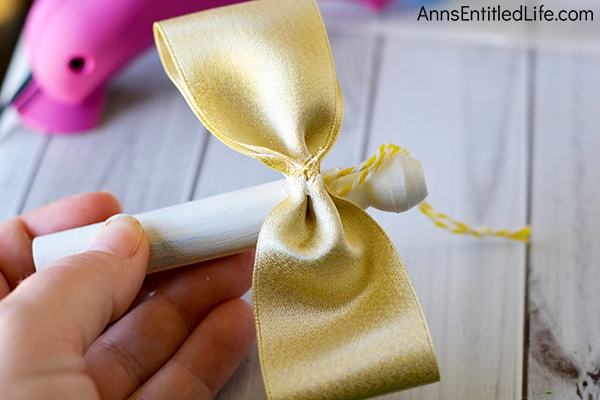 • Affix the ribbon-wings on top of the twine with hot glue. You want to cover where you placed the twine on the pin.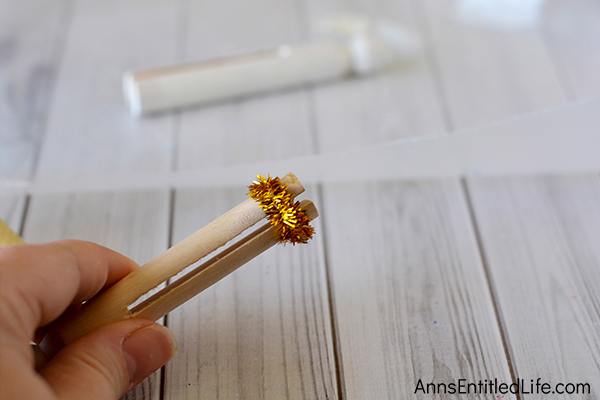 • Cut a chenille stem to 3″ in length and wrap it around the bottom of a doll pin to create a circle.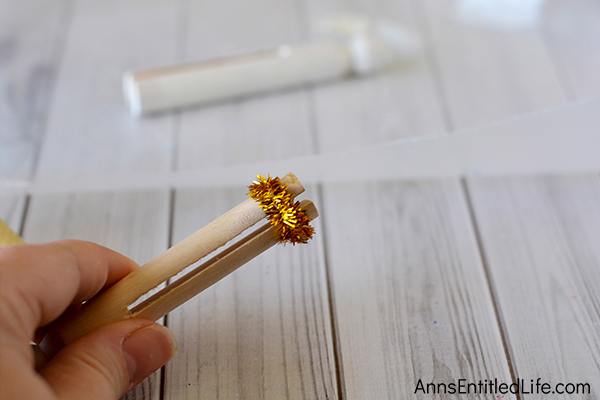 • Hot glue to the head.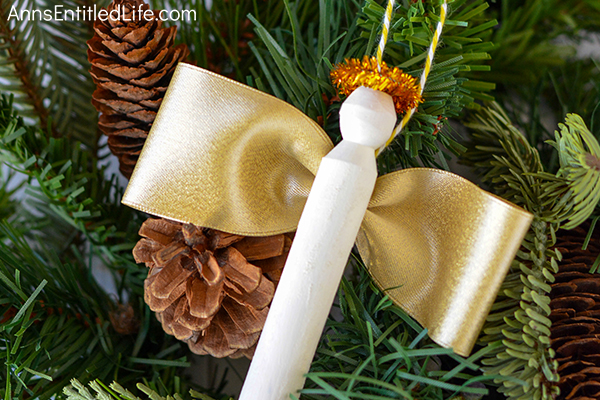 • Hang on your Christmas tree!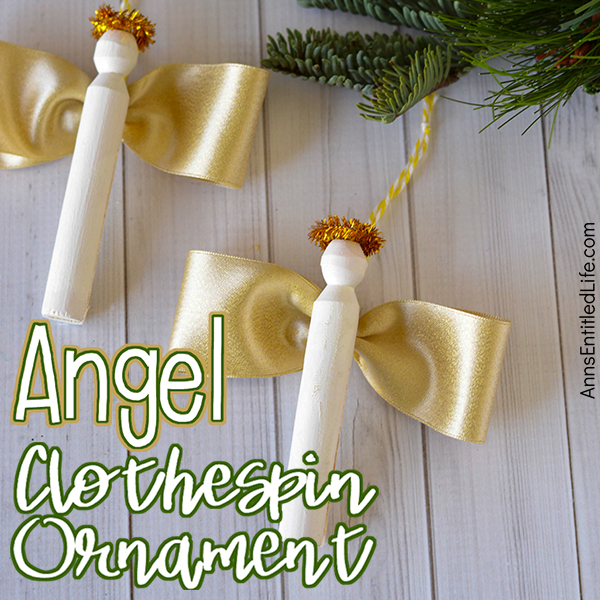 ---
• Disclosure: the links in this post may be affiliate links.
• For more Holiday posts on Ann's Entitled Life, click here.
• For more Craft posts on Ann's Entitled Life, click here.
• If you enjoyed this post, be sure to sign up for the Ann's Entitled Life weekly newsletter, and never miss another article!
---