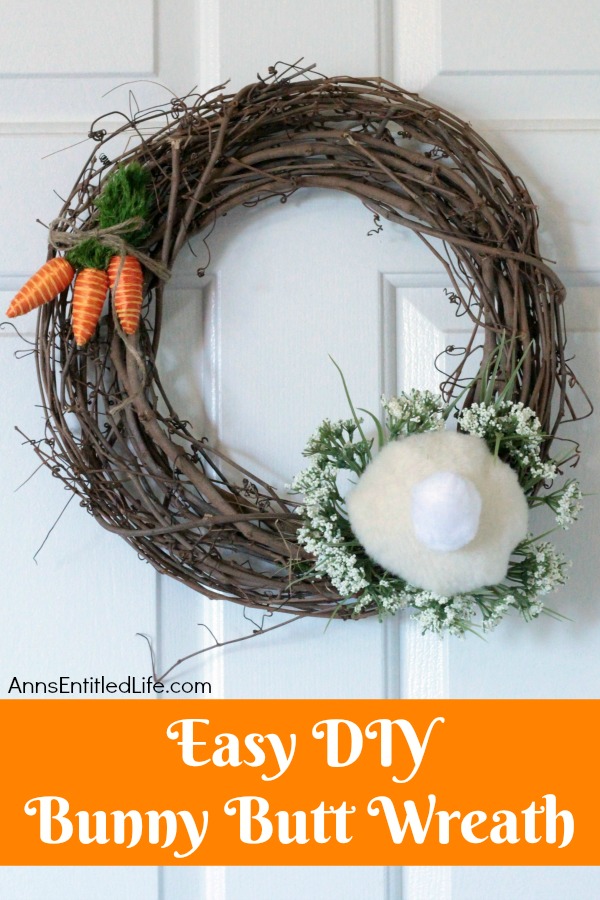 ​
 Easy DIY Bunny Butt Wreath
Bunny bottoms are adorable crafts. This cute, simple to make, bunny butt wreath is an inexpensive to make spring craft, perfect decor for your door, over your fireplace or on a wall.
In my opinion, the bunny butt/bunny bottom trend is super cute!! Not all the bunny butt wreaths are easy to make, however. This bunny bottom wreath is so simple to do! Grapevine wreaths are very springy and Easter-ish. The bottom is simply the tail and not paws – which is what makes this a wreath nearly anyone can make! No need to follow a pattern either (which is great for the patterned-challenged!!).
Like most of the crafts you will find on this blog, this is easily customizable. Use a different sized wreath or a green form wreath with green ribbon wrapped around it! Make your bunny butt smaller or larger. Use different spring flowers other than the baby breath shown. There is really no end to the things you can do following this simple tutorial as a base!
If you would like some other cute and easy spring/Easter crafts, this No Sew Sock Bunny is adorable! This Spring Themed DIY Framed Dot Art is simple to make, and those of you with children may want to consider this Easter Bunny Garland!
The materials needed are linked below if you wish to see exactly what they are and/or buy online. Otherwise, write down the list and head over to your nearest Michaels for the supplies that you do not already have handy.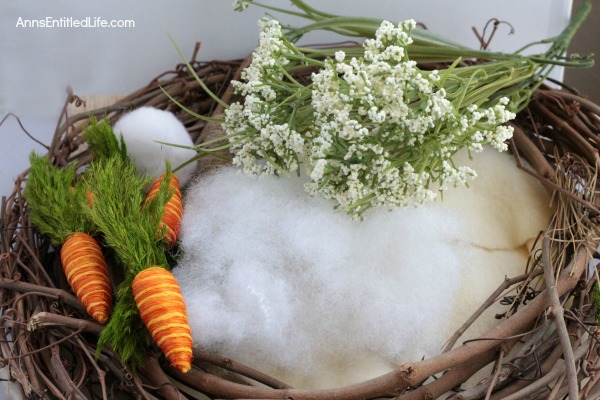 Easy DIY Bunny Butt Wreath Materials:
● Scissors
● Straight Edge (if you are bad at a freehand line cut)
● Fake Fur (white or cream)
● Polyester Stuffing
● White Pom Pom
● 10″ Grapevine Wreath
● Twine
● Glue Gun
● Glue Sticks
● Spring Greenery (Baby breath was used in this tutorial)
● Fake Carrots (The exact ones used in this tutorial are unavailable online)
● Wire Cutters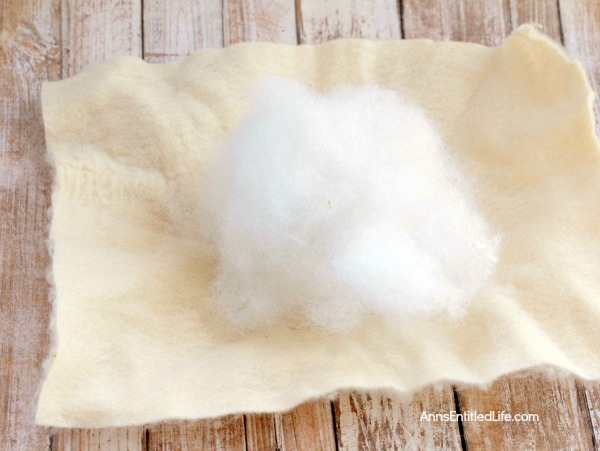 Easy DIY Bunny Butt Wreath Directions:
● The bunny butt is the star of the show on this wreath. Anything you do with spring flowers, carrots, etc should not detract from this cute little bunny bottom.
● The grapevine wreath used in this tutorial is 10″. If you purchased (or have) a smaller or larger grapevine wreath, adjust sizes accordingly.
● Cut a large square (a 10″ x 10″ size is used in this tutorial) from the fake fur.
● Place the cut fake fur face down on a flat surface (fur side down).
● Place down a handful (or more) of polyester stuffing on top of the fur-side down fake fur.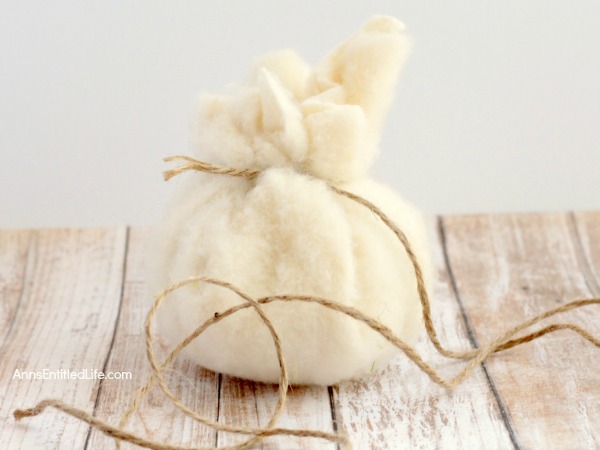 ● Fold up the edges of the fake fur to make a little bag. It will look like a little favor bag. Tie it closed with some twine. Leave a long piece of the twine to dangle so you can use it to tie the bunny butt to the wreath.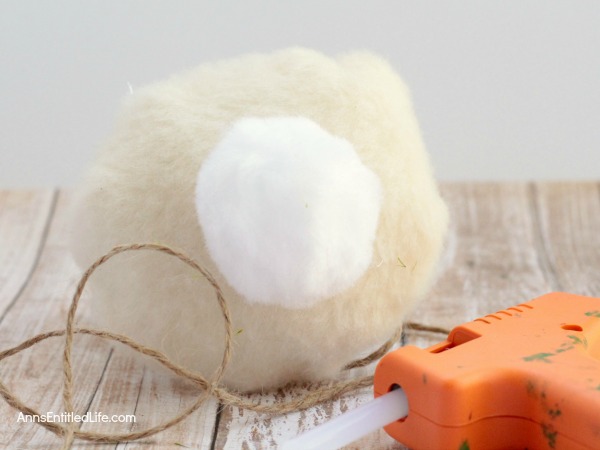 ● Hot glue a white pom pom to the front of the fur poof to make the bunny's butt.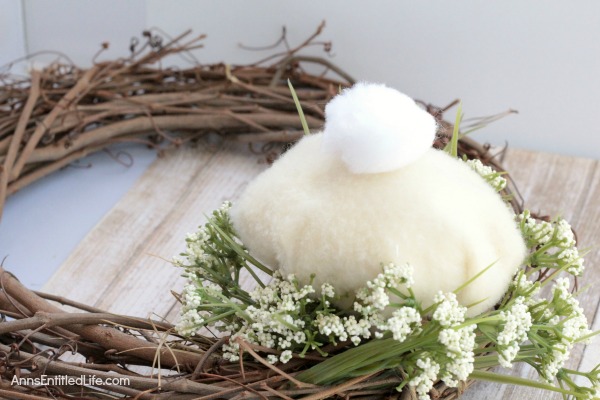 ● Tie the bunny butt you just made to the wreath using the long twine you left dangling. In this tutorial, the bunny butt is placed at 5 o'clock on the dial and the long string on the twine wraps around and through the grapevine wreath to secure the bunny bottom. You can place your bunny's bottom anywhere you would like on the grapevine wreath.
● Adhere securely with a few dabs of hot glue.
● Use wire cutters to cut off each individual bloom segment from your greenery.
● Arrange this greenery around the bunny butt to give the illusion that the bunny is hiding in a field of flowers.
● Adhere securely with a few dabs of hot glue.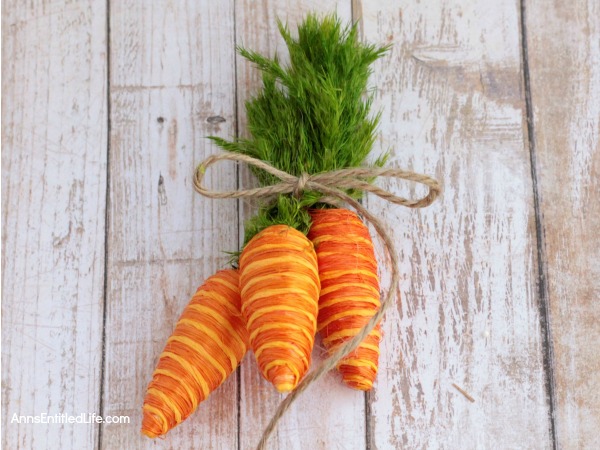 ● Tie several fake carrots together with twine, again leaving a long string free so you can tie the carrot bunch to the wreath. Used in this tutorial are three fake carrots taking into account the 10″ size of this grapevine wreath. If you use a larger wreath form, you may want to consider five carrots and/or larger fake carrots.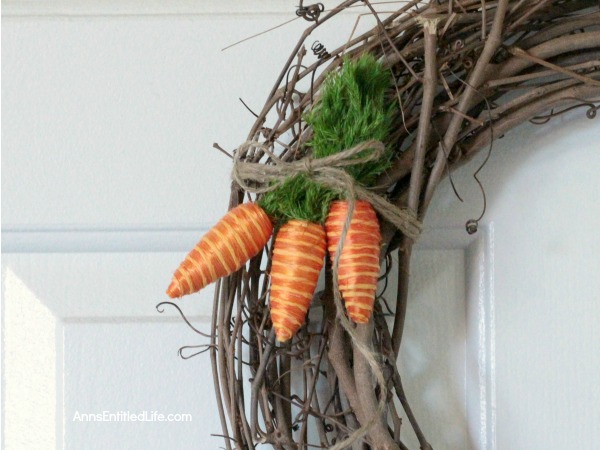 ● Tie the carrot bunch to the 10 o'clock position of the wreath. Again, you can place your carrots anywhere on your wreath. The carrots are across from the bunny in this case because he is burrowing through the vines to get to the carrots across from him.
● Adhere securely with a few dabs of hot glue.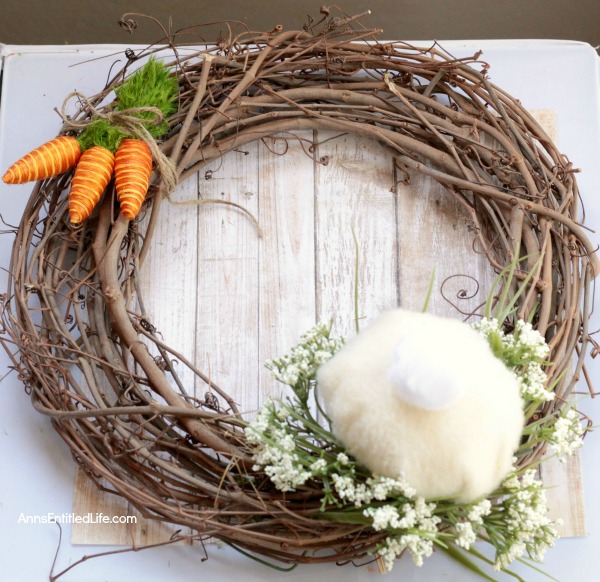 Note: if you reuse your wreath form from season to season omit hot gluing the bunny butt, flowers, and carrots to the wreath. Simply tie them in place.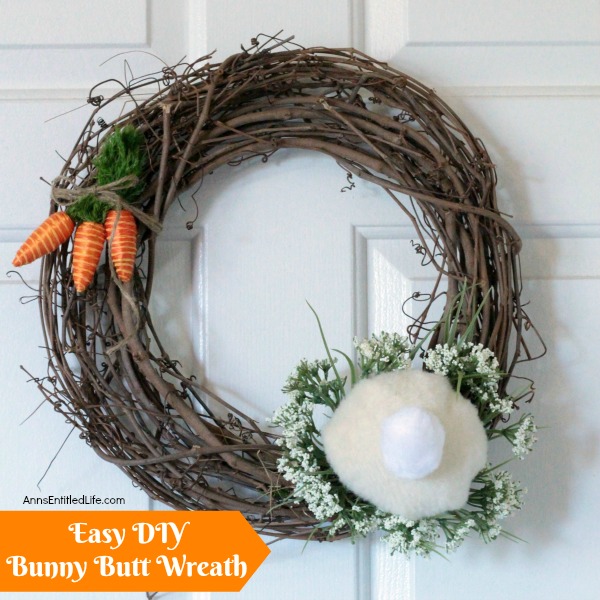 Hang your wreath from a doorway, place it over your mantle, hang it over a doorknob, display it on the wall, or put it in front of a hallway mirror. There is no end to things you can do with this adorable bunny butt wreath!
● To print the Easy DIY Bunny Butt Wreath Instructions, click here.
---
● Disclosure: the links in this post may be affiliate links.
● For more Holiday posts on Ann's Entitled Life, click here.
● For more Craft posts on Ann's Entitled Life, click here.
● If you enjoyed this post, be sure to sign up for the Ann's Entitled Life weekly newsletter, and never miss another article!
---