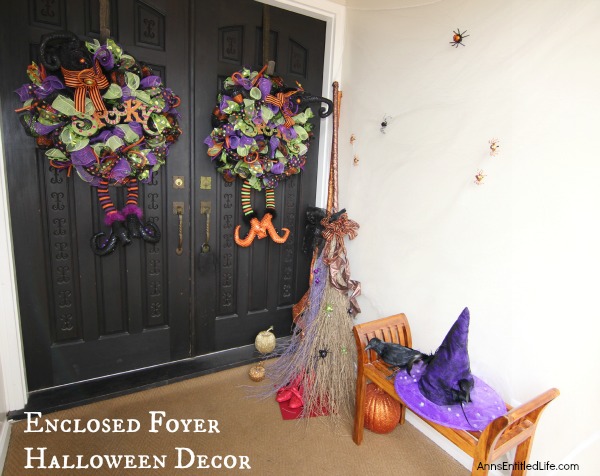 The past few months I have shared a few Halloween DIY craft projects on Ann's Entitled Life. Some were specifically made with an idea in mind toward decorating the front entrance to our home. Today I want to show you my front foyer… it is the front entrance to our home. I suppose it could be called a hall too. At one time it was an area open to the elements. The prior owners had it enclosed, and they put on heavy duty screen doors. And when I say heavy duty, I mean heavy duty. Nothing gets through these, they weigh a ton, there is no wind-whistling, and they are as air tight as a regular door.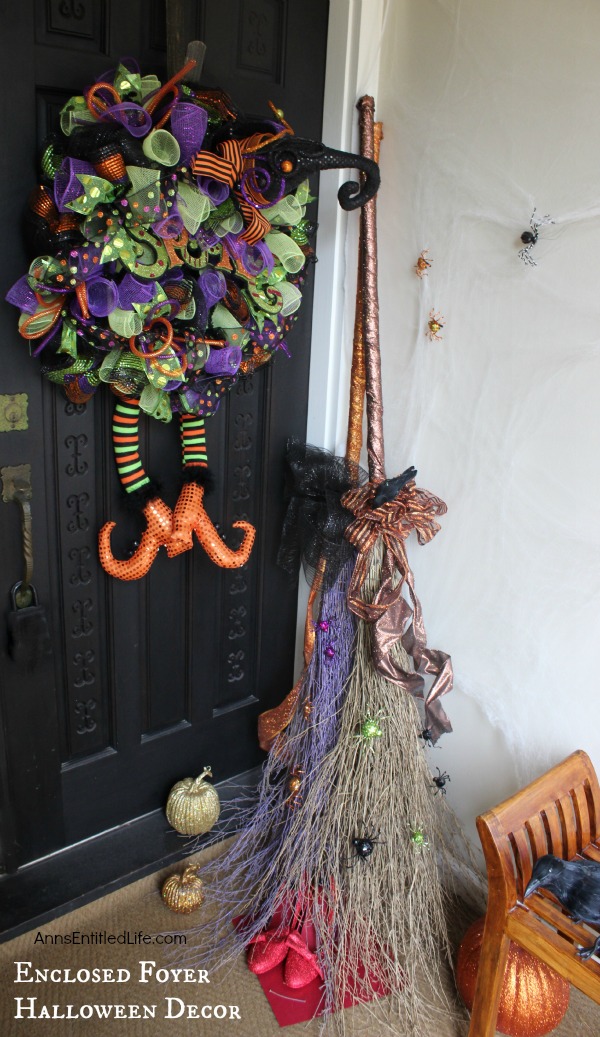 Since this area is now enclosed, I could pretty much put anything in here that fit. I decided I wanted to do a fun, non-spooky Halloween Foyer, and I am pretty pleased with the results (although it is a work in progress).
Most of the Halloween decor is on the right wall…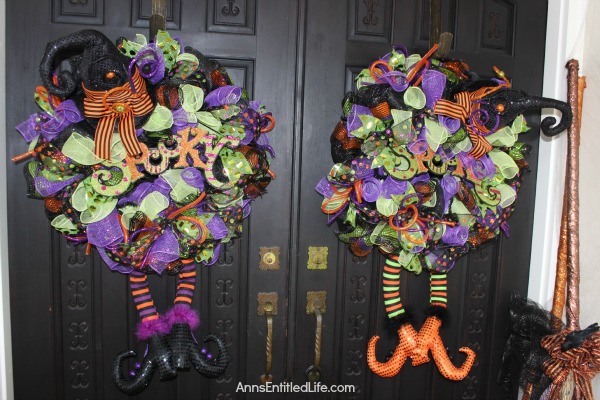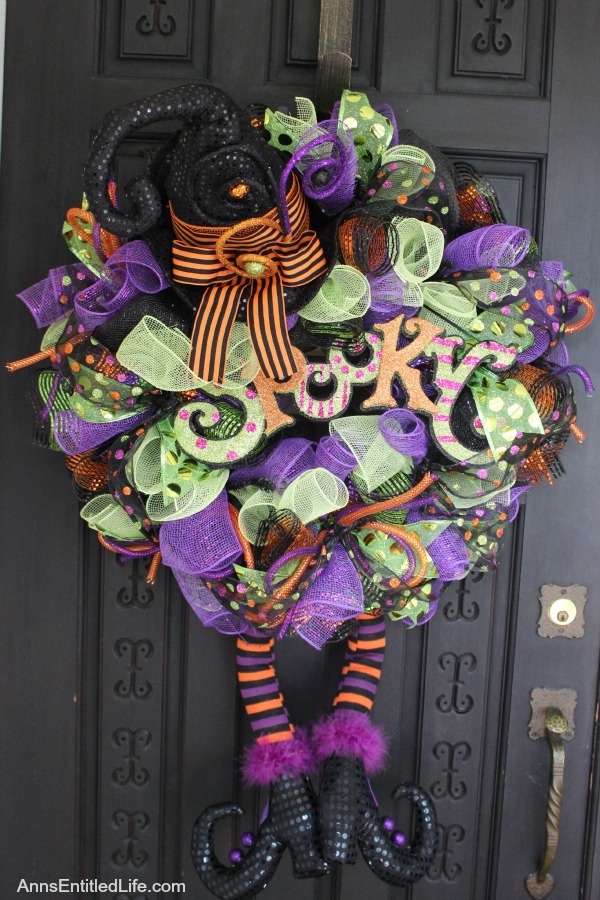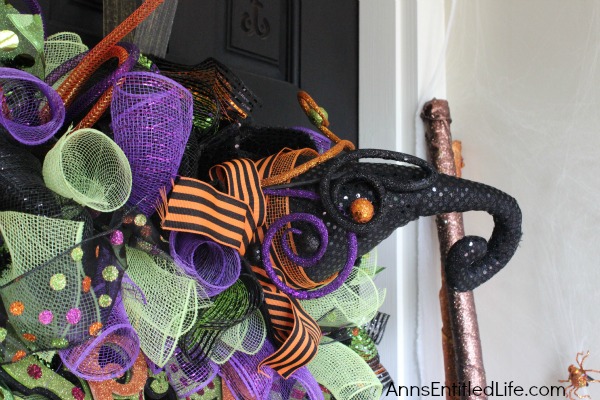 Aren't those adorable? I actually did not make them. I got them on etsy. The lady did a fantastic job, although they took f-o-r-e-v-e-r to arrive. They were shipped from California to New York, and our UPS agent told us it was via the slow-boat method (pretty good over land, huh?). Something to keep in mind: question the shipping method! if you ever buy off etsy.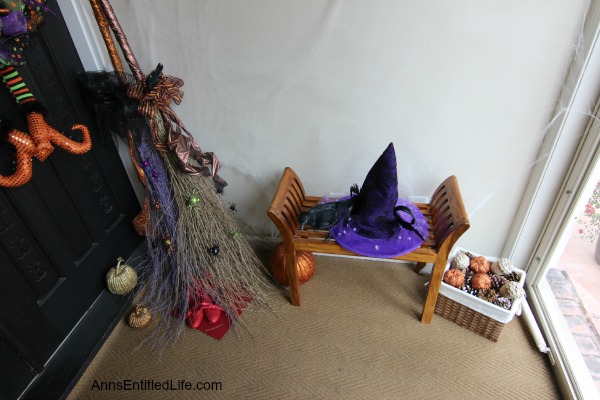 The way this area is enclosed, there are two sets of double doors. One is the inner doors, the other those heavy duty screen doors I mentioned above. All four doors open, but generally we only use the doors on the left leaving the right side of this area untouched. That is why this side is set up, and the left side is walkway.
I also think you can get a general idea that this is a pretty small area, only 6′ x 6′.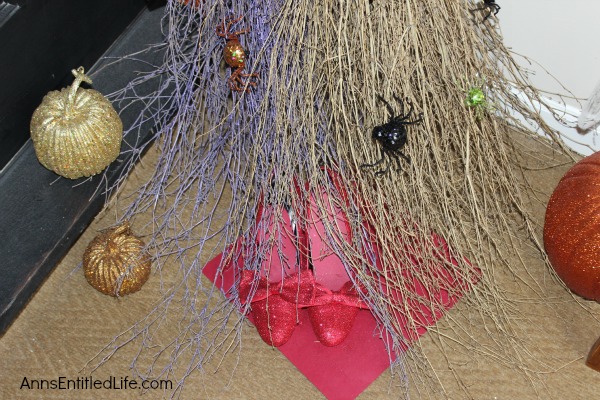 In the corner next to those lovely etsy wreaths are two of the Easy DIY Halloween Glitter Witch's Broomsticks I made. My mother has the third one. And underneath, a pair of the Ruby Glitter Slippers.
I bought the pumpkins at Michaels one day when shopping for craft supplies. I just can't seem to help myself around glitter!!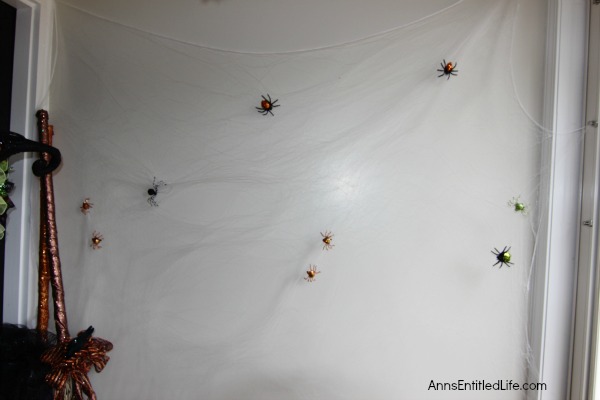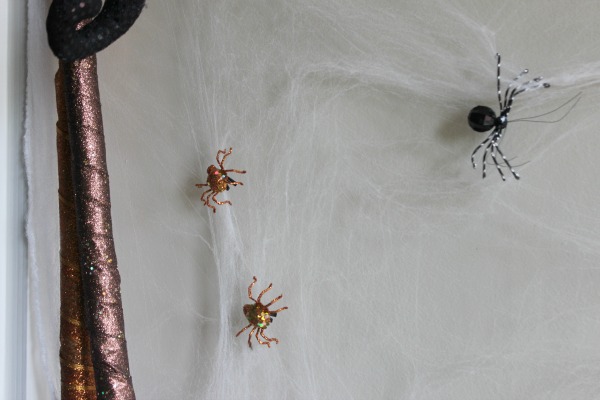 On the back wall are some clip on spiders hung on webbing. I also got these at Michaels. The spiders are also glitter. (You sensing a theme here?)
I would have liked to have stretched my web a tag more, but it was getting tough to hold the spiders weight as it was, so I left it. I also cut off the bottom half of the webbing, and tucked it away for next year.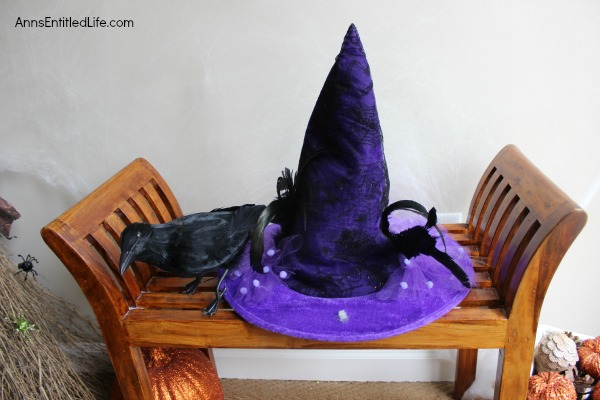 The local place where I found my Swarovski ornament tree also had this light up witch's hat! The crow was purchased at Michaels.
I had wanted an electric plug in this area since we moved in. I would have thought that it would have been a no brainer when the area was enclosed, but apparently not. There is one installed there now (behind the bench), and I have a lighted pumpkin that will be placed under there and plugged in.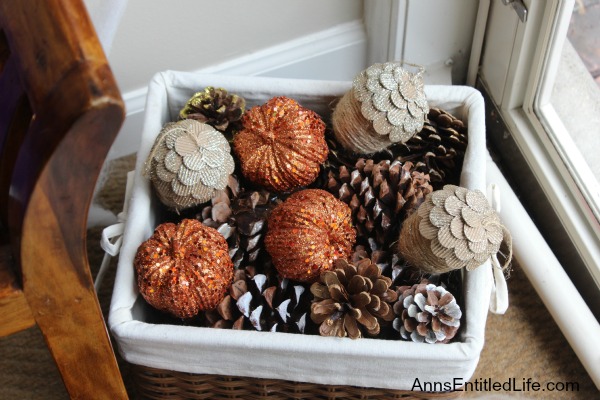 The Painted Pine Cones in a Basket have been in this front area since I made them last year. For Halloween, I took out a few, and added some er, glitter pumpkins and acorns (which will stay through Thanksgiving).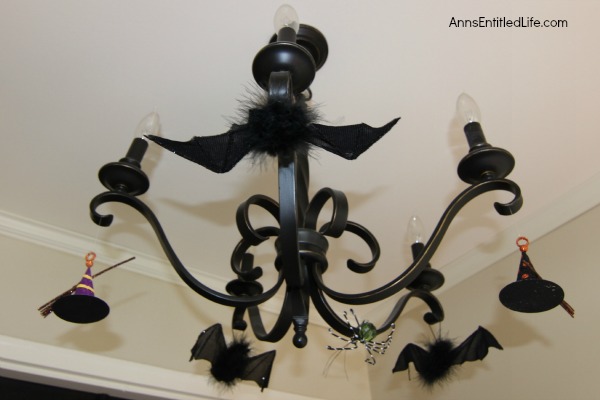 And I didn't forget overhead! The bats came from Michaels, the witch's hat ornaments from the same shop where I got the hat and the Swarovski tree.
All in all I am pretty pleased with the way this turned out. I had considered hanging purple lights behind the spider web, but worried it would be "too spooky". Maybe next year!?
---
● Disclosure: the links in this post may be affiliate links.
● For more Halloween posts on Ann's Entitled Life, click here.
● For more Craft posts on Ann's Entitled Life, click here.
● If you enjoyed this post, be sure to sign up for the Ann's Entitled Life weekly newsletter, and never miss another article!
---