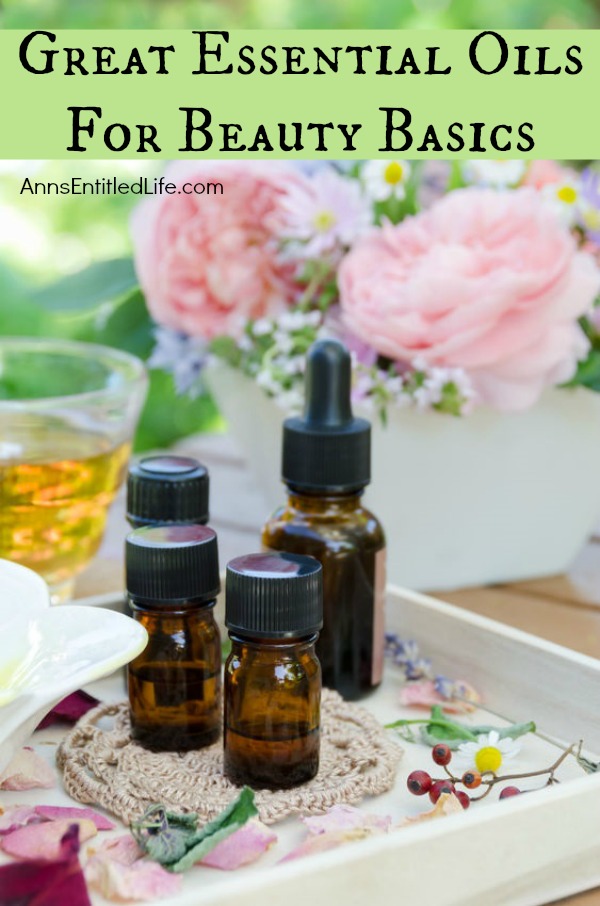 Great Essential Oils For Beauty Basics
Looking for the best essential oils to have on hand for beauty use? If you are just beginning to use essential oils, here is a great list of essential oils for beauty recipes, aromatherapy, and great essential oil skin care uses; the beauty basics!
Making your own beauty products and treatments is a lot of fun, but it also gives you the chance to quickly and easily make recipes to treat specific beauty issues. Not everyone is dealing with the same skin, care or nail problems, so it only makes sense that your beauty recipes are suited for your skin and beauty needs. There are a lot of essential oils that can be used in beauty recipes, and you might be surprised to find out that they are in many mainstream products that you are currently using in your daily beauty regime.
If you are interested in using essential oils to make your own DIY beauty recipes, keep these handy to whip up what you need, when you need it.
Lavender Essential Oil
Lavender Essential Oil
is one of the most popular oil to be used in beauty products for both its fragrance and benefits. This calming essential oil help damaged or irritated skin. While some essential oils are good for certain skin types, lavender generally works well with all skin types regardless of how oily or dry the person's skin.
Rosemary Essential Oil
Rosemary is a great cleansing agent, used to strip away product and other toxins from the skin that build up over time. Sometimes these chemicals that we have been using on our skin cause long term problems and we didn't even realize it. Rosemary Essential Oil
is great in toners, hair cleansers, night creams and facial washes that you can use on a daily basis.
Lemon Essential Oil
Lemon Essential Oil
might not strike you as a common addition to beauty recipes because it is a citrus, but you will only be using a drop or two for an entire recipe. Lemon is a great clarifying ingredient, cleaning out pores, adding shine and evening out skin complexion from the sun and other impurities. You can use lemon essential oil in skin, lip and hair beauty recipes with great results, and the scent is incredible.
Peppermint Essential Oil
Peppermint Essential Oil
is a great calming oil for the skin and scalp, and because of how strong it is you really do not need a lot in each recipe. Use this oil in recipes that are used for inflammation, puffy eyes, irritated skin that needs calming, any damaged skin and skin that is oily or has clogged pores.
Rose Essential Oil
Rose Oil
is generally used as a toner ingredient, and to help those dealing with acne or stress prone skin. Dry skin sufferers can also use rose essential oil to help increase the moisture of their skin.
Essential Oil Posts:
● 5 Uses for Violet Oil
● Anti Aging Essential Oils and Skin Tightening Blends
● Best Essential Oil Mosquito and Bug Repellent Recipes
● Detoxing with Essential Oils: 4 Things You Must Know Beforehand
● Essential Oils Laundry Guide
● Essential Oils to Use in Your Baking
● Homemade Orange Lavender Lotion Recipe
● How To Change Your Beauty Routine with Essential Oils
● How To Make Your Own Lavender Bath Salts
● Interesting Uses for Essential Oils
● Top 8 Essential Oils to Enhance Your Mood
● Uses for Tea Tree Oil
DIY Beauty Products; Make at Home Beauty Products:
● Homemade Orange Lavender Lotion Recipe
● Homemade Rose Bath Bombs
● How To Make Citrus Ginger Foot Scrub
● How To Make Your Own Lavender Bath Salts
● Rose Petal Soap Recipe (How To Make Homemade Rose Soap Using Real Roses – it is easy!)
I am always looking for new ways to use my essential oils I would love to hear how you are changing up your beauty routine using essential oils!
Note: None of this is meant as medical advice. I am not a doctor, and do not play one on the internet. Please consult a physician if you have any questions about using essential oils so your doctor can better explain to you the benefits, possible side effects, and any warnings about essential oils.
---
● Disclosure: the links in this post may be affiliate links.
● For more DIY Beauty posts on Ann's Entitled Life, click here.
● If you enjoyed this post, be sure to sign up for the Ann's Entitled Life weekly newsletter, and never miss another article!
---