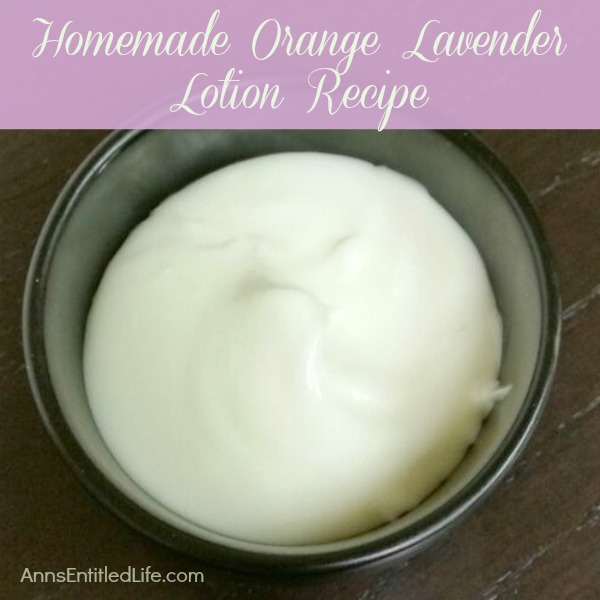 Homemade Orange Lavender Lotion Recipe
How to make a simple, luxurious Orange Lavender Lotion with step by step instructions. Try this rich and creamy homemade orange lavender lotion today!
Lotion is personal and everyone picks their lotion for different reasons. Some people like thick and creamy or light and fluffy, lots of scent or light scent, greasy or watery, whatever your preference there is a lotion that can be found to satisfy your needs. It might seem like making lotion would be difficult, but this process is very simple and the options are endless. This recipe is rich and creamy and is great for dry to moderate skin and good for the whole body. It is surprising how simple the recipe is and how luxurious the lotion felt when it was finished.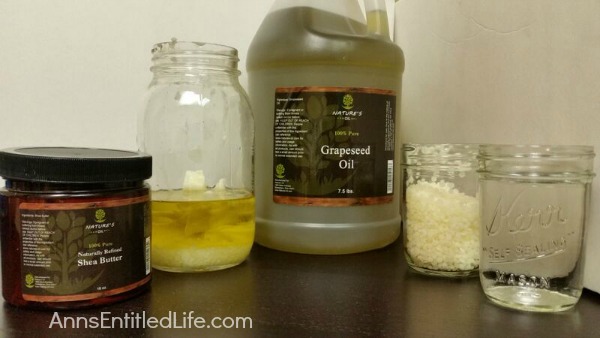 What You'll Need to make this Homemade Orange Lavender Lotion Recipe:
3 Tbsp Shea Butter
1 cup Grapeseed Oil
1/4 cup GratedBeeswax
2 cups of Water same temperature as Oil mix after cooling (heat this water during the cooling process)
25 drops Orange Essential Oil
15 drops Lavender Essential Oil
**OPTIONAL** 1 tsp Vitamin E Oil (used as a preservative also great for your skin)
2 Large Mason Jars
1 Pot
Immersion Blender
Wooden Skewer
Directions for making Homemade Orange Lavender Lotion Recipe:
● Add the Shea Butter, Grapeseed Oil, and Beeswax to a large wide-mouthed mason jar.
● Place the mason jar in pot of water, the mason jar will act as a double boiler. This is especially convenient because you can store the lotion in the jar when it is done.
● Stir the oil mixture with a wooden skewer, it is done when it is completely melted.
● Remove from heat and let cool in the fridge for 10-15 minutes just until it starts to haze over slightly on the glass.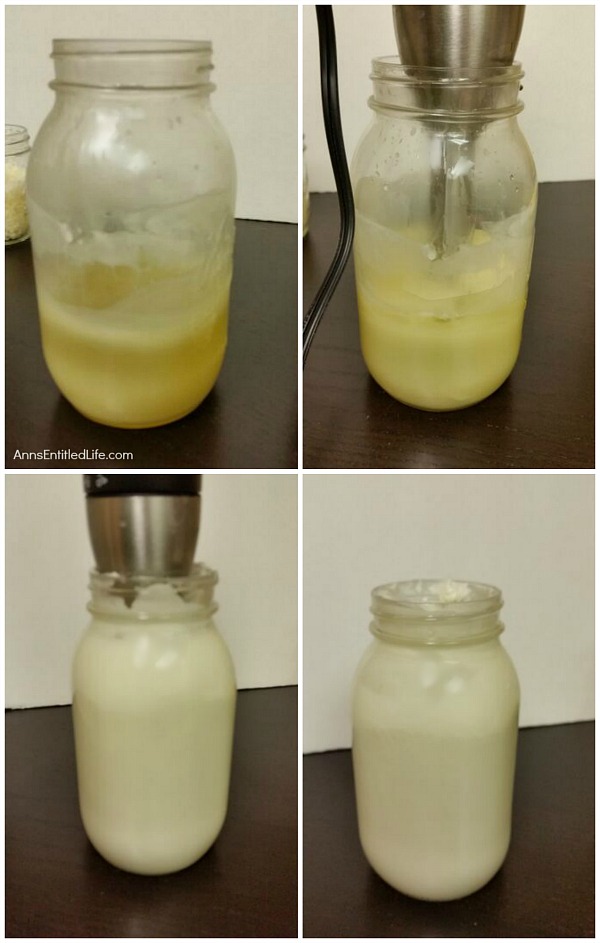 ● During the oil cooling process you should microwave or boil the water to a little warmer than room temperature. You should be able to hold the glass with both hands without burning them at this point.
● Then place the immersion blender into the mason jar with the oils turn on low and slowly add the water, it helps to bring the blender up and down in the jar. Continue blending until the mixture looks thick and white like lotion. Now is when add the Orange Essential Oil and Lavender Essential Oil (add optional Vitamin E Oil here) and blend for another minute.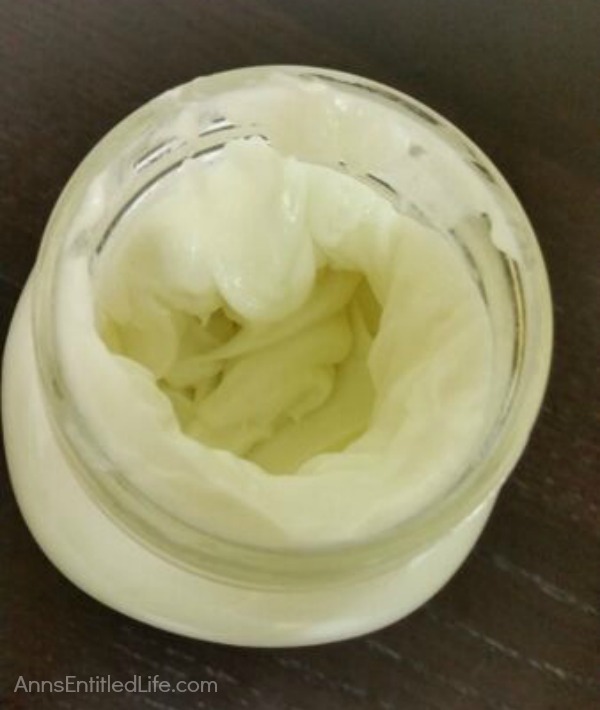 ● This is slightly greasy as it has oil in it. If you don't like the feeling you can do a quick rinse under the water without soap and the greasy feeling goes away and your hands are left feeling soft and smooth. This is great for the whole body.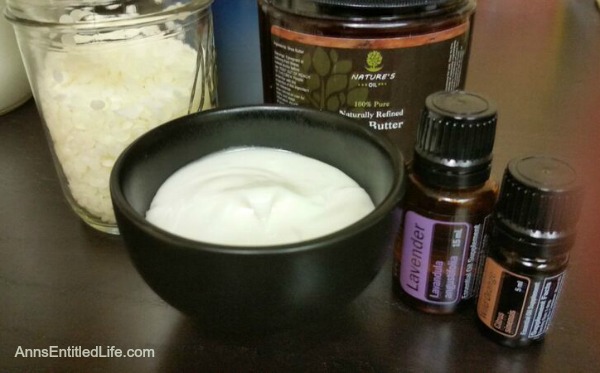 ● Don't be afraid to experiment with the combinations of oils. Using different essential oils will change the smell, the butter and oil can be interchanged with like butters and oils to achieve your desired feel and scent. As an alternative ides, using cocoa butter will give your lotion a rich chocolate scent!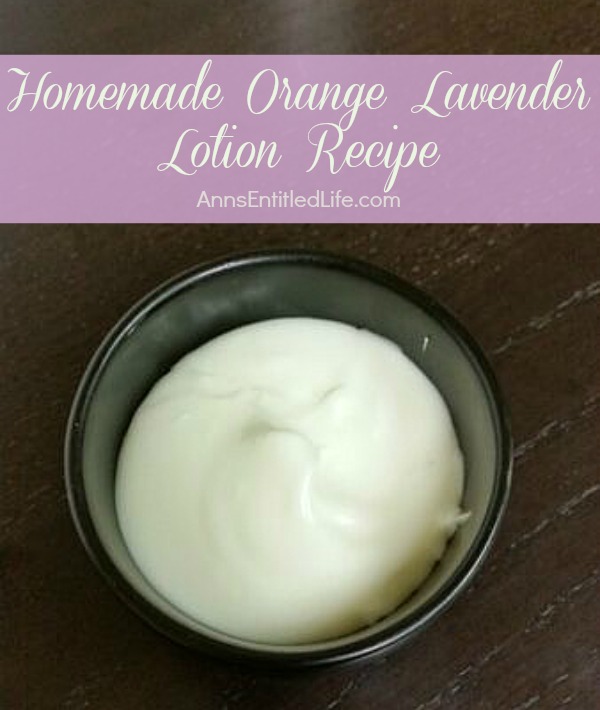 ● This lotion will keep for a month in the fridge without vitamin e oil, 6 months or longer with vitamin e oil.
● To print this Homemade Orange Lavender Lotion Recipe, click here.
Do you have a homemade lotion recipe you'd like to share?
---
● Disclosure: the links in this post may be affiliate links.
● For more DIY Beauty posts on Ann's Entitled Life, click here.
● If you enjoyed this post, be sure to sign up for the Ann's Entitled Life weekly newsletter, and never miss another article!
---