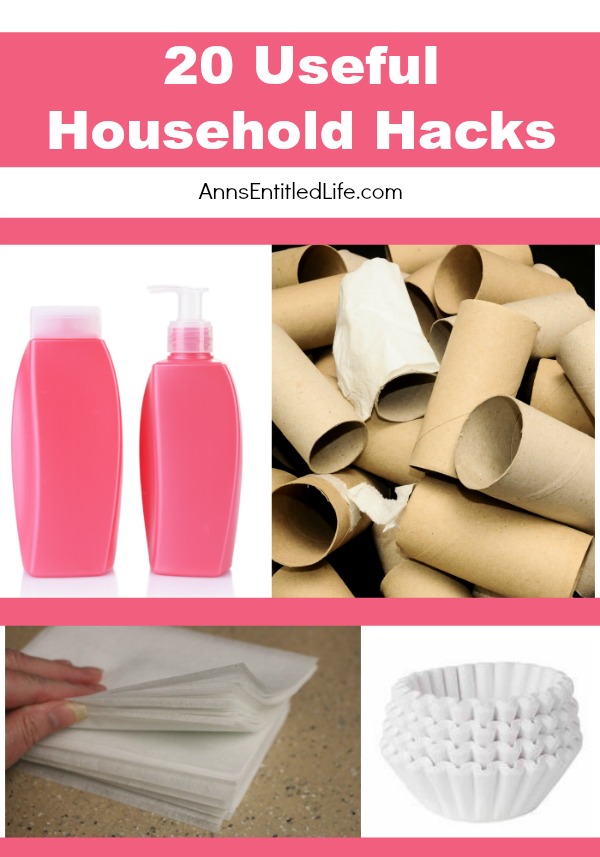 20 Useful Household Hacks
Many household products start out with one specific purpose in mind, but other uses are quickly found in addition to that product's original intent. Some household hacks are silly, some are wasteful, but are truly useful in a pinch! Here are some useful household hacks you might really like to try:
Paper Coffee Filter
In addition to their intended purpose; filtering brewing coffee, paper coffee filters have these wonderful, originally unintended uses:
• When potting flowers a coffee filter placed at the bottom of the flower pot will prevent the fresh dirt from falling out, while allowing water overflow to still seep through the seepage holes.
• Use a coffee filter as a splatter guard in the microwave.
• Place a coffee filter in between pieces of good china to prevent scratches.
• Run out of paper towels? A coffee filter is a great grease absorber for cooked bacon.
• Get rid of the corn silk easily from that corn on the cob with a dampened coffee filter run down the length of the corn.
Toilet Paper Roll Tube
Every household has them. Finding creative ways to use those empty toilet paper rolls takes some imagination.
• Save up your used toilet paper roll cardboard and donate them to your local library or school for craft purposes.
• Cord keeper – store unused extension cords inside the old toilet paper rolls to keep them neatly folded.
• Toilet paper rolls can be cut down the middle and used to keep rolls of gift paper neatly rolled up.
• Rolls that are cut down the middle and or into two pieces can be used by your small animals. Pet mice and hamsters love to curl up inside them and Guinea pigs love to carry them around in their cages and gnaw on them.
• To hold a fire starter for a camp fire.
Plastic Lotion Bottles
Keep those empty plastic lotion bottles out of your recycle bin, and instead resuse them for one of these purposes:
• Plastic bottles can be cut and used to store your keys and or cell phone while at the beach.
• Removing the top and the front part of one about ¼ from the top makes a gadget and wire holder. You will have to cut one hole in the back of it so you can plug in your gadget. Once that is done, the next time you have to plug in your cellphone or iPod, simply use the premade holder. Plug it into the wall outlet, drop the gadget and its wires into the specially made holder until it recharges. No more messy wires running all over the place. This is the original post with instructions.
• Make your own shampoo, and use the old (clean) lotion bottle as a dispenser.
• Make your own foaming hand soap, and use the (old) clean lotion bottle as a dispenser.
• Make your own homemade body wash, and use the old (clean) plastic lotion bottle as a dispenser. Try this formula: Mix together a 1/4 cup full fat coconut milk with 1/3 cup liquid Castile soap. Add a few drops of essential oil
for a wonderful scent!
Note: remember to clearly label when you reuse a bottle for something other than its original purpose.
Dryer Sheets
The next time you see dryer sheets on sale, stock up on them as dryer sheets have many alternative uses:
• Dryer sheets work great at keeping your drawers fresh smelling. Simply rip off a dryer sheet and place in the drawer. A dryer sheer works the same way for smelly shoes and sneakers. Just insert a dryer sheet inside each shoe to freshen them up in between wear!
• Dryer sheets can also be used to remove static from the body. Simply take one and rub it over a person's hair to remove the static.
• Cleaning mirrors and glass is a breeze when you use used dryer sheets.
• You can also dust with a dryer sheet as well as remove pet hair from furniture.
• Wipe a dryer sheet over hair or clothing to quickly eliminate frustrating static.
What other household hacks do you have for these products?
---
• Disclosure: The links in this post may be affiliate links.
• For more Household Tips on Ann's Entitled Life, click here.
• Click here for more Library Topics on Ann's Entitled Life.
• Enjoy this post? Sign up for the Ann's Entitled Life FREE Weekly Newsletter to stay connected.
---