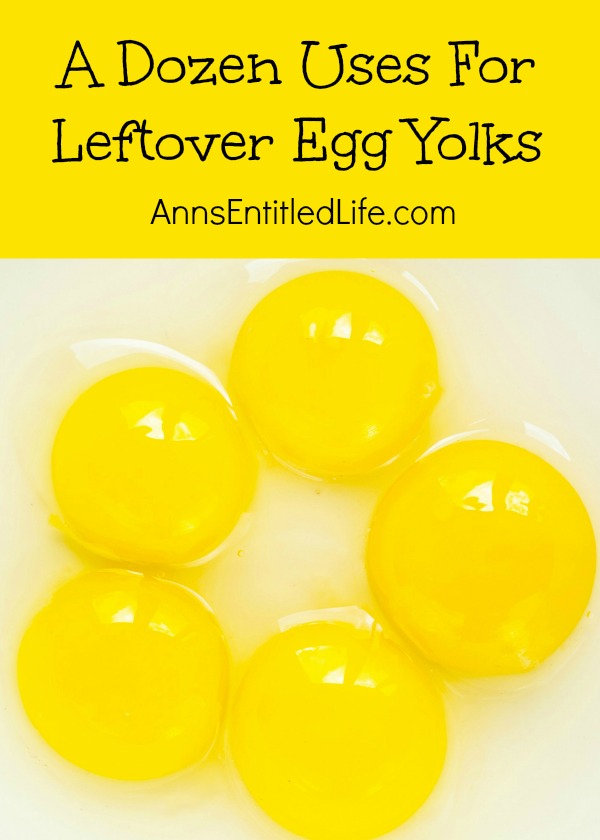 A Dozen Uses For Leftover Egg Yolks
Have a lot of leftover egg yolks from a baking project and don't want to throw them away? Here are a dozen amazing (and incredible) things you can do with leftover egg yolks!
● Freeze Egg Yolks for later use. This one isn't as easy as freezing the egg white. Frozen egg yolks will become gelatinous if frozen as is. To freeze an egg yolk, beat in either 1/8 teaspoon salt or 1 1/2 teaspoons sugar or corn syrup per 1/4 cup of egg yolks (about 4 yolks). Label the container with the number of yolks, the date, and whether you've added salt (for main dishes) or sweetener (for baking or desserts). Freeze.
● Bread pudding! the quintessential left-over dish! Bonus because it is a dessert.
● Make Spritz Cookies! They aren't just for Christmas (mix up the colors and the use different cookie plates), and they freeze very, very well!
● Make some creamy, delicious, yellow Alfredo Sauce!
● Crème brûlée! Sonny-boy does not usually eat dessert (I want to have him tested to see if he is really my kid, I don't care how much he looks like me). He does, however, eat crème brûlée! He orders it ever every time we go out to a restaurant. I'm thinking of getting him a kitchen blow torch for his birthday so he can make his own.
● Ice cream! There are a lot of great egg yolk ice cream recipes out there. Try one of these:
● French Vanilla (obviously)
● Green Tea Ice Cream
● Mint Chocolate Chip
● Peanut Butter Ice Cream
● Pear Ice Cream
● Strawberry Ice Cream
● Key Lime Pie – oh yum. Hubby and I just shared a piece of Key Lime Pie last night. Here is an no-baked Key Lime Pie recipe, and here is a baked Key Lime Pie recipe.
● Make homemade mayonnaise. It is pretty easy to do with an immersion blender.
● French Buttercream Frosting. If you have oodles of egg yolks, there is the popular Joy of Cooking Yellow Butter Cake Recipe.
● Egg Yolk Paint!! This is obviously edible.
● Tempera Paint! This is obviously not edible. Tempera is a type of paint made using egg yolk. It is still used today by some artists but it was very popular in ancient Egypt as well as during the Italian Renaissance. (Learn something new every day!)
● Use egg yolk to make a hair mask! Egg yolks are rich in nutrients that will revitalize your hair. Just watch the water temperature when you rinse. The last thing you want to do is smell like a cooked egg for days.
---
● For more Household Tips on Ann's Entitled Life, click here.
● For Recipes on Ann's Entitled Life, click here.
● Enjoy this post? Sign up for the Ann's Entitled Life FREE Weekly Newsletter to stay connected.
---