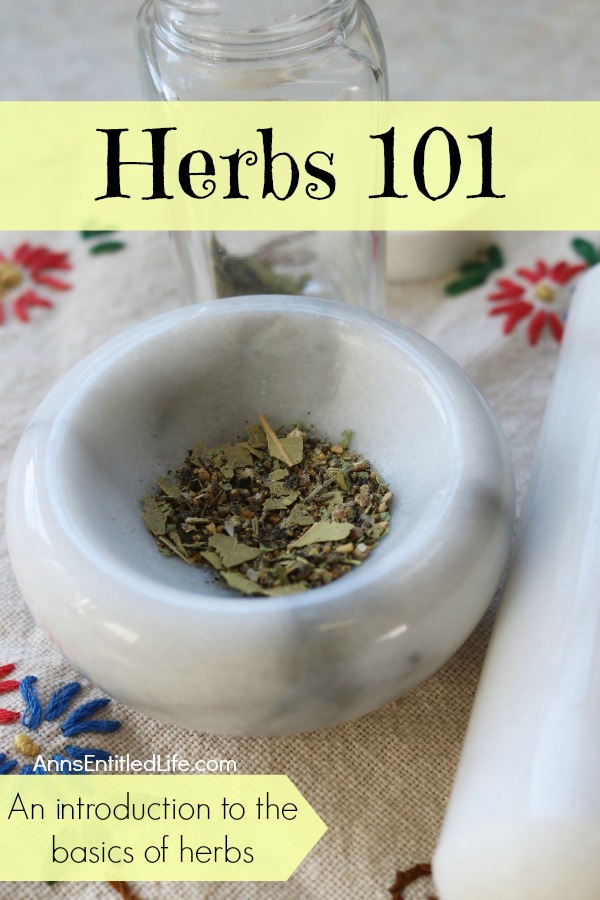 Herbs 101 – An introduction to the basics on herbs.
Herbs are something all of us can benefit from in one way or another; from using them for home remedies, baking, or crafts, they have so many valuable uses we can take advantage of. If you are new to using herbs though, it can seem overwhelming to know where to start and what exactly you are even dealing with. Here are a few tips on getting started with herbs!
The question you might ask is "What is a herb, exactly?"
● A herb is a plant that is of value for the flavor, aroma it provides or the health benefits properties it may have. Herbs can come in many forms and sizes, depending totally on the type of plant and which part of the plant you are using.
● Some herbs have more than one use, such as some of the cooking type you may already be familiar with, like oregano, parsley, or thyme. They have wonderful health benefits, and have been used medicinally for ages, in addition to their use for the flavors in cooking.
● Most herbs are not so much of the woody type plant, but more of the soft and more tender type. If herbs are woody at all, it would be in the stems of the plant, but the leaves and buds would be soft and easy to use and break down. Rosemary is a perfect example of this type of woody-stem herb.
● For years and years people have used herbs for preserving and flavoring food and this is easily their most popular use. Most people purchase them in the grocery or health food store and cook with them frequently. Herbs have also been used in religious ceremonies.
● Here are some tips for usage in each specific area that should help you if you are new to using them, along with a few cautions as well.
Herbs For Cooking:
If we did not season our food and use herbs in cooking, much of what we eat would not have a whole lot of flavor. Beyond buying the pre-dried type of herbs in the store, you can frequently find some of the more basic ones in the fresh plant form in many stores and also certainly in a garden center. Ask an employee for advice on which are easiest as starters, but mint, rosemary and basil are ones you will probably be able to find without much trouble. All three of those have great health benefits for your body, so know that while you use them to cook with, they are doing your body good too!
Many cooks do grow a lot of their own herbs because they taste so good when fresh. It also can be money saving to just be able to pick off your own plant the specific amount you need for a recipe (and talk about convenient!). In the dried form herbs do have a longer shelf life but some of the benefits will not be as potent and strong either.
If you grow a few different ones, just cut a few snips of each and add them to soups, salads, salsa and more (I walk out to the garden for oregano and basil all the time!) They work great in homemade sauces as well. You may want to read 10 Herbs You Need To Grow for some great herb gardening choices. In additions, this post on herb planting and care can help you get started! And, if you would like to enjoy fresh herbs even during the winter, this post on Tips for Growing an Herb Garden Year Round will be helpful!
The best way to start cooking with herbs is to use recipes you are already familiar and comfy with and then put them in there, tweaking it as you taste and try it. If you are nervous to do so, try one type at a time, like adding a tiny bit to a salad dressing or omelet. Add flavor to salads by using dill, cilantro and basil.
Here are a few recipes that make great use of herbs:
● Chicken Salad recipe – Hubby's best recipe (and that is really saying something!) – the herb addition is what makes it so fantastic!
● Roasted Rosemary Mushrooms
● Spicy Chicken Thighs
● Four Color Caprese Salad
● Cantaloupe Prosciutto Mozzarella Salad Recipe
Make a great dressing with an oil base by adding lemon juice and sea salt along with your favorite herbs.
One thing to note is to add them in the last few minutes of cooking, when they are fresh, or they will tend to lose much of their flavor the hotter they get. Do not cook them for more than 25 to 30 minutes.
Infuse either or both olive oil or vinegar with herbs by first placing the herbs in the bottle and then topping off all the way with the liquid. Keep closed tightly and use whenever you'd like. Garlic, Chives, Basil, Dill and thyme are great ones to do this with. Add a cute label and ribbon in a nice colorful bottle and you have a wonderful gift for a cook in your life! Here's a great how to make herb infused oils post.
Herbal Remedies:
Aromatherapy is one great way to use as remedies. You can add a few snips to a humidifier or add some on the logs in your fire when burning in winter. Incense type sticks called herbal joss sticks are used to cleanse the air in religious rituals and they do help create a mood and make those who are familiar with that scent feel reverence and comfort at their smell.
Aromas can truly be good therapy for your body and mind. As you start using herbs and smell them, you will be drawn to certain ones, and you should listen to your body. If it likes one, use it, because your body is telling you you need it. It can evoke good memories for you as well, like the scent of Grandma's apple pie that takes you back, many herbs can have that effect.
Your brain will release chemicals in reaction to aromas and it can be very helpful with emotional therapy.
Herbal teas and infusions are another way to use them as remedies. Infusions are done by pouring hot water over the herb leaves and blooms and letting them steep in it for at least 15 to 20 minutes, then inhaling and drinking while fresh. Teas are steeped for a shorter span of time and drank.
A few commonly used medicinal herbs are: rosemary, sage, oregano and thyme. They can be used for sinus relief, to help get over a flu or cold, for antiseptic uses, relief for wounds and scars and for allergy relief. There is a lot of information online on these herbs so be sure to research before using for this type of remedy and always consult your physician as well.
Herbs For Crafts:
Herbs can be used as natural dyes, for use with bath products and spa treatments, to make wreaths and bouquets, potpourri and sachets, natural candles, and homemade soaps.
Drying and storing herbs is not too complicated but you do need a good dark space to keep them in while drying and for you can tie them together in bunches and hang upside down as well as laying flat on a screen. They can also be dried in the oven, for faster results.
Once dried, be sure to store in clean, airtight containers, or if storing hanging in bunches, just be sure to protect with a cover to keep off the dust. How to Harvest and Dry Basil!
Cautions:
● If you are pregnant or nursing, or have heart conditions, please consult a physician before using herbs for remedy purposes.
● Here are two herbs that, while beautiful in their plant form, contain poisonous and volatile oils that in small doses may not harm us, but can be toxic if used in larger ones, so it is best to avoid usage and never ingest either of these: Foxglove and Lily of the Valley. Even when growing these plants, be careful to keep pets and small children away from them.
If you would like to learn more about herbs and their uses, one of these books is sure to have the information you seek:
● Encyclopedia of Herbal Medicine, 3rd Edition
● The Complete Book of Herbs: A Practical Guide to Growing and Using Herbs
● Rosemary Gladstar's Medicinal Herbs: A Beginner's Guide: 33 Healing Herbs to Know, Grow, and Use
● Rosemary Gladstar's Herbal Recipes for Vibrant Health: 175 Teas, Tonics, Oils, Salves, Tinctures, and Other Natural Remedies for the Entire Family
● The Herbal Apothecary: 100 Medicinal Herbs and How to Use Them
Please remember that none of this is meant as medical advice. I am not a doctor and do not play one on the internet. Please consult a physician if you have any questions about using essential oils or herbs so your doctor can better explain to you the benefits, possible side effects, and any warnings about essential oils and herbs.
---
● Disclosure the links in this post may be affiliate links.
● For more Gardening posts on Ann's Entitled Life, click here.
● For more Household Tips on Ann's Entitled Life, click here.
● Click here for more Library Topics on Ann's Entitled Life.
● Enjoy this post? Sign up for the Ann's Entitled Life FREE Weekly Newsletter to stay connected.
---