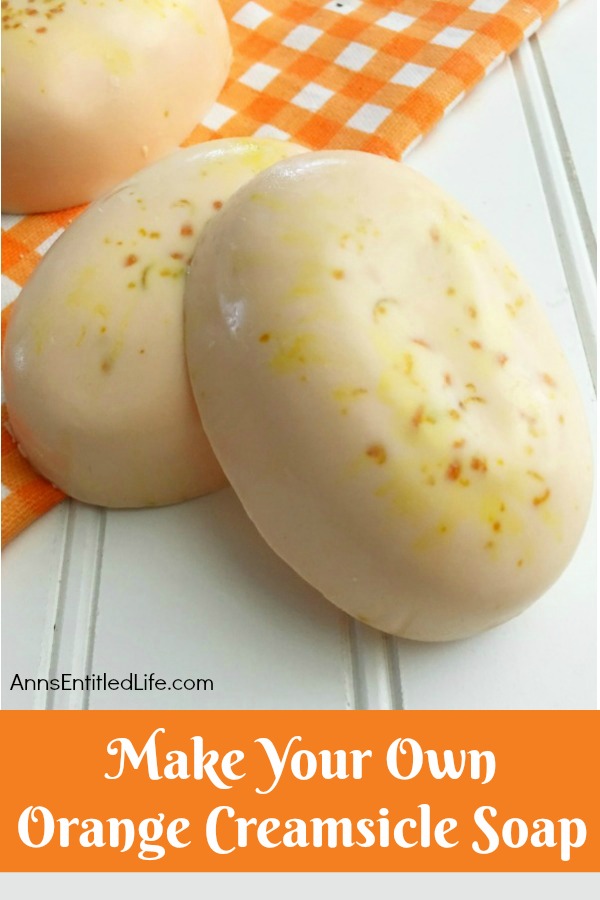 Making your own soap is fast, fun and easy. This terrific recipe for Orange Creamsicle Soap smells fantastic and feels wonderful on your skin. If you enjoy a zesty citrus scent, follow these easy tutorial instructions to learn how to make Orange Creamsicle Soap!
Make Your Own Orange Creamsicle Soap
Who loves Orange Creamsicles? I clearly do as witnessed by these Orange Creamsicle drink recipes: Orange Creamsicle Cocktail Recipe and Orange Creamsicle Jello Shots Recipe. So, I figured Why not Orange Creamsicle Soap? It smells great, feels good, and making soap is pretty darned easy. Why not an Orange Creamsicle Soap?
Note: If you also enjoy soap making, you may be interested in these soap recipes:
● Lavender and Oats Goat Milk Soap Recipe
– This soothing recipe of luxurious goat's milk, hydrating shea butter and exfoliating oatmeal smells fantastic and feels great on your skin. Treat yourself to a spa-like experience with this wonderful Lavender and Oats Goat Milk Soap Recipe.
● Rose Petal Soap Recipe – This homemade rose soap recipe incorporates some of the garden's most beautiful flowers – and my personal favorite – Roses! You will be amazed to learn how easy it is to make homemade soap with rose petals and buds. Roses are purported to calm your mind and reduce your stress level via their aromatic fragrance.
● DIY Peppermint Soap Recipe – The wonderful and invigorating peppermint scent will wake you up in the morning!! Remember, you control the ingredients, so you know exactly what is in the soap you are making and using.
● Snowflake Soap – Make your own Snowflake Soap! Perfect for the holidays or winter season, these decorative snowflake soaps are highly customizable. Changing the scent really is easy in soapmaking. I love making soap. it is wonderful to customize the scents, the colors, and really make great seasonal soaps to use at home or give as gifts.
And now on to the Orange Creamsicle Soap tutorial!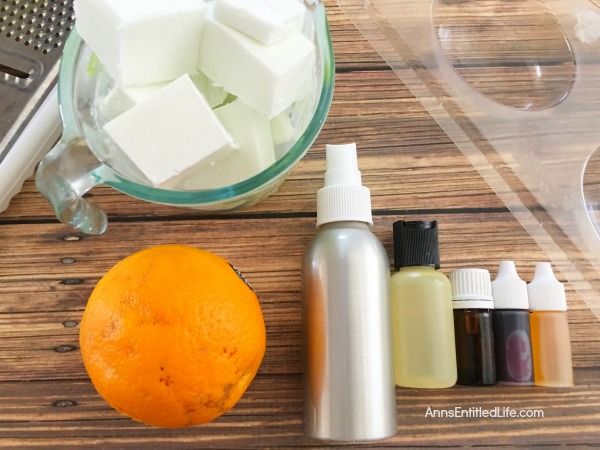 Orange Creamsicle Soap Ingredients:
● 1+ cups White Melt and Pour Soap Block
● 8 drops Orange Essential Oil

● 1 Orange (for zest)
● 3 drops Orange Soap Colorant
Orange Creamsicle Soap Mise en Place:
● Soap Mold

● Large Glass Measuring Cup

● Silicone or Wooden Spoon or Stir Stick
● Cheese Grater

● Rubbing Alcohol (and spray bottle if needed)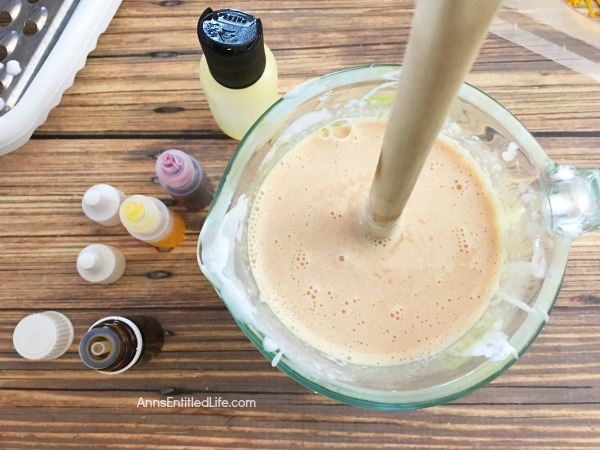 Orange Creamsicle Soap Directions:
● Cut ice cube sized pieces off your block of soap and place in a clear glass measuring cup. Note: how much soap base you need really depends on the size of your soap mold. This soap mold
makes 5 oz bars of soap x 4 = 20 oz. That is one and a quarter cups. If your molds make 3 ounce bars x 4 = 12 ounces, or ¾ cup. Know your mold soap size to measure out an accurate amount of soap base you will need to melt.
● Microwave your soap on high for 1 to 2 minutes, stirring every 30 seconds until melted.
● Mix in your orange essential oil
and orange soap colorant.
(Remember, you can always add more for a deeper scent or richer color.)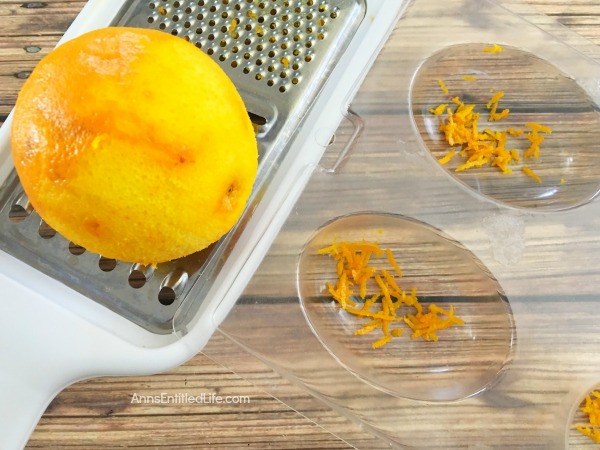 ● Using a cheese grater,
zest the orange. Place a small amount (a pinch) of the orange zest into each soap mold.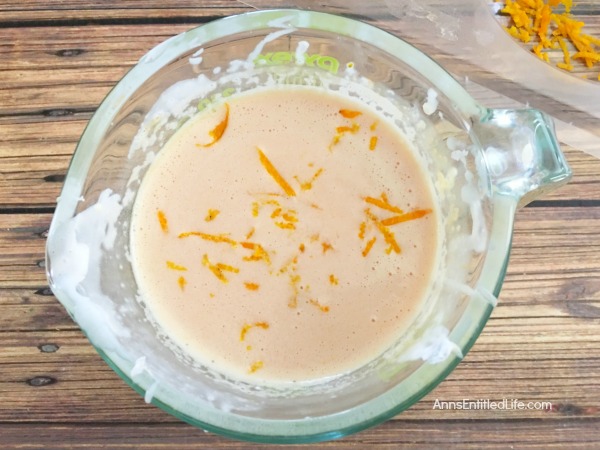 ● Add the remaining orange zest to your liquid soap.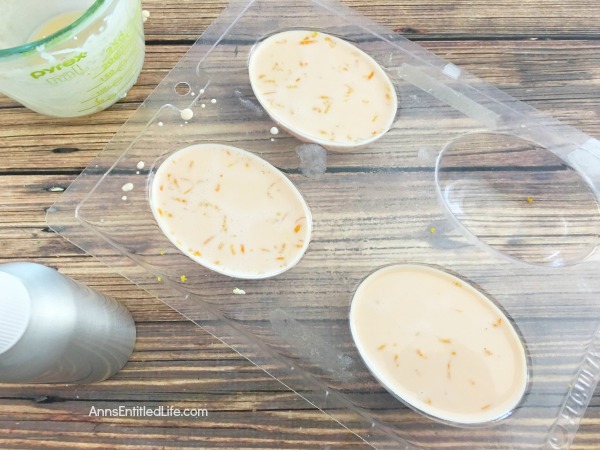 ● Pour the melted soap into your molds.
● Spray lightly with rubbing alcohol to prevent air bubbles.
● Place your mold in your freezer for 45 minutes.
● Once your Orange Creamsicle soap is hardened, pull on the sides of the molds to release the soap from the sides, and press up on the bottom gently to remove soaps.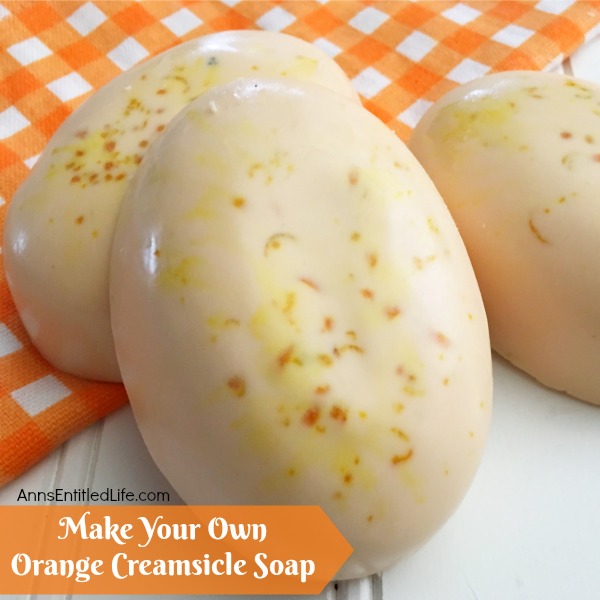 ● If presenting as gifts, you can tie with a ribbon, wrap with cellophane and a ribbon, etc.
● These are perfect for display, gift giving, or to set in a linen closet as well as everyday use!
● To print the Orange Creamsicle Soap Recipe click here.
---
● Disclosure: the links in this post may be affiliate links.
● For more DIY Beauty posts on Ann's Entitled Life, click here.
● If you enjoyed this post, be sure to sign up for the Ann's Entitled Life weekly newsletter, and never miss another article!
---