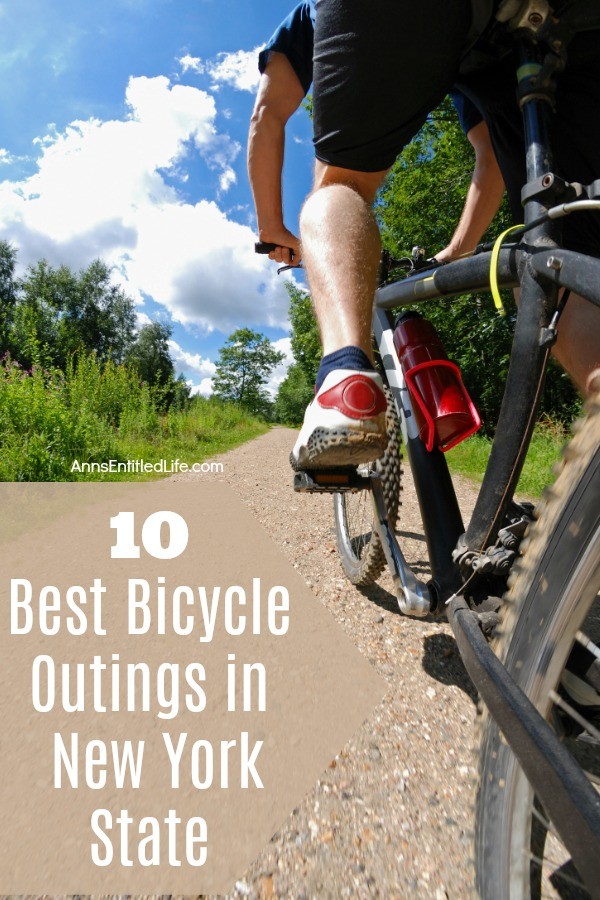 Whether it is a bicycle built for two or a mountain bike ready for some off-road action, New York State offers bicyclists thousands of miles of paths and trails for people to explore. Regardless of your biking interests, from recreational to hardcore exercise or competitive, New York has the trail for you. As you venture off this summer on your trails, please ensure you dress safely and wear the proper gear. Safe cycling.
10 Best Bicycle Outings in New York State
Before beginning on a long bike ride, I urge you to consult The League of American Bicyclists. They have ratings, tips, and communities. In New York State the best ratings are given to: New York City, Buffalo, Rochester, and Ithaca. There are many listed areas, including the SUNY schools.
Best Bicyle Outing in the Adirondacks, New York
The mantra of the Adirondacks is "If you can ski it, hike it, drive it, then you can probably bike it." Bicyclists can explore the region on their own or as part of organized tours. Trails can take you along the roadways or off the beaten path by exploring hiking and skiing trails. Where your bike is pretty much up to you. Warren County offers a 12-mile tour that takes you through Glen Falls to Lake George village. Enjoy a nine-mile route along the canal system on the Feeder Canal Park Heritage Trail.
Adirondack trails include Lake Champlain, Tupper Lake, and Lake Placid. The weeklong Cycle the Adirondacks also features daily rides from 25-65 miles. Tours also take place on weekends.
The Adirondacks offer hundreds of miles of bicycling trails available, so your fun is only restricted by your imagination.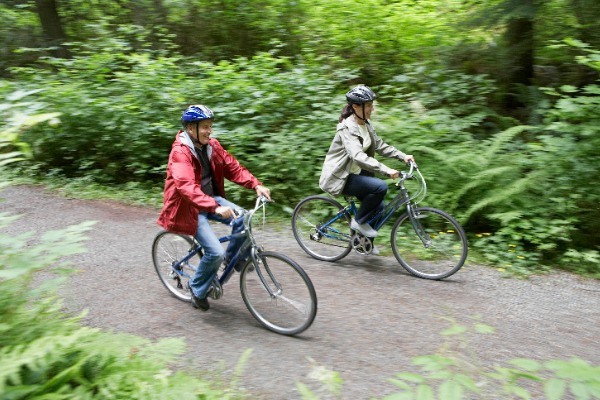 Best Bicyle Outing in Brewster, New York
Known for its spot on the Putnam Trail, Brewster is located along a great cycling trail that includes the North County and South County Trails. While the Old Putnam Trail is just a little longer than a mile, it's part of the longer trails and bicyclists can ride almost 12 miles to Brewster Place. The trails actually run along a former railroad line and connect Brewster to New York City, which is about a six-hour bike south.
Brewster is a beautiful area to start a bike tour. With historical attractions such as the Walter Brewster house, a visit gives a glimpse into the life of the village's founder. Another piece of history to visit is the Brewster train station.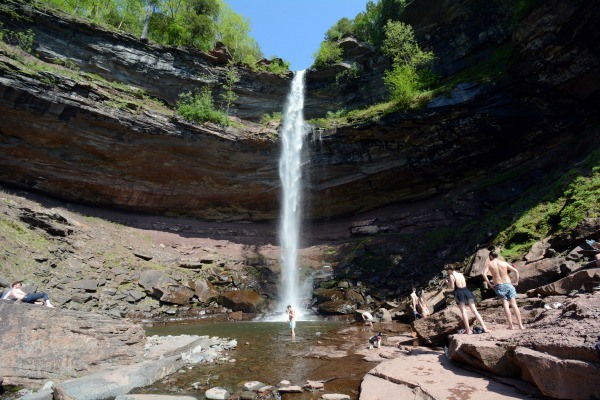 Best Bicyle Outing in the Catskills, New York
The Catskills are perfect for bicyclists of all experience levels. You can explore the area on bike as a beginner or take on some of the more challenging routes as an experienced bicyclist. The Catskills provide a beautiful setting for riding your bike. With the woods and mountains, as well as smaller communities, riding the Catskills is basically a ride in paradise, or close to it. As you cycle around the area, you can appreciate the views of covered bridges and take in some of the beautiful waterfalls in the region.
The area is home to the annual "Tour of the Catskills." Drawing more than 250 professional and amateur bicyclists, Tannersville is the site of the 12th annual race August 3. Additionally, the Women's Woodstock Cycling Grand Prix I one of the few women-only races around the country and takes place the weekend of May 3-5.
Best Bicyle Outing – the Cayuga Waterfront Trail
A 5.5-mile paved multi-use trail provides an easy trail for everyone to bicycle, from single riders to families. A joint project between the city of Ithaca, Tompkins County and Cornell University, the trail provides access to Cayuga Lake in the Finger Lakes region, as well allowing people to enjoy a taste of nature.
The path is considered an easy route for bicyclists, so it's designed for more recreational use than challenging bike rides. Regardless, a trip around the lake allows bicyclists time to relax and enjoy the area around them while working out on their bikes.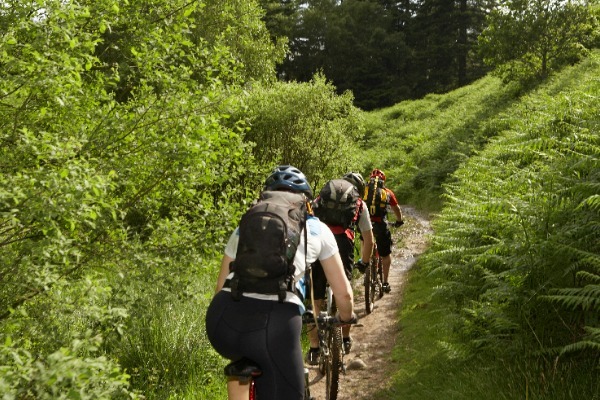 Best Bicyle Outing in Dutchess County
Dutchess County offers bicyclists the best of all terrains as you ride area's trails. From converted railroad routes to scenic farmland views to taking a challenging mountain bike route, the Poughkeepsie area offers impressive routes and views along the Hudson River valley. With eight self-guided bike tours running from 12 miles to more than 40 miles, Dutchess County invites biking enthusiasts to visit the area and spend a day or a weekend along its scenic byways. You can enjoy your ride along the back roads along farm fields, pass through historic towns like Fishkill or take a tour through the communities of Rhinebeck and Red Hook, where you can see hundreds of historic houses, as well as the nation's oldest operating inn.
Best Bicyle Outing – East Coast Greenway
The East Coast Greenway covers about 3,000 miles from Maine to Florida. A little more than 34 of those miles run through the New York metro area. It's said that traveling the greenway through New York may not provide a better view of the city than riding your bicycle through the trails in Manhattan. The Manhattan trail provides clean and safe paths to travel over as you pedal through the largest city in the United States. New York's portion of the East Coast Greenway takes you along a variety of paths in the area, including the Bronx River Forest, giving you a taste of nature minutes from the hubbub of city life.
The New York route actually begins on the north end in Westchester County, traveling on to Pelham Parkway and the Bronx Forest, eventually crossing on to Broadway. Once cyclists cross the Broadway Bridge, they head on to the Hudson River Greenway via Dyckman Street. While people may enjoy the rural portions of the bike trail, New York offers cyclists a different view of the Big Apple.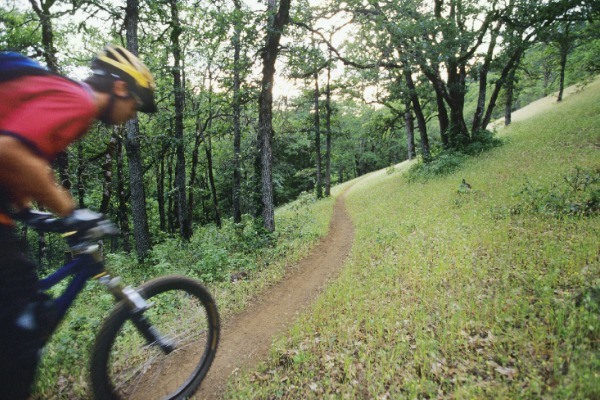 Best Bicyle Outing in the Finger Lakes, New York
Home to five lakes and dozens of towns and small cities, the Finger Lakes region is ripe for bicycling. Known for its wine country, Finger Lakes also offers some beautiful backdrops for bicycling. From moderate routes to challenging trails, cycling Finger Lakes provides a great workout and fun tours.
Old River Trail in Waverly offers a 2.3-mile route for bicyclists. Taking riders past farms and fields, it's a great way to take in the agriculture views of the region. Cyclists can take in amazing views of Owasco Lake as part of a 32.5-mile trail in Auburn. Along the way, you can bike an eventual upgrade from Moravia to Rockefeller Road. The trail also includes a natural streamfed poll at Fillmore Glen State Park where people are known to take a dip in the water.
While you are in the Finger Lakes, if you would like to do some winery exploration, I've been to more than a few:
* Estate Wineries on Seneca Lake
* Wine Tasting On Canandaigua Lake
* Wine Tasting On the West Side Of Seneca Lake
* Wine Tasting On the east Side of Seneca Lake
* Wine Tasting On Cayuga Lake
Best Bicycle Outing on the Mohawk-Hudson Trail, New York
Running about 35 miles, the Mohawk-Hudson Bike Hike Trail from Albany to Rotterdam. Following an old railroad route along the Hudson and Mohawk Rivers, the trail also includes the Erie Canal. A small portion of the trail (.75 miles) includes street riding. As you enjoy your ride, you'll take in interesting scenery in the Albany and Cohoes area, including the New York Women's Veterans Memorial and the Korean War Memorial to Cohoes Falls, to Schenectady's Historic Stockade District, a neighborhood dating back to the 1600s.
The Mohawk-Hudson Trail is part of the New York State Canalway Trail, which includes more than 250 miles of trails in upstate New York linking the Hudson River with other waterways, such as the Finger Lakes, Niagara River, and Lake Ontario. The larger trail provides some of the most beautiful landscapes offered in the state.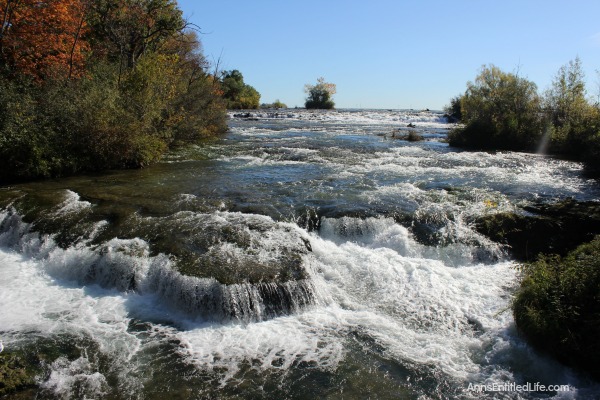 Best Bicyle Outing in Niagara Falls, New York
Imagine hearing the rush of Niagara Falls around you as you start your tour of the falls area at Niagara Falls State Park. With safe bicycling routes as well as dedicated bike paths, cycling the Niagara area offers beautiful scenery during your tour. Take a path that leads you to Niagara Gorge and on to the Robert Moses Niagara Plant. Your options are truly unlimited on where you want to cycle. Head out to Old Fort Niagara for a look at the nation's oldest military fort that has served four countries over 300 years.
You can also rent bikes in Niagara Falls from an hour to all day. Renting a bike all day allows you time to take in a few of the tourist attractions, such as falls cruises or a hike to the Cave of the Winds.
You can bike from Buffalo to Niagara Falls (or vice versa) via the Riverwalk.
Note: up in Niagara County from May – October you can see the "semi-professional" bicyclists all the time. It is cooler weather compared to the rest of the county (90°+ is crazy-hot for the area and does not happen often) and so much enjoyed by bicyclists.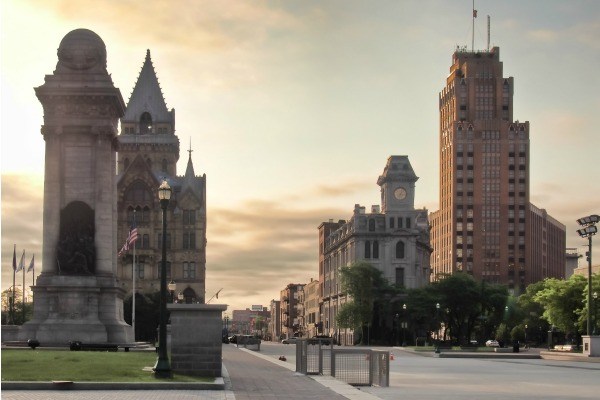 Best Bicyle Outing in Syracuse, New York
The Syracuse area has more than a dozen bike trails from a few miles long to almost 30 miles long. You're not lacking for fun and adventure on Syracuse's trails. From city parks to the Erie Canal Trailway, Syracuse offers all levels of bicycling. The Oswego County Trail is a 28-mile ride over crushed stone and dirt paths, while the Oneida Rail Trail is about a mile and half long. Syracuse is a stop along the 291-mile long Erie Canal trail.
https://www.traillink.com/city/syracuse-ny-trails/
The New York Department of Transportation maintains a database that includes long-distance bicycling routes in the state. One such route is Route 5, which runs 325 miles from Niagara Falls to the Massachusetts border (what the I-90 was before there was an I-90). Regardless of your biking interests, from recreational to hardcore exercise or competitive, New York has the trail for you. As you venture off this summer on your trails, please ensure you dress safely and wear the proper gear. Safe cycling.
If you are looking for more things to do in New York State, check out these posts:
● 365 Things to Do in Niagara Falls and Buffalo, NY – Something to do every day of the year in Buffalo and Niagara Falls!! This is a long list of events, places, and things to do in Buffalo, and Niagara Falls, New York. This includes things to do in all of the 8 counties of Western New York. From touristy things to do to things only locals know about, this great list of 365 Things to do in Niagara Falls and Buffalo, NY has something for everyone on it! If you are looking for what to do in Buffalo and Niagara Falls, this list is what you need!
● Best Picnic Spots in New York State – Winnie the Pooh's idea of the perfect picnic is finding a beehive full of honey. For a romantic, it's a basket with a charcuterie plate, with its meat and cheese and tasty grapes, as well as a bottle of the best wine, to be shared on a checkered picnic blanket. Whether it's a family outing or a couple's date, New York has so many beautiful spots to enjoy a picnic.
● Best Summer Family Getaways in New York State – Summer means vacation time! New York State is home to many inviting spots to spend a long weekend or a full week (or two) with the family. From retracing the steps of great Olympians to camping and fishing outdoors to checking out some of the scary and fun attractions at amusement parks, New York State invites you to enjoy some great quality time with your loved ones on a terrific family getaway.
---
● For more New York State Travel posts on Ann's Entitled Life, click here.
● If you enjoyed this post, be sure to sign up for the Ann's Entitled Life weekly newsletter, and never miss another article!
---