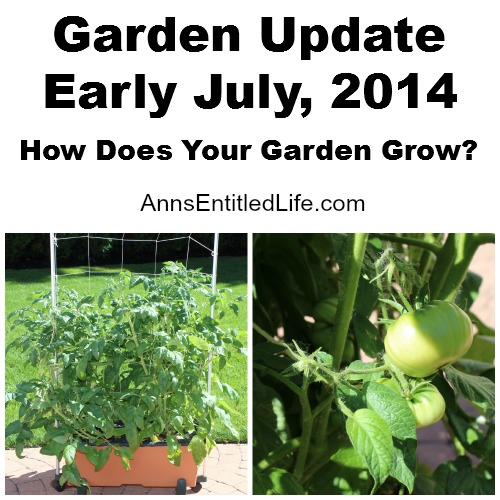 Garden Update, Early July, 2014
An update of my garden in early July, 2014, US hardiness zone 6a.
The weather has been fairly hot here recently. It cooled off (thankfully) for Independence Weekend, and we had some rain earlier this week and last, so much of my garden has really taken off.
Those are my earth box tomatoes above. My main problem with the earth box to date is that if it rains the mulch covers prevent the plants from being watered. Now, this is both good and bad. On the one hand, the plants can't be over watered. But, on the other hand, I have to remember to water them!
I "thought" I could water weekly, that the system was designed to hold enough water for a week. Apparently not. For a few days my tomatoes looked wilted, so I moved them away from the garage. My first suspicion was too much sun (plants close to a garage can get over heated). Since I filled the water when I moved the tomatoes they of course revived. But, three days later… droop-city.
We had a spat of 90s which is quite unusual for western New York, especially in late June. Normally we top out around 85° in the summer, and that is A-ok with me! While the heat agreed with the plants (it cooled off at night), they were very thirsty in those earth boxes. I have been filling the tanks every 2-3 days, and the wilt quickly went away. (I know there is enough water when it starts to flow out the bottom. The box is designed that way.)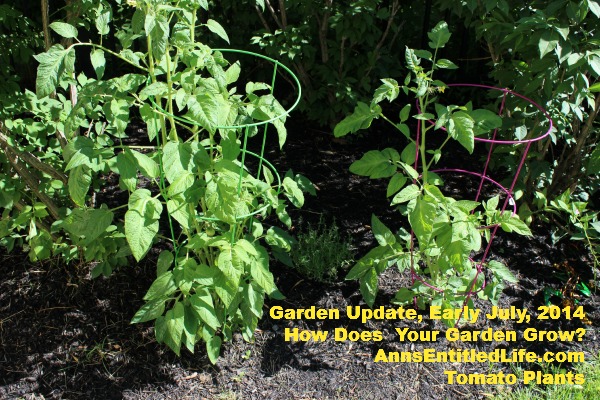 So, plenty of tomatoes on those earth box plants, and I have quite a few on my ground planted tomatoes too! I will continue to evaluate as the season progresses, but as of now it is doubtful that I will plant tomatoes again in the earth box. There is a higher and better use for these boxes I am thinking, and that includes….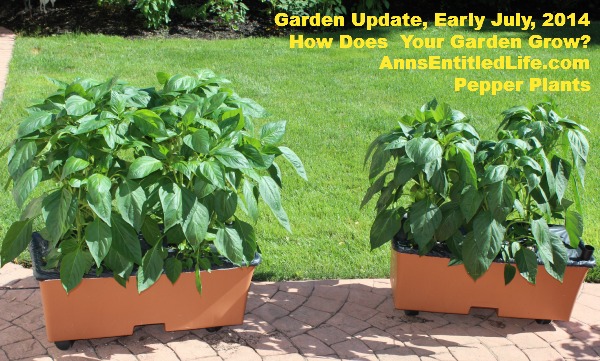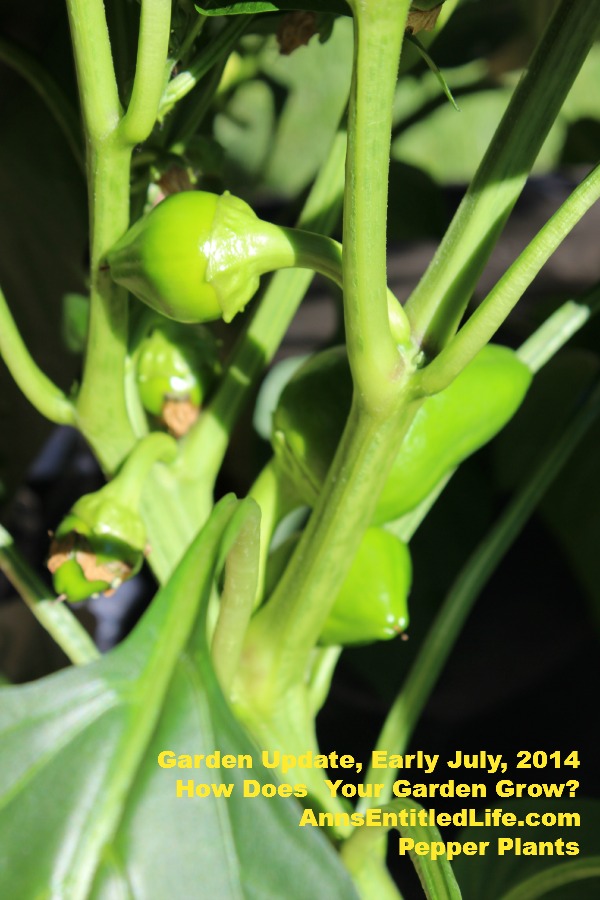 Peppers! The earth box peppers (orange, yellow and green) are going bonkers, and they have small peppers growing. The ground-planted peppers? Ummm you don't see a pic, do you? If I get anything off those four ground-planted pepper plants, I will be shocked. As of this moment, I would say peppers in the earth boxes is a must next year.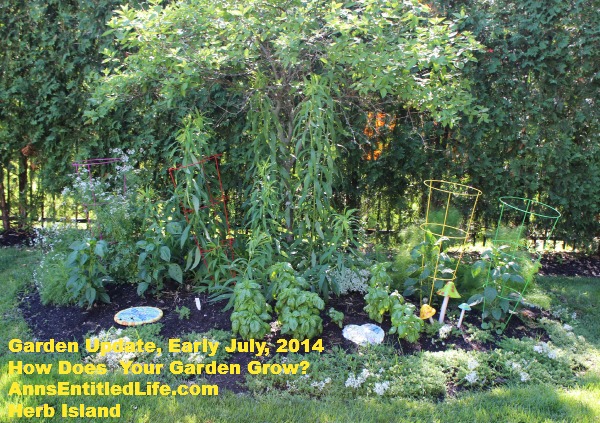 Herb island is flourishing. I have no idea what those plants are under the tree. I "think" they are some purple flower I left in last year because I found them pretty. The white flowers are ground cover that has finally decided to cover after 8 years. Figures.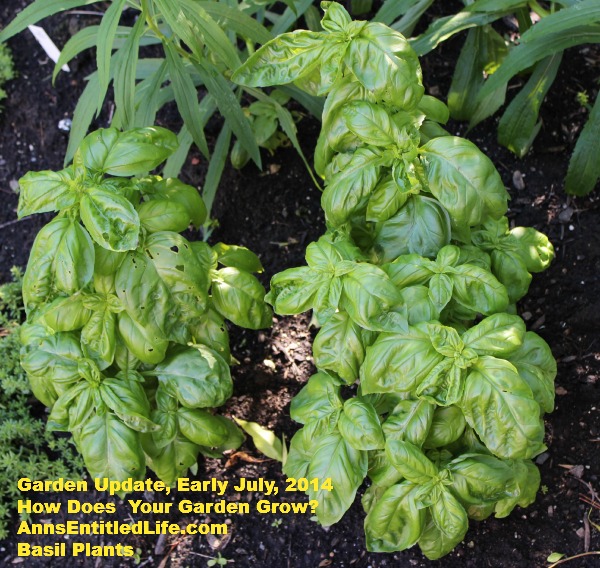 And, since my basil is a disaster in the ground (12 plants planted, five survive, those are the best three), I think it will be an earth box plant next year too.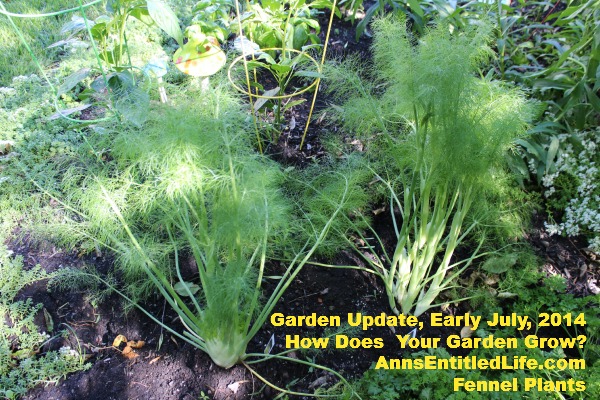 The fennel continues to exceed expectations. I accidentally broke off a stalk while weeding, and it smelled like a great big stick of licorice! I threw it in hubby's freezer bag for no sodium vegetable stock. Should add a different flavor.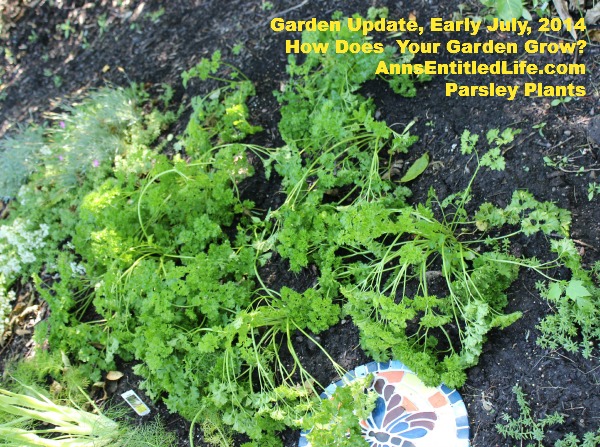 The parsley looks amazing. I will be harvesting this week and my garden post next week will deal with parsley harvesting, drying, and uses.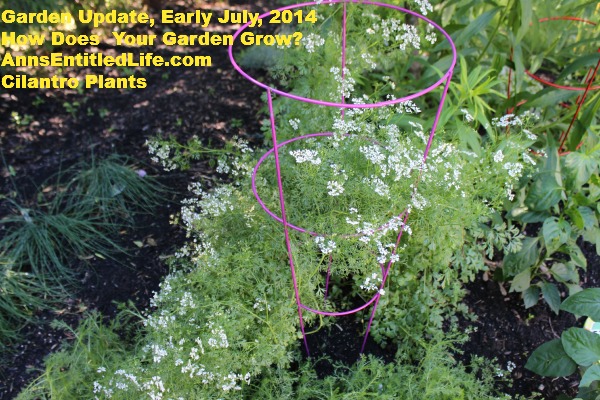 I decided to let the cilantro seed. If it is successful, that means coriander seeds galore. If not, well, I will rue my mistake.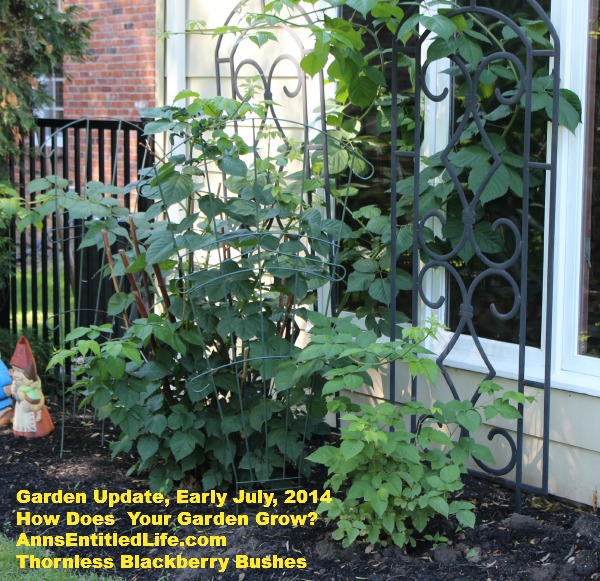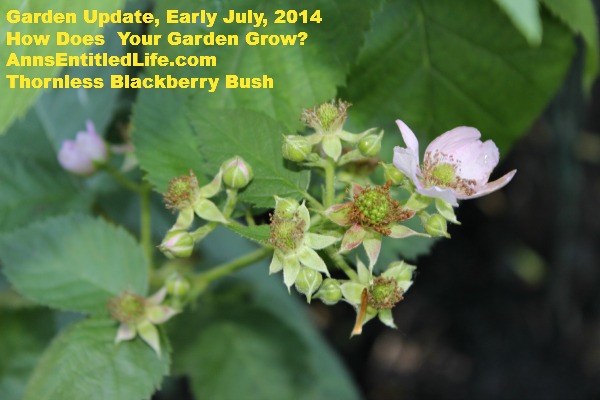 The thornless blackberry bush isn't doing so hot this year. While it continues to grow (upward), there aren't as many buds for fruit as in the past. I had a few canes I didn't take to the ground last year, and I suspect that may have had something to do with it. Lesson learned.
All in all, I am quite pleased the way my garden is coming alone. While a few setbacks, nothing major has befallen the garden. Hopefully, things continue to go well.
What are you growing in your garden this year? Tell me, How Does Your Garden Grow!?
---
● For more How Does Your Garden Grow posts on Ann's Entitled Life, click here.
● Follow my How Does Your Garden Grow pinterest board
---