Cornbread stuffing, sourdough dressing, and gluten-free and slow cooker stuffing recipes are just a few of the 20 Thanksgiving Stuffing and Dressing Recipes for you to discover and prepare for your holiday dinner this year!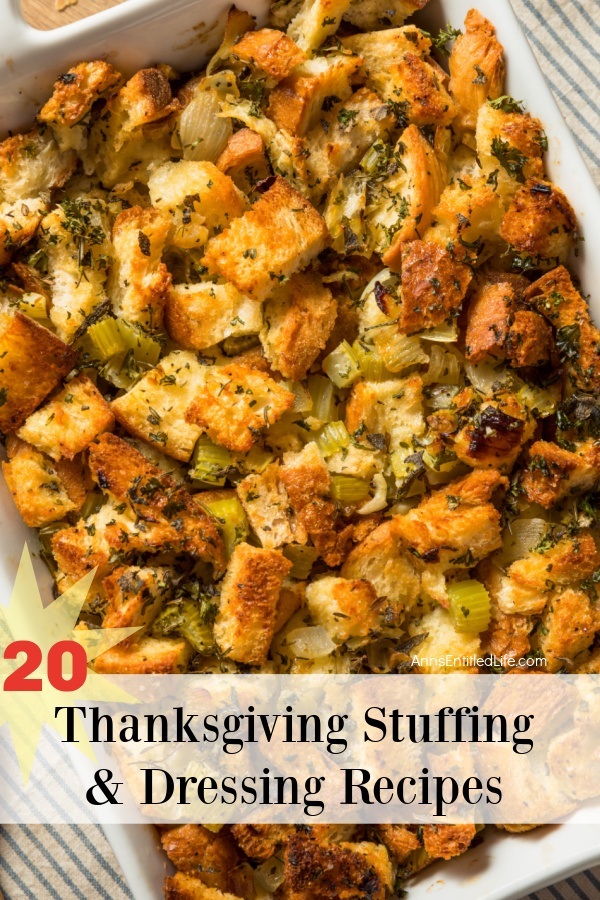 If you like stuffing, and who doesn't, have I got a list of great stuffing recipes for you! From traditional stuffing recipes to gluten-free stuffing recipes, from sausage stuffing to oyster stuffing, there is something for everyone on this terrific list.
20 Thanksgiving Stuffing and Dressing Recipes
Whether you choose to stuff your bird (follow the cooking instructions on your turkey wrapper) or make over or stove-top stuffing, there are some great recipes on this list.
While Americans traditionally eat stuffing on Thanksgiving, there is nothing stopping you from eating stuffing throughout the year. From stovetop to slowcooker and even a skillet, there are many great stuffing recipes to be made and eaten. If you like stuffing, you are going to want to try these delicious stuffing recipes.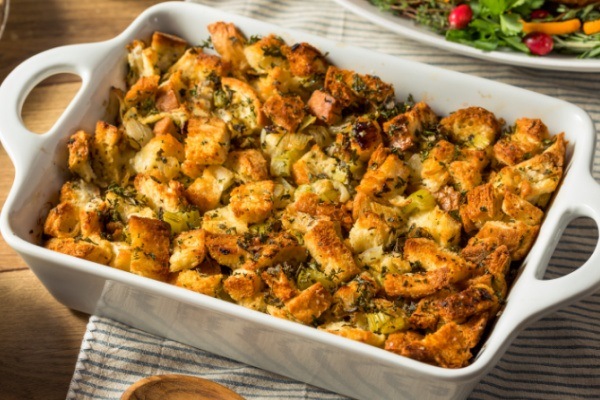 Try these delicious stuffing recipes:
● Best Ever Sourdough Stuffing | The Wooden Skillet
This easy recipe for making the best stuffing recipe you can image is made with sourdough bread, fresh vegetables, and all of the traditional herbs that pack a ton of great flavor! Perfect for your next Thanksgiving dinner!
● The Best Oyster Stuffing Recipe for Thanksgiving | Sugar and Charm
This is by far the best oyster stuffing recipe! It only requires a few simple ingredients, it's so easy to make and the flavors are amazing together. Plus, it's so creamy and crunchy and has the perfect savory flavor.
● Buttery Herb Stuffing Recipe | Little Sunny Kitchen
This is the classic traditional stuffing recipe that everyone loves! It's so simple, easy, and delicious – a must on everyone's Thanksgiving dinner table. You will love the flavors of this buttery, custardy, and herby stuffing that is never dry nor soggy. The crispy edges are my favorite thing about this recipe!
● Cashew Stuffing Recipe (dairy free stuffing recipe) | Frugal Family Home
This recipe is not only dairy free but doesn't use any meat products either so it is also vegetarian too. This recipe is easy to prepare.
● Cast Iron Skillet Cranberry Stuffing Recipe | Juggling Act Mama
Make this Walnut Cranberry Stuffing in your cast iron skillet for easy one-pan cooking. You'll love this flavorful side!
● Cornbread Chorizo and Jalapeno Stuffing Recipe | Hezzi D's Books and Cooks
I've made this stuffing several times and have brought it to Thanksgiving. It's been a huge hit every time. I love the spiciness of the jalapenos and chorizo and the fact that the cornbread tones down the heat. It's a great alternative to traditional stuffing and something that can be paired with foods other than turkey.
● Cornbread Dressing Recipe | The Nerd Wife
Cornbread Dressing…just like my momma makes it! It's not Thanksgiving without this side dish on the table!
● Cranberry Stuffing
Jazzed up box stuffing couldn't be easier to make!
● Easy Instant Pot Stuffing | Recipes from a Pantry
This Instant Pot Stuffing is incredibly easy and totally delicious! This is the fuss-free side dish recipe you need for the holidays and it's so simple you'll want to make it year-round!
* Post includes Weight Watchers points.
● Farro Stuffing with Cranberries and Walnuts | The Diner Mom
Farro Pilaf with cranberries and walnuts is a tasty side dish, "stuffing" for a turkey and can even be served as a cold salad! It's vegan too!
● Favorite Croissant Stuffing | Burrata and Bubbles
Make your next holiday dinner extra memorable with this favorite croissant stuffing! Flaky, buttery croissants are baked to perfection with a medley of fresh herbs, onions, garlic and celery in a custard-like filling to make one dish that's full of those classic stuffing flavors.
● Gluten-Free Brown Rice Stuffing Casserole (Vegan, Allergy-Free) | Strength and Sunshine
A hearty and cozy side dish recipe to feed a crowd! This Gluten-Free Brown Rice Stuffing Casserole dish is vegan, allergy-free, and easy to make! Whole grain brown rice, vegetables, savory herbs, and pops of cranberry all baked together.
● Gluten Free Stuffing Recipe | Yammie's Gluten Freedom
You guys, this tastes just like regular old, classic stuffing. I kid you not. I pride myself on being a stuffing connoisseur and this got five stars in my books. Best part? It's actually really easy, even though it's from scratch. I repeat: easy, gluten-free, FROM SCRATCH.
● Homemade Stuffing | Little House Living
Don't think that homemade stuffing can be the star of the show? You just haven't found the right recipe yet! Hopefully, this recipe for my Famous Homemade Stuffing will change your mind about how delicious (and easy!) and stuffing recipe can be.
● Jewish Rye Bread sausage and Apple Stuffing Recipe | JaMonkey
Jewish rye bread stuffing with sausage and apples makes the most flavorful side dish and perfect for Thanksgiving
● Keto Cauliflower Stuffing Without Bread | Melanie Cooks
With fall and winter holidays on the horizon, stuffing is a must for many families. This Keto Cauliflower Stuffing takes stuffing to the next level by making it low in carbs and gluten-free!
● Potato Bread Sausage Cranberry Stuffing | Nutmeg Nanny
This potato bread sausage cranberry stuffing is the perfect addition to your Thanksgiving table. Made with soft potato bread, Italian sausage, tons of fresh herbs, and dried cranberries.
● Sausage Mushroom Stuffing | How To Have It All
These little stuffing muffins are made in muffin tins instead of a baking pan. The outside is a little crispy and the inside isnice and moist.
● Sausage Stuffing Recipe | The Simple Home
This is my grandmas's sausage stuffing recipe, and it tastes great!
● Slow Cooker Stuffing Recipe | The Kitchen Is My Playground
Stuffing in the slow cooker? You bet! Slow Cooker Stuffing is moist, flavorful, and easy. — Not to mention, it frees up that oven space for all those other tasty holiday side dishes we love.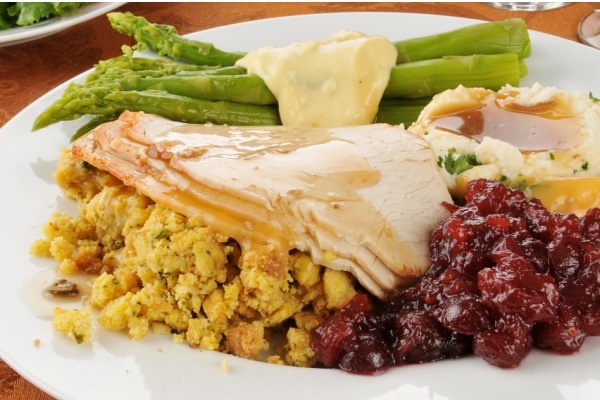 ● South Louisiana Cornbread Dressing Recipe | South Louisiana Cuisine
At any rate, my grandmother made the best cornbread dressing, and it has been our family tradition to have it with Giblet gravy since long before I was born. She passed her recipes on to me, and now I am sharing them with you.
● Sweet Hawaiian Bread Simple Stuffing | Made in a Day
Looking for a yummy stuffing recipe? Well, you can't go wrong with Sweet Hawaiian Bread Simple Stuffing. This is one of my family's favorite side dishes we have during the holidays.
● Tasty Apple Sausage Stuffing | Dish n the Kitchen
This Tasty Apple Sausage Stuffing will quickly become your new favourite holiday side dish. It features classic stuffing ingredients along with large bites of savoury English sausage and sweet bits of apple. Stuff your turkey, chicken, or just make a large pan full and bake separately.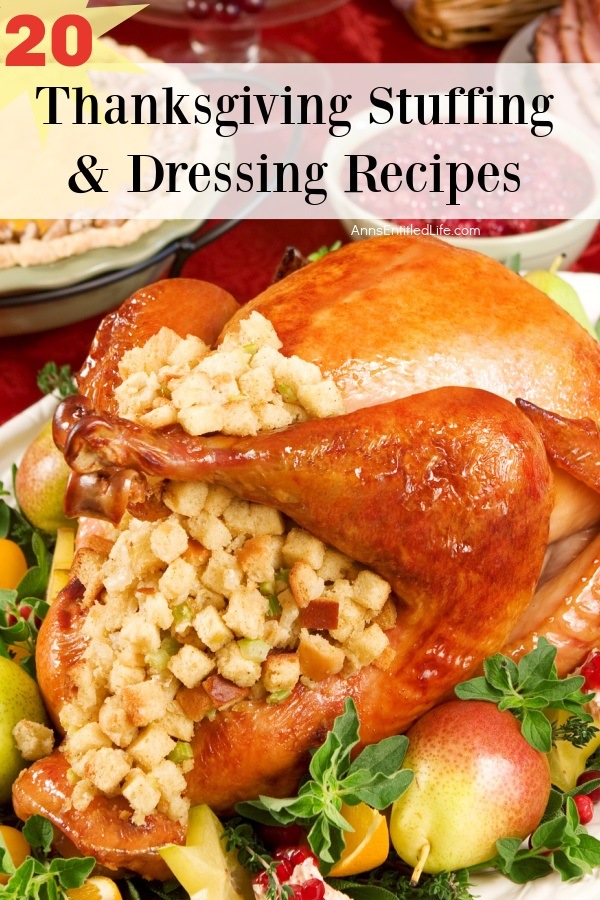 ---
First Published: November 06, 2014 Last Updated: November 14, 2022
● If you enjoyed this post, be sure to sign up for the Ann's Entitled Life weekly newsletter, and never miss another article!
● For a list of all Recipes available on Ann's Entitled Life, click here.
---