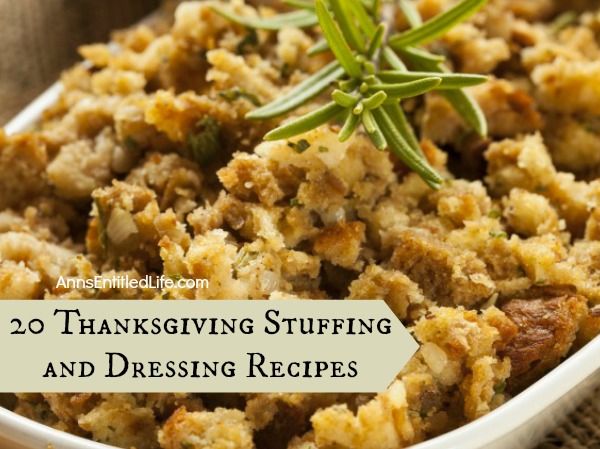 20 Thanksgiving Stuffing and Dressing Recipes
Cornbread stuffing, sourdough dressing, gluten free and slow cooker stuffing recipes; these are just a few of the 20 Thanksgiving Stuffing and Dressing Recipes for you to discover and prepare for your holiday dinner from the list below!
● Homemade Stuffing – Little House Living
● Cornbread Dressing Recipe – The Nerd Wife
● Slow Cooker Stuffing Recipe – The Kitchen Is My Playground
● Jewish Rye Bread sausage and Apple Stuffing Recipe – JaMonkey
● Cornbread Chorizo and Jalapeno Stuffing Recipe – Hezzi D's Books and Cooks
● Cast Iron Skillet Cranberry Stuffing Recipe – Juggling Act Mama
● Whole Grain Apple and Herb Stuffing Recipe – House of Fauci's
● Sourdough Mushroom Stuffing Recipe – Views From the Ville
● Stuffing Muffin Cups Recipe – Confessions of an Over Worked Mom
● Cornbread Dressing – Bare Feet on the Dashboard
● South Louisiana Cornbread Dressing Recipe – South Louisiana Cuisine
● Gluten Free Stuffing Recipe Yammie's Gluten Freedom
● Sausage Stuffing Recipe – The Simple Home
● Smoky Ciabetta Stuffing with Fennel, Grapes and Apples – Food Done Light
● Sausage Mushroom Stuffing – How To Have It All
● Apple Sage Stuffing Recipe – Vegan Mother Hubbard
● Cashew Stuffing Recipe (dairy free stuffing recipe) – Frugal Family Home
● Homestyle Sausage Recipe – Cinnamon Spice and Everything Nice
● Farro Stuffing with Cranberries and Walnuts – The Diner Mom
● Applesauce Stuffing Recipe – Cheap Recipe Blog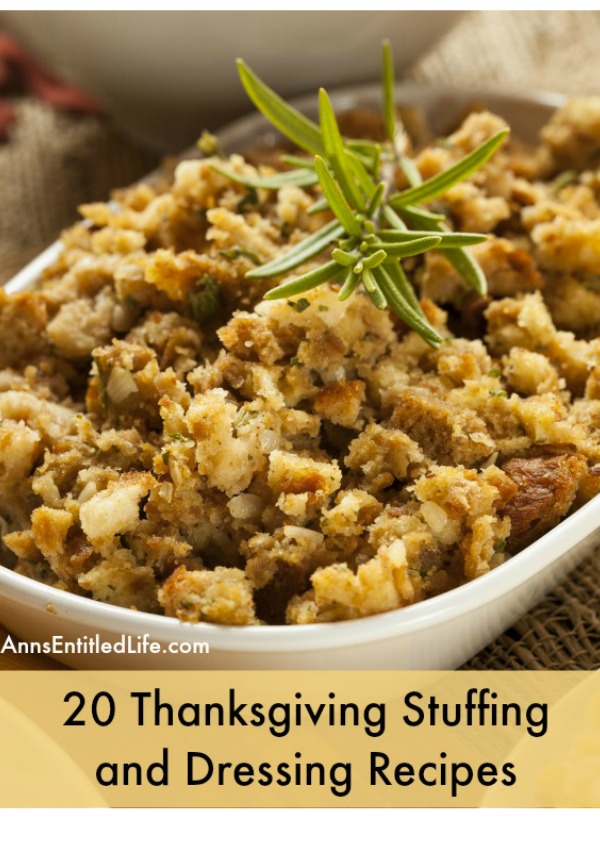 ---
● If you enjoyed this post, be sure to sign up for the Ann's Entitled Life weekly newsletter, and never miss another article!
● For a list of all Recipes available on Ann's Entitled Life, click here.
---