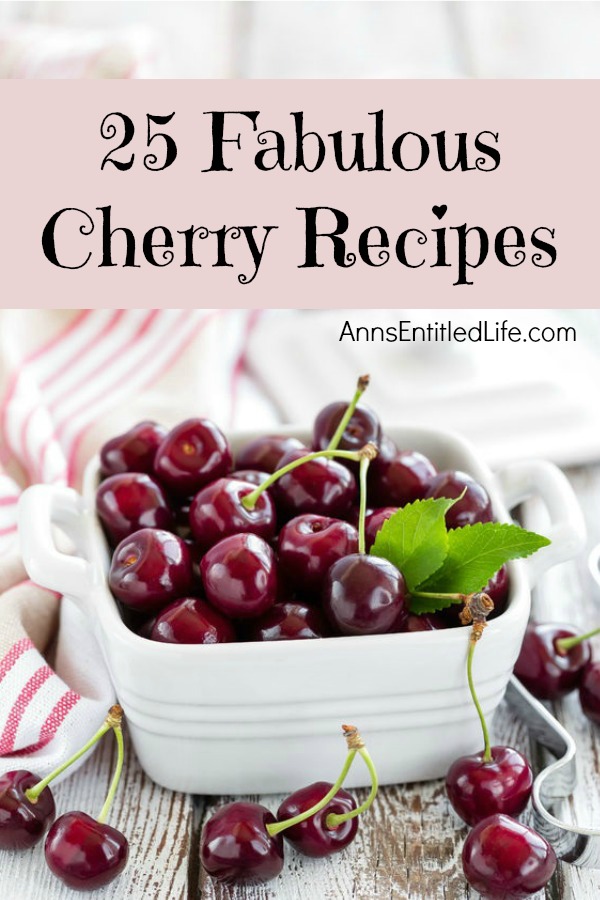 Get inspired to use those delicious and juicy cherries in totally new ways with these 25 fabulous cherry recipes. Whether using fresh or frozen cherries or sweet or tart cherries, there is something for everyone on this marvelous list of recipes. From beverages and snacks to cookies, cakes and muffins, one of these delightful cherry recipes will be perfect with your next meal.
A cherry is a stone fruit. It has been consumed since prehistoric times. Cultivated cherries have been documented back to the first century BC.
Cherries have a short growing season and can grow in most temperate latitudes. In the northern hemisphere cherries blossom in April with peak season in southern Europe and North America in June, in England in mid-July, and in Canada in June to mid-August. In many parts of North America, they are among the first tree fruits to flower and ripen in spring. In the Southern Hemisphere, cherries are usually at their peak in late December and are widely associated with Christmas.
The number one cherry growing nation in the world is Turkey followed by the United States as the #2 producer.
25 Fabulous Cherry Recipes
● Anti-Inflammatory Cherry Smoothie Recipe | Strength and Sunshine
● Black Forest Overnight Oats Recipe (Chocolate and Cherries) | Organize Yourself Skinny
● Cherry Almond Paleo Granola | Cook Eat Paleo
● Carrot Cherry Juice Recipe | Green Healthy Cooking
● Cherry Cheesecake Ice Cream No Churn Recipe | Recipes to Make
● Cherry Clafoutis Recipe | A Calculated Whisk
● Cherry Cordial Cookies Recipe
● Chery Fluff Recipe | This Girl's Life Blog
● Cherry Mint Water Infusion | Little House Living
● Cherry Pie Bars Recipe | Baking Beauty
● Cherry Pie Cookies Recipe | Cincy Shopper
● Cherry Rum Punch | Mom on the Side
● Cherry-Zucchini Muffins Recipe | The Foodie and the Fix
● Delicious & Easy Cherry Dump Cake Recipe | Mom Fabulous
● Easy Cherry Cobbler Recipe | She Saved
● Jealous Cherry Cocktail Recipe
● Maraschino Cherry Cupcakes Recipe | Living Sweet Moments
● No-Bake Cherry Tarts Recipe | Simply Stacie
● No Bake Easy Cherry Chocolate Chip Pie Recipe | Mom's Need to Know
● Quinoa Cherry Chicken Salad Recipe | I'm Bored Let's Go
● Rainier Cherry Granitas Recipe | Hot Eats and Cool reads
● Rudolph's Cherry Red Nose Pudding Recipe
● White Chocolate Cherry Almond Biscotti Recipe
---
● Disclosure: the links in this post may be affiliate links.
● For more Recipes on Ann's Entitled Life, click here.
● If you enjoyed this post, be sure to sign up for the Ann's Entitled Life weekly newsletter, and never miss another article!
---