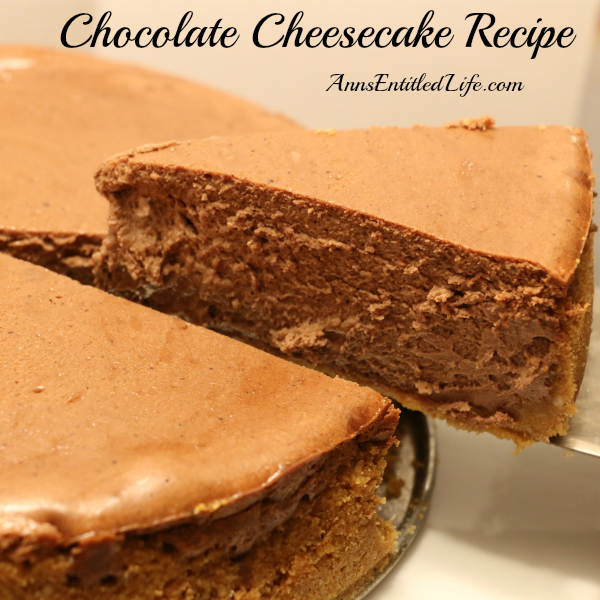 Chocolate Cheesecake Recipe
By Ann
Smooth, delicious, decadent and creamy accurately describe this fabulous chocolate cheesecake recipe. Special occasion, party food or dessert, this chocolate cheesecake is perfect anytime.
Prep Time: 20 minutes
Cook time: 60 minutes
Ingredients Crust:
• 1 1/2 cups Graham Crackers, finely crushed
• 1/4 cup Sugar
• 1/4 cup Walnuts, finely chopped
• 1/2 cup Butter, melted
Ingredients Cheesecake Filling:
• 3 8oz packages Cream Cheese, softened
• 1/4 cup Unsalted Butter
• 1/2 cup Baking Cocoa
• 1 14oz can Sweetened Condensed Milk
• 4 Eggs
• 1 tsp Almond Extract
Directions:

• Preheat oven to 300°.
• Directions Crust:
• In a bowl, combine Graham Cracker crumbs, 1/4 cup sugar, walnuts.
• Stir in melted butter.
• Press onto bottom and 2″ up the sides of a 9″ springform pan.
• Set aside.
• Directions Cheesecake:
• For filling, on low heat on the stove, melt butter, stir in baking cocoa, set aside.
• In a large mixing bowl beat cream cheese; add cocoa mixture, and beat well.
• Slowly add sweetened condensed milk; beat until smooth.
• Add almond extract; mix well.
• Add in eggs; beat to combine.
• Pour filling into prepared Graham Cracker crust.
• Bake in a 300° oven for 60 minutes or until the center is set. To test for doneness, gently shake the pan. When done a 1″ wide section of the center will jiggle slightly upon shaking.
• Cool on a wire rack for 10 minutes.
• Using a metal knife or spatula, loosen sides of cheesecake from pan.
• Cool for 30 minutes more.
• Remove sides of pan.
• Cool for 2 hours more.
• Cover and chill thoroughly in refrigerator.
Makes 12 servings Chocolate Cheesecake
To print the Chocolate Cheesecake Recipe , click here.
Today is day 14 of 15 Days of Holiday Sweets! and this Chocolate Cheesecake Recipe is one I have been making for 20-odd years. It is always a hit!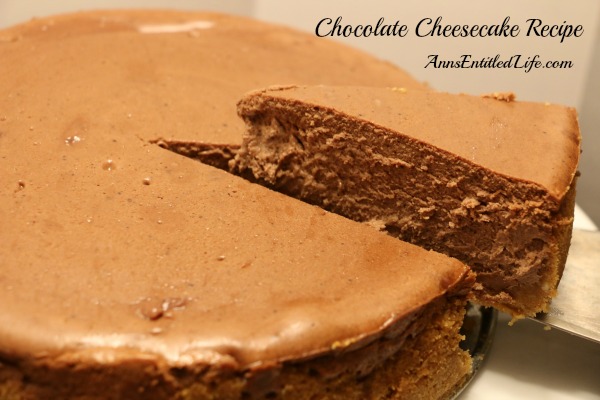 The theme I stuck to with these 15 Days of Holiday Sweets as easy as well as delicious. Most sweet treats taste good – how hard is it to screw up butter and sugar? But that easy part? Not always in the cards.
Some people are intimidated by cheesecake, but honestly as long as you don't over-beat your eggs (that is generally what causes cracks), and stay away from the waterbath recipes (SMH), cheesecake is fairly straightforward. And this chocolate cheesecake recipe is no exception.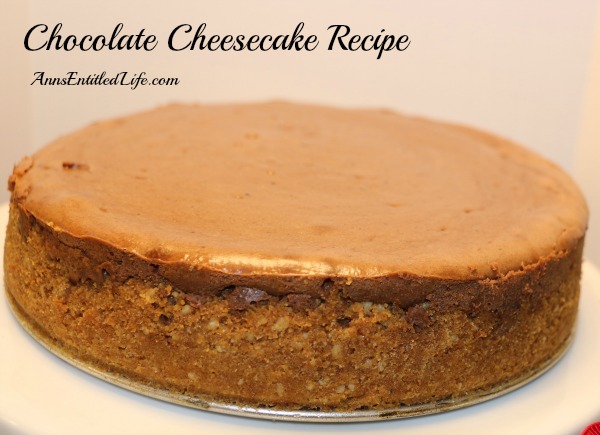 I use this crust for nearly all my cheesecakes. It is basically full-proof, does not require pre-baking (another "are you kidding me!?"), and tastes great with nearly all cheesecake recipes.
A springform pan is a must. It allows you to easily remove the cheesecake from the pan instead of it getting smushed. Makes for a beautiful presentation too!
If you like chocolate, and if you like cheesecake, give this chocolate cheesecake recipe a try!
Note: This is a springform pan
for those who have never heard of one.
---
• Disclosure: the links in this post may be affiliate links.
• If you enjoyed this post, be sure to sign up for the Ann's Entitled Life weekly newsletter, and never miss another article!
• For more Recipes on Ann's Entitled Life, click here.
---