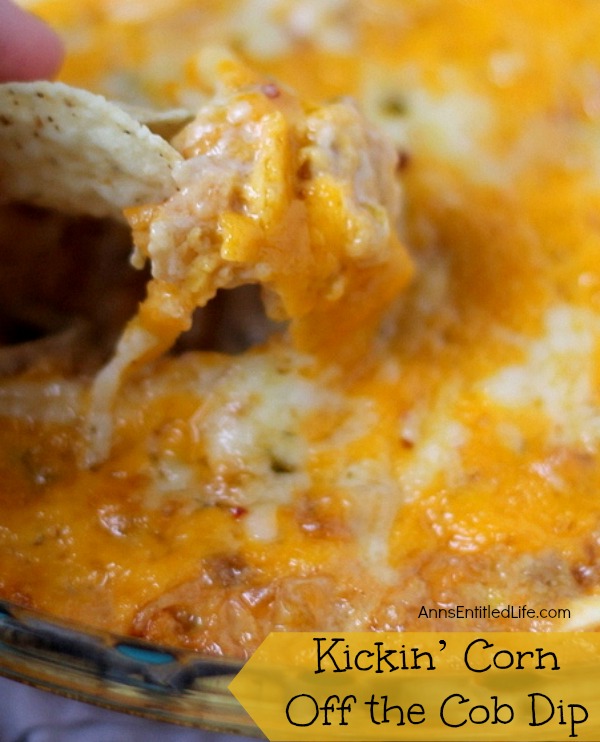 Kickin' Corn off the Cob Dip
By Ann
Want a little kick in your dip? When plain old dip just won't cut it, try this Kickin' Corn off the Cob Dip at your next get together and enjoy a spicy good time.
Prep Time: 20 minutes
Cook time: 10 Minutes
Ingredients:
● ½ cup Mayonnaise
● 4 oz Cream Cheese, softened
● 4 oz Mozzarella Cheese, shredded, divided
● 4 oz Extra Sharp Cheddar Cheese, shredded, divided
● 1 TBSP Butter
● 4 Ears Fresh Corn, corn cut off the cob
● ½ tsp Salt
● 1/8 tsp Black Pepper
● 1 large Onion, diced
● 1 Red Bell Pepper, seeded and diced
● 3 Jalapeño Pepper, seeded and diced
● 2 Cloves Garlic, minced
● 6 Green Onions, chopped
● ¼ tsp Cayenne Pepper
● Tortilla chips serving
Directions:

● Preheat oven to 400°.
● In a large bowl, mix mayonnaise, cream cheese, half the mozzarella, and half the cheddar cheese; mix until completely combined, set aside.
● In a skillet, heat the butter until melted.
● Add corn, salt, pepper, onion, red pepper, jalapeños and garlic; saute for 5-6 minutes or until onions are translucent and corn is
lightly browned.
● Add green onions and cayenne pepper to the mixture; saute 1 minute. Remove heat.
Pour the corn mixture into the cheese mixture bowl; using a wooden spoon or spatula, mix well to combine.
● Spread mixture into an 8″x8″ square dish, 8″ pie dish, or 11″x7″ baking dish.
● Sprinkle remaining cheese over the top of the corn dip, and place into preheated oven.
● Cook for 10 minutes or until cheese is melted and filling is bubbling.
● Serve immediately with tortilla chips.
● Makes 15 servings Kickin' Corn Off The Cob Dip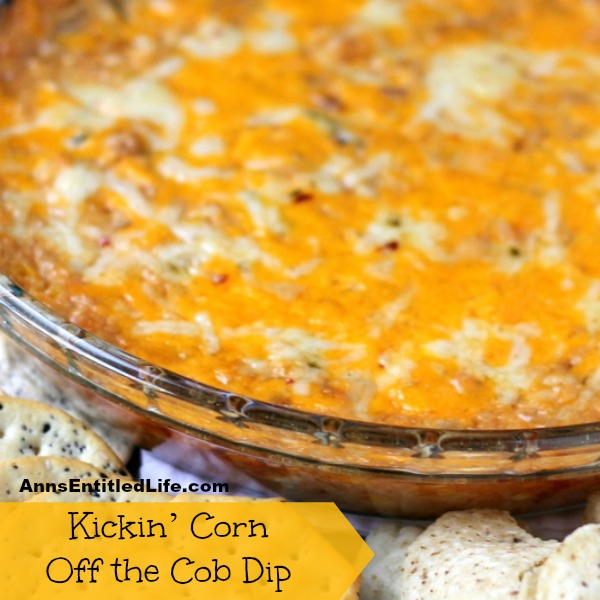 ● To print the Kickin' Corn Off The Cob Dip Recipe, click here.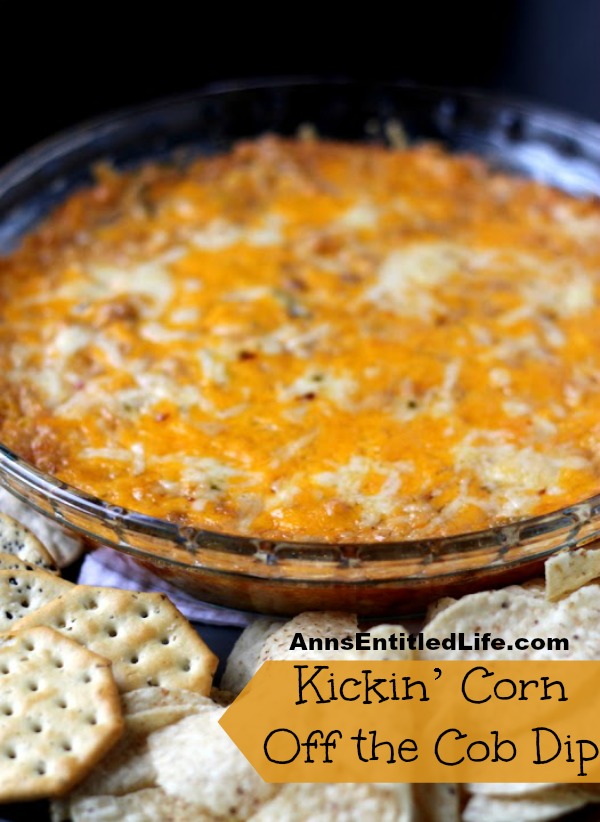 Cheese glorious cheese! And surprisingly, a vegetable. And it is soooooo good!
Instead of tortilla chips, try serving the Kickin' Corn Off The Cob Dip with celery sticks, carrot sticks or crackers. A new way to serve a new dip!
---
● For more Recipes on Ann's Entitled Life, click here.
● If you enjoyed this post, be sure to sign up for the Ann's Entitled Life weekly newsletter, and never miss another article!
---