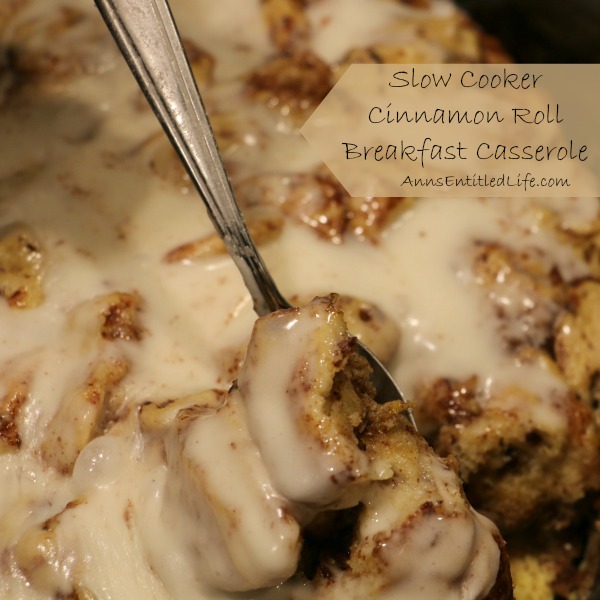 Slow Cooker Cinnamon Roll Breakfast Casserole
By Ann
A melt in your mouth cinnamon roll casserole made in a slow cooker. This is one delicious breakfast that your entire family will devour!
Prep Time:15 Minutes
Cook time:2.5 Hours
Ingredients:
• 2 12oz Cinnamon Roll Tubes, quartered
• 4 Eggs
• 1/2 cup Heavy Whipping Cream
• 3 TBSP Maple Syrup
• 2 tsp Vanilla Extract
• 1 tsp Ground Cinnamon
• 1/4 tsp Ground Nutmeg
Directions:

• Spray your slow cooker bowl with a non-stick cooking spray.
• Place one roll of quartered cinnamon roll pieces at the bottom of your slow cooker. Save the frosting packets for later.
• In a small bowl, beat eggs.
• To the beaten eggs add the heavy whipping cream, maple syrup, vanilla extract, cinnamon and nutmeg. Blend well.
• Pour the egg mixture evenly over the cinnamon rolls in the slow cooker.
• Place remaining roll of quartered cinnamon rolls on top of the mixture in the slow cooker.
• Cover and cook on low for 2.5 hours, or until sides are golden brown and the rolls are set.
• Spread frosting that came in the cinnamon roll tubes over the warm cinnamon roll casserole.
• Serve warm.
Makes 8 servings of Slow Cooker Cinnamon Roll Breakfast Casserole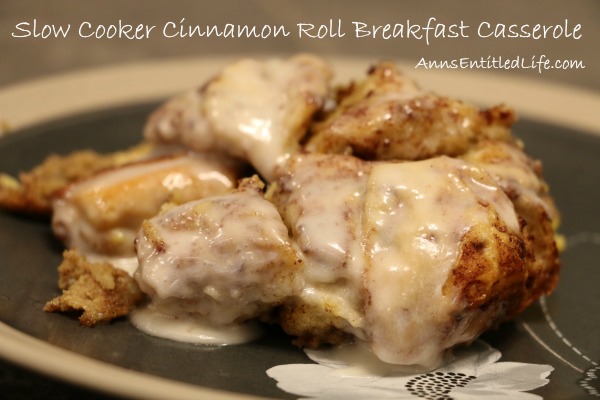 To print the Slow Cooker Cinnamon Roll Breakfast Casserole, click here.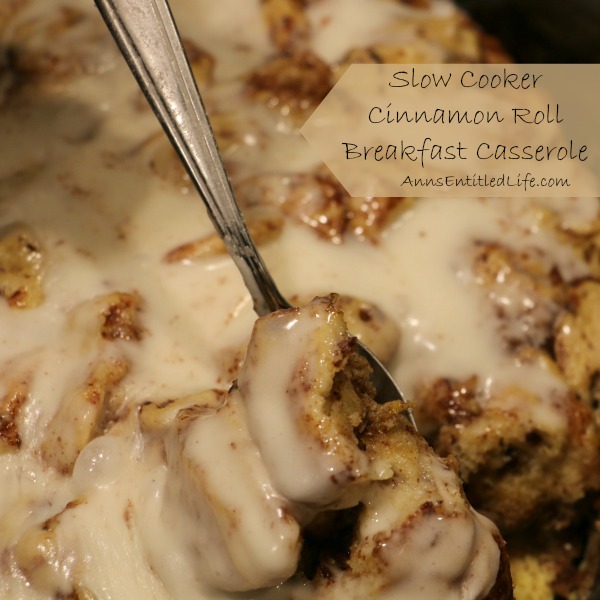 Slow Cooker Cinnamon Roll Breakfast Casserole
This is the Gooseberry Patch Slow-Cooker Christmas Favorites
recipe almost to a T. I made very few changes: the frosting is all on top, the original recipe calls for it in between layers. I also upgraded to heavy whipping cream, and vanilla extract.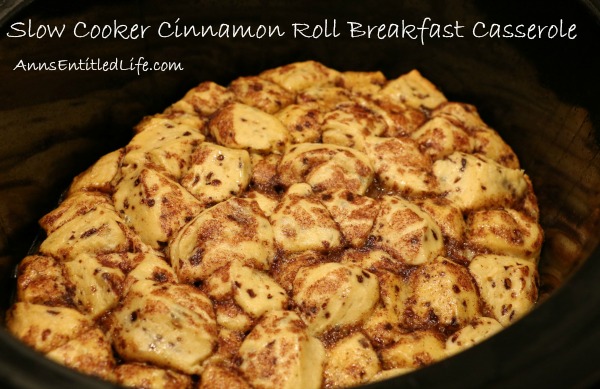 That is what it looks like unfrosted.
This recipe is too much for two people. Seriously. If you have a small slow cooker and want to make half a recipe for 2-3 people, I think it would work. Just watch the cooking times as I have not done it myself, and I don't know if the cooking time is less in a smaller slow cooker.
Also, this was terrible day 2. Just sayin'. For as good as it was day 1 (OMG I wanted to eat the entire pot!), day two it did not reheat well. At all. So, consume on day 1 or face dried out Slow Cooker Cinnamon Roll Breakfast Casserole on day 2.
---
• If you enjoyed this post, be sure to sign up for the Ann's Entitled Life weekly newsletter, and never miss another article!
• For more Recipes on Ann's Entitled Life, click here.
• Disclosure – the links in this post may be affiliate links.
---
---
FOLLOW US ON: