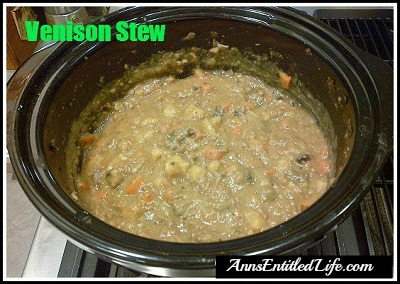 Venison Stew Recipe
By Ann
This is Hubby's venison stew recipe. Hubby likes a soup-like texture hence the ground meat and diced vegetables.
Prep Time: 45 minutes
Cook time: 10 hours
Ingredients:
● 3 TBSP Lard
● 1# Ground Venison
● 4 medium Potatoes, Diced to 1/4″
● 1 small Onion, Diced
● 1 cup Carrots, Diced to 1/4″
● 4 cups Beef or Vegetable Broth (the vegetable broth will result in a gamier flavor)
● 1/2 cup Flour
● 1/4 tsp Garlic Powder
● 1/8 tsp Oregano
● 1 tsp Pepper
● 1 tsp Salt
● 2 tsp Mrs Dash
● 2 tsp salt-free Cajun Spice Mix
Directions:

● In a medium frying pan, melt lard, fry venison and pepper just enough to sear meat
● Place all ingredients except for the flour and seasonings into a slow cooker
● Allow to cook on high for 5 hours
● Add flour and seasonings
● Cook for another 5-7 hours on low – the longer you cook it, the thicker it gets

Makes Venison Stew for 8
---
Links that will help:
● How To Make Lard
● How To Make No Sodium Vegetable Stock
● For a list of all recipes available on Ann's Entitled Life, click here.
---
This recipe originally appeared on Coupons, Deals and More. I have recovered a great many of the best loved recipes, and will be posting them on Ann's Entitled Life twice a week until the are all up! If you had a favorite recipe you would like to see posted sooner rather than later, please email me your request, and if I have it, I will post it!
And as always, your recipe help is appreciated. If you have a great, easy recipe made with many ingredients commonly found in the pantry, please email me the recipe and a photo via this email address. Thank you!