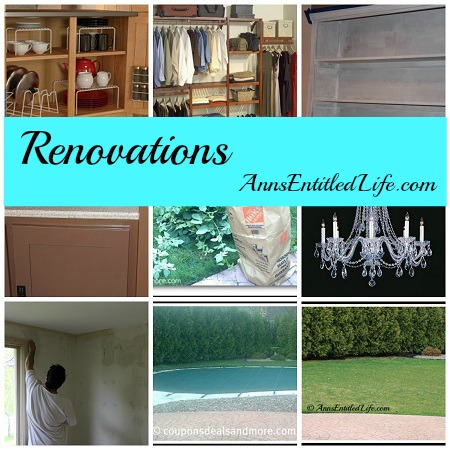 Back in my youth, I was a great DIYer. I had the energy to DIY, and I didn't have much money. That combined for a healthy incentive to do my own home improvements. My ex-husband was also very handy (still is as far as I know). He was a great one for reading books, asking questions and trying things. This was before the internet was for individuals, and HGTV was just getting started. This Old House was about the only real DIY program on the air. At my first house, everything was DIYed except the gas fireplace.
Hubby and I don't DIY all that much around our home. It is a pretty nice house, and Hubby's fear has always been that we wouldn't do something absolutely correctly, messing up the house somehow, so we've generally hired. Heck when we first moved in, Hubby wouldn't even paint! I wanted to paint a bathroom and the laundry room, and had to wear him down on the idea. Now of course, Hubby has rentals and paints everything and anything, and that includes our house!
For Hubby, very little is outside the DIY realm these days. He won't roof or side, he's not taking down or putting up a garage, and he isn't pouring an entire concrete driveway. Most other things he will now do, time dependent, and one-person dependent. Pretty impressive for a guy who didn't have a callus on his hand when I met him.
For myself, I am old. If Hubby needs help, I will help him, but I am no longer interested in refinishing floors (although I do have an upcoming post on how to do it 😛 ), painting (although I just did it at the condo), tiling (which I actually enjoy, so that is a never say never one) or any of the million and one other DIYs I used to do back in my youth. Well, except for paint removal. Hubby roped me into that the past few weeks (tip: easy to go with goof off!).
What WON'T You DIY?
---
If you are looking for Renovations on Ann's Entitled Life, click here.
---