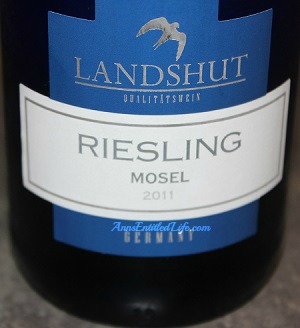 I went to a conference last week, and one of the sponsors was Aldi's.
We were each given a bottle of wine, and the opportunity to get more if we drove (more difficult to pack for plane travel I guess). Well, I didn't pursue that option since I thought this wine would be as gross as Two Buck Chuck (for those that don't know, Trader Joe's and Aldi's are different halves of the same company). Biiiiiiiiggggg mistake on my part.
Today's discussion: Landshut Qualitatswein Riesling Mosel (2011)
Vintner's Notes:
Landshut Riesling (Germany) – This exquisite, well-balanced Riesling has a fruity bouquet with flavors of apricot and peach. Perfect accompaniment to light meals, desserts or simply on its own.
Note: I emailed an Aldi's rep for the Vintner Notes. You can find the Vintner notes for all Aldi's wines here.
My Notes (and Hubby's too!)
The Aldi's Landshut Riesling Wine is pale yellow in color. The nose is a light floral bouquet. VERY light. The wine is crisp and refreshing with a hint of apple, and pétillante at the finish (yes, Hubby speaks French… this means tiny, effervescent bubbles). I really enjoyed this wine! We served it very cold which may have been the reason for the light bouquet, but my goodness this tasted wonderful. Tried it both by itself where it was very fresh and fine, and with a chicken dish where it wasn't overwhelmed.
Because I live in NYS I can't buy this at Aldi's (we aren't allowed to buy wine in a grocery store), but when we head to our Florida condo, you can be sure I'll make a point of locating an Aldi's that sells wine!
Have you tried Aldi's Landshut Qualitatswein Riesling Mosel? What did you think?
As always, drink responsibly and please don't drink and drive.
For more liquor and wine tips and reviews, click here.