A few months ago, I discovered what I had been missing in Crown Royal Maple. In my review, I explained who was/was not likely to enjoy the maple-y whisky, and proceeded to post the Crown Royal Maple Mudslide I concocted.
Well, after that and the Crown Royal Maple and ginger ale, I was out of ideas. So I went over to the Crown Royal Maple website to see if they had any cocktail recipes that would interest me! Low and behold, they did! Oh happy days!
A few sounded odd, and the one below I was a bit skeptical of… until I made it! Then, I just knew I had to share. Totally delicious. The sweet and the tart blend together perfectly for a wonderful adult beverage drink, especially as we head into summer. I hope you give it a go, and enjoy this King George Cocktail as much as I did.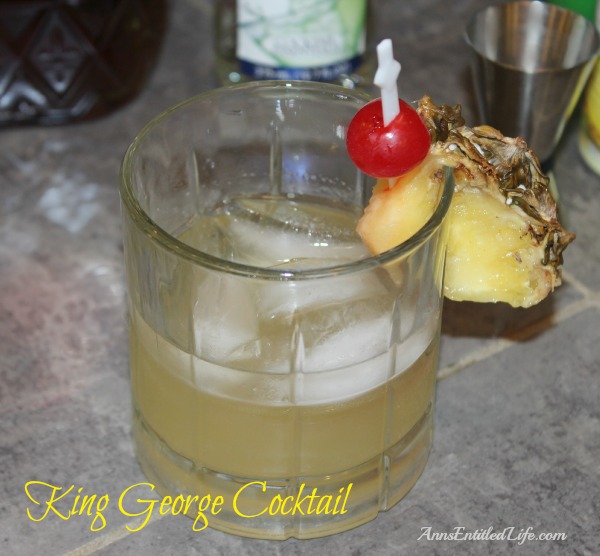 King George Cocktail
By Ann
A slightly sweet, slightly tart, completely delicious highball recipe made with Crown Royal Maple.
Prep Time: 5 minutes
Ingredients:
• 1 oz Crown Royal Maple
• 1/2 oz Lemon Juice
• 1 1/2oz Pineapple Juice
• 1/2 oz Simple Syrup
• 1 oz Seltzer Water
• Garnish: lemons, maraschino cherry, pineapple, or your favorite cocktail garnish
Directions:

• Combine Crown Royal Maple, Lemon Juice, Pineapple Juice and Simple Sugar; shake.
• Pour into a highball glass half filled with ice.
• Top with Seltzer Water
• Garnish and enjoy!
Makes 1 King George Cocktail
---
As always, drink responsibly and please don't drink and drive.
For more liquor and wine tips and reviews, click here.
---
---
FOLLOW US ON: