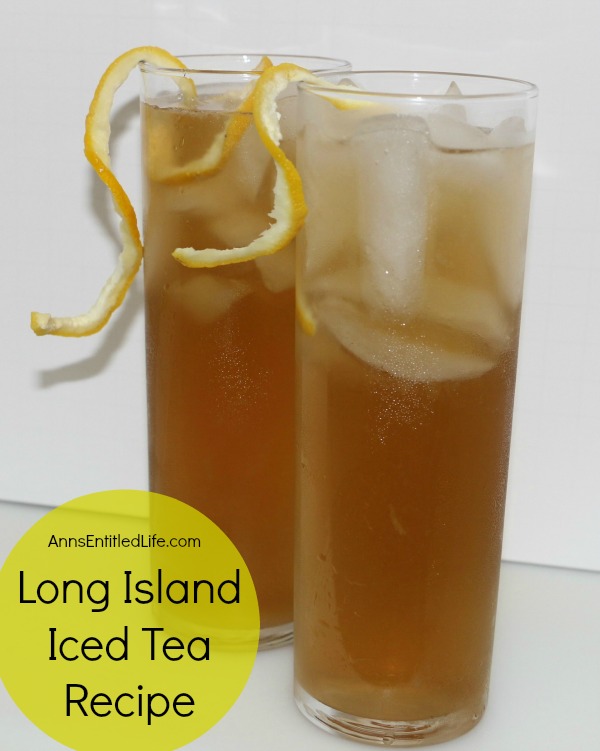 Long Island Iced Tea Recipe
By Ann
An extremely potent, but very delicious cocktail recipe, the Long Island Iced Tea goes down very, very smoothly.
Prep Time: 3 minutes
Ingredients:
• 1.5oz Tequila
• 1.5oz Vodka
• 1.5oz White Rum
• 1.5oz Triple Sec
• 1.5oz Gin
• Juice from 1 Lemon
• 3oz Simple Syrup
• Dash of Cola
• Lemon Rind for Garnish
• Ice
Directions:

• Combine tequila, vodka, rum, triple sec, gin, lemon juice and simple syrup in a glass; stir.
• In a tall cocktail glass with filled half way with ice, pour the Long Island Iced Tea.
• Finish with a dash of cola and a lemon garish.
• Serve immediately
Makes 1 Long Island Iced Tea Cocktail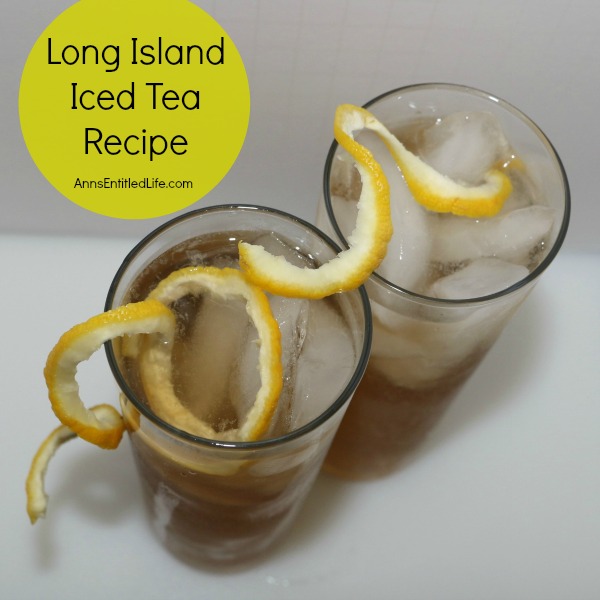 The most interesting thing about Long Island Iced Tea, is that it doesn't contain any tea; just enough alcohol to render a moose inert. Seriously. I don't recall having a Long Island Iced Tea prior to making this recipe from a classic recipe (I reduced the lemon juice – a lot), and Hubby and I split one. And I still had trouble feeling my tongue an hour later.
This is one potent drink.
I was, however, surprised at how mild and delicious it was going down. I am sure that is why people have trouble walking after two. The slight bit of tart from the lemon juice doesn't stop this from being, very, very drinkable.
If you make this recipe, make sure you are in for the rest of the day. Not only is driving not advised, walking might be questionable.
• To print the Long Island Iced Tea recipe, click here.
---
As always, drink responsibly and please don't drink and drive.
• Ultimate Guide to Non-Alcoholic Bar Basics
• For more liquor and wine cocktail recipes, tips and reviews, click here.
• Be sure to follow my Cocktails board on Pinterest!
---
---
FOLLOW US ON: