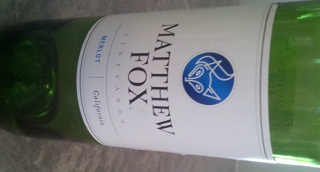 Hubby stopped at Marc's when we were in Ohio last week, and bought a bottle of Matthew Fox Merlot. It retails for $3.09 a bottle, and after my experience with Two-Buck Chuck, I was a tad hesitant to try another super cheapie wine – you can only scrub your tongue for so long.
Wow does the Matthew Fox Merlot give cheap wine a good name!
Vintner's Notes
Matthew Fox Merlot presents aromas of spicy black cherry and red stone fruit. The wine has a smoothness that carries fresh red fruit and hints of oak through a long, lingering finish. This Merlot pairs well with pasta and other full-flavored entrees.
My Notes
E & J Gallo produce the Matthew Fox wines. We purchased it at Marc's in Ohio, but I recently read that it is now available exclusively at Food Lion. Any Marc's shoppers care to comment on that?
There was no alcohol content on the bottle I purchased, so I cannot provide any statistics. Smooth, no bitter tannins, a nice hint of spice, but for three bucks there isn't a lot of complexity. This is just an very drinkable wine.
We will definitely be tracking down the Matthew Fox Merlot at a Food Lion when we are next in Florida. Unfortunately, the Food Lions in Florida closed, so we will have to pick some up in Savannah on our drive down.
---
Note: this post originally appeared on Coupons, Deals and More in August, 2011.
As always, drink responsibly and please don't drink and drive.
For more liquor and wine tips and reviews, click here.
---