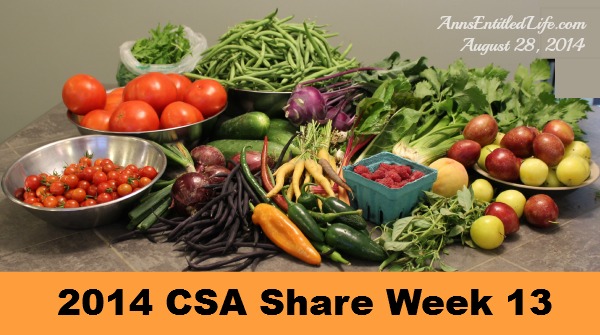 This is the diary of our 2014 CSA share. The cost of our full share is $545 for 22 weeks (this CSA offers a winter share) which will bring us to the last week in October, and works out to $24.75 per week. Western New York weather is such that June is lightest CSA month. September and October will be more than abundant! Usually I feel I don't get my money's worth the first few weeks (which will be predominantly lettuces), but the fall bags more than make up for that.
We also purchased a Fruit Share this year for $180, lasting 18 weeks which works out to $10 per week. The local fruit included in the fruit share starts with cherries, apricots, plums, peaches, nectarines, blueberries, and moves into pears, raspberries and of course apples! This portion of the share begins in July.
---
Hubby and I used up nearly all the old CSA vegetables and fruits. We had a marathon cooking and baking session last weekend (recipesto come), and ate well this past week! We also froze a few CSA items for later.
Hubby has been home all week getting his taxes in order. They are due for the business on September 15th, and his accountant is breathing down his neck for the info. But, that didn't mean he couldn't go to the CSA with me this week! He hasn't been all season, and I do like when he goes. Since he cooks most of our meals, it is better that he chooses what vegetables we will be using the upcoming week.
That and I wanted him out in the field with me!
We picked up the regular share, and I had Hubby fill the vegetable bag while I went over to the fruit share. The fruit share wasn't that great this week, 3.5# peaches and plums (mix and match) and organic raspberries. The vegetable share bag wasn't all that hot either actually, not a ton of variety to choose from. However, the extras: celery, 10 (large) tomatoes (for me to freeze!) and purple kohlrabi certainly filled out the share.
What made this week's vegetable share outstanding? Hubby picked 2 pints of cherry tomatoes in the u-pick and together we picked that giant bowl of green beans (to freeze and for Hubby to make these awesome oven beans) and the purple beans you see next to the purple onions in the photograph. We also picked lemon basil which smells just like a … lemon! (the pile next to the raspberries and plums).
All-in-all this was probably the best CSA week of the year to date for vegetables!
2014 CSA Share Week 13
● Beans* (green and purple)
● Beets
● Carrots*
● Celery*
● Chard*
● Cucumbers*
● Edamame
● Flowers
● Kohlrabi*
● Onions*
● Peaches* (yellow, donut)
● Peppers, sweet and hot*
● Plums* (European, Ozark)
● Potatoes
● Raspberries*
● Scallions*
● Tomatoes*
● Various Greens*
* took for share
Do you belong to a CSA? If so, what type? How much? Do you find it as worthwhile as I do?
---
● For more CSA posts on Ann's Entitled Life, click here.
● Mind Your Peas and Cukes pinterest board: All things CSA, Produce, Farmstead Fresh – community supported agriculture, farmstand fresh produce, organic produce, more from all over the United States.
● CSA posts
● Find a CSA
● Porter Farms CSA (we belonged for years)
● Root Down Farm CSA (our 2013 and 2014 CSA)
● NYS Fruit and Vegetable Harvest Calendar
● US Agricultural Data
---