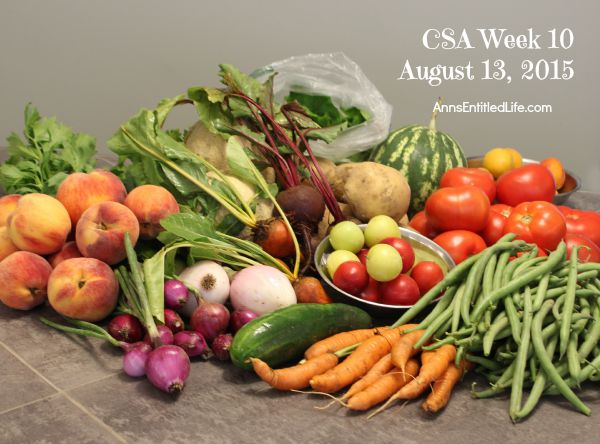 This is the diary of our 2015 CSA share. The cost of our full share is $545 for 22 weeks, from June through October, and works out to $24.75 per week. Western New York weather is such that June is lightest CSA month. September and October will be more than abundant! The first few weeks are light, and very, very leafy. As we move to the fall, the CSA becomes more abundant, and the variety increases greatly.
We also purchased a Fruit Share this year for $180, lasting 18 weeks which works out to $10 per week. The local fruit included in the fruit share starts with cherries, apricots, plums, peaches, nectarines, blueberries, and moves into pears, raspberries and of course apples! This portion of the share begins in July.
---
Oh boy do we have a lot of apricots. I can't resist them! We still have the apricots from last week, this week PLUS we picked up some on a real steal on a roadside stand. I may need to make freezer jam.
Tomatoes are definitely in season too, and we are busy blanching, chopping and freezing. Hubby uses frozen, no salt tomatoes year round.
There was a second round of beans this week! We u-picked and are making the Oven Roasted Parmesan Green Beans again. They are simply too good, and too easy, to not make when fresh green beans are available!
This was one of the heaviest CSA pick-ups we have ever had. Between the cantaloupe, watermelon and 12 tomatoes, Hubby had to take the first bag to the car while I loaded fruit into the second bag! I foresee a lot of smoothies in our future.
2015 CSA Share Week 9
● Apricots
● Cantaloupe
● Carrots
● Celery How To Dry Celery
● Chard (did not take)
● Cucumbers 20 Cucumber Recipes
● Kale (did not take)
● Lettuce (did not take)
● Peaches 20 Fresh Peach Recipes
● Plums 20 Fresh Plums Recipes
● Potatoes 25 Scrumptious Real Potato Recipes
● Salad Greens
● Summer Squash 20 Zucchini and Summer Squash Recipes
● Tomatoes 20 Fresh Tomato Recipes
● Watermelon
● Zucchini 20 Zucchini and Summer Squash Recipes
Do you belong to a CSA? If so, what type? How much? Do you find it as worthwhile as I do?
---
● For more CSA posts on Ann's Entitled Life, click here.
● Mind Your Peas and Cukes pinterest board: All things CSA, Produce, Farmstead Fresh – community supported agriculture, farmstand fresh produce, organic produce, more from all over the United States.
● CSA posts
● Find a CSA
● Porter Farms CSA (we belonged for years)
● Root Down Farm CSA (our 2013-2015 CSA)
● NYS Fruit and Vegetable Harvest Calendar
● US Agricultural Data
---